Safe bet: Merkel and Macron greet with folded hands
Readers' Speak: Greenland's ice sheet suffered record net loss of 532 billion tonnes; Dhoni's retirement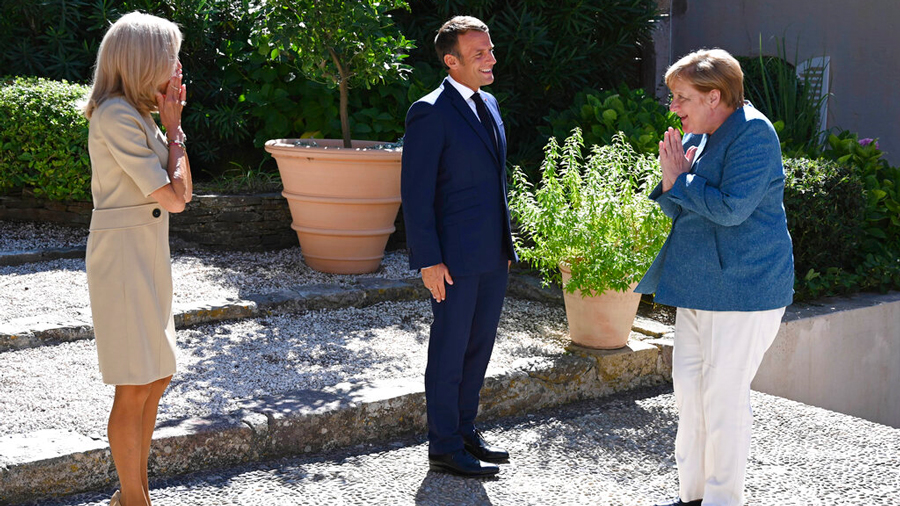 ---
---
Sir — The images of the French president, Emmanuel Macron, and the German chancellor, Angela Merkel, greeting each other with folded hands — akin to the traditional Indian greeting of 'namaste' — at the presidential palace in France were rather amusing. The Western world, which has long prided itself on being the fount of civilized behaviour in the global order, suddenly finds itself in the middle of a crisis that is forcing it to acknowledge the practical and hygienic nature of the practices of the Eastern civilizations. Jokes aside, however, all world leaders would be wise to set an example for their citizens to greet one another in ways that do not involve physical contact.

Jessica Gomes,
Mumbai
Melt away
Sir — It was deeply distressing to read that Greenland's immense ice sheet suffered a record net loss of 532 billion tonnes last year. The figure amounts to an additional three million tonnes of water streaming into global oceans every day, or six Olympic-size swimming pools every second. Last year in July, Icelanders gathered to mourn the disappearance of one of the country's 300 glaciers, all of which are melting.
Given that places like Greenland and Iceland are relatively untouched by pollution and the ravages of human activity in comparison to the rest of the world, it is evident that the acute effects of climate change plaguing the two regions are the result of the blithe disregard for global warming of other countries. Climate change adversely affects all. World leaders now no longer have any excuse left to deny the cataclysmic effects of global warming. It is high time they started working on a war footing towards saving the planet from a climate disaster.

Malini Bose,
Calcutta

Sudden affection
Sir — Cricket is known as a gentleman's game, and the former skipper of the Indian men's team, M.S. Dhoni, embodied this description. But it was quite a surprise to hear that the prime minister, Narendra Modi, wrote a letter — it was shared on his Twitter page — to Dhoni, calling him "one of the important illustrations of the spirit of New India, where family name does not make young people's destiny but they make their own names and their own destinies".
Lovers of sport will be aware that the prime minister has, thus far, never really showed any real interest in sports, including football, which is dear to a lot of Indians. If he did care about sport, then why is it that the demise of two of the country's most valuable sportspersons — the legendary players, Chuni Goswami and P.K. Banerjee, whose contributions to India's football legacy are immense — went unacknowledged by him? Modi wrote a praise-filled letter for Dhoni on the latter's retirement, but has he shown the same enthusiasm for appreciating some of India's hockey captains, or even when a tennis great like Leander Paes retired?
It would not be unreasonable to surmise that the prime minister's display of great fondness for Dhoni was purely politically motivated — after all, there are some crucial state assembly elections around the corner, and the addition of someone like Dhoni to the Bharatiya Janata Party's campaign would be a masterstroke. Modi is a seasoned politician: he is unlikely to extend such gestures without a reason. Dhoni is, and will likely remain, in the limelight for a while, and the prime minister's fondness for the cameras is well-known.
Modi's motivations aside, if the former cricket captain does decide to join politics, then cricket lovers will hope that he has a fulfilling and grace-filled innings, much like those that he had out on the field.

Bidyut Kumar Chatterjee,
Faridabad
Sir — It was amusing to read the letter on the prime minister's Twitter page for M.S. Dhoni on the occasion of the latter's retirement. Rarely, if ever, has Narendra Modi shown such appreciation for a sports personality when they bid adieu to the game that they played. This sudden display of admiration makes one wonder whether the BJP, which always has a — usually insidious — agenda, is pulling out all the stops to woo Dhoni into its fold.
Ragini Ghosh,
Calcutta