Greener pastures: Biplab remark irks Nepal
All of this could have been dismissed as a joke had the sangh parivar's commitment to the principle of 'Akhand Bharat' not been public knowledge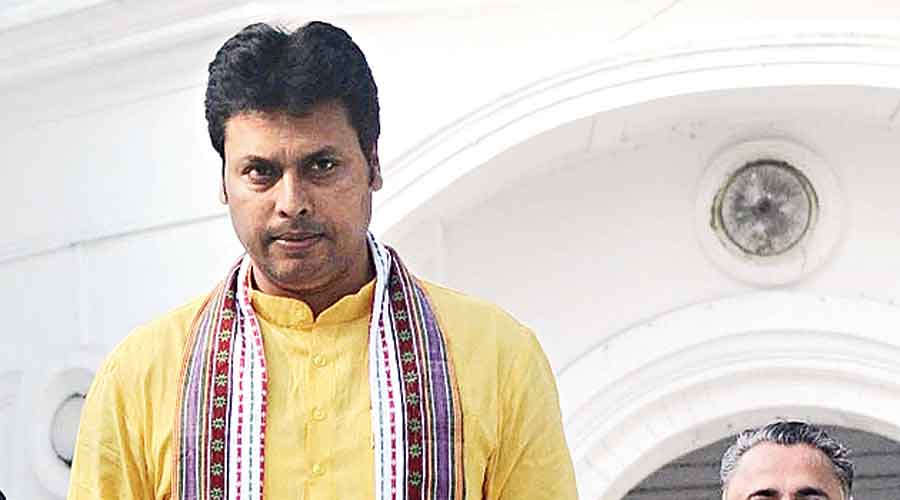 Biplab Kumar Deb.
File picture
---
Published 18.02.21, 02:44 AM
|
---
A functionary of the Bharatiya Janata Party has said that the outfit, the most dominant political force in Indian politics at the moment, believes in winning hearts of the people in other countries too. Unfortunately, it seems that the BJP may lose a few friends in greener pastures. Kathmandu communicated to New Delhi its formal objection after the chief minister of Tripura, Biplab Kumar Deb, said that Amit Shah as party president had shared a rather expansive vision of imprinting the BJP's political footprints in Nepal and Sri Lanka. Mr Shah, if he was serious, may have overestimated the BJP's popularity a wee bit. India certainly seems to be enchanted with the BJP, but to hope to cast a spell on sovereign people conveys a seriously flawed understanding of political realities as well as diplomatic imperatives on the part of the modern-day Chanakya. India's reach in the immediate neighbourhood is facing an unprecedented crisis. China's expansionism is but one causal factor. There have been murmurs of concern among some neighbours with New Delhi allegedly preferring a more robust approach to collaborative outreach. Mr Deb's statement — the spell in public office is yet to temper his propensity to make outrageous remarks — may add to these whispers. Kathmandu's stern response and the terse reaction by the chairman of Sri Lanka's Election Commission show that Mr Deb's comment has not been brushed aside. More diplomatic heartburn cannot be ruled out given the precipitous decline in warmth in India's ties with Nepal in particular.
All of this could have been dismissed as a joke — albeit a rather poor joke — had the sangh parivar's commitment to the principle of 'Akhand Bharat' not been public knowledge. Akhand Bharat, the Rashtriya Swayamsevak Sangh's dream of a political entity that comprises Pakistan, Bangladesh, Nepal, Sri Lanka and some other neighbours, is an embodiment of a template of expansionism that resonates in the statement being attributed to Mr Shah. This vision is patently in conflict with every acceptable tenet of Indian foreign policy. Respectable public figures making such frivolous remarks could be an embarrassing admission of their ignorance of India's diplomatic positions. More damagingly, it exposes their indifference to the sensibilities of the people in nations that constitute the neighbourhood. Trampling over public sentiment, something that Mr Shah's party excels in, may not be the best way to win friends, near or far.