Gadchiroli attack: We need stern action from the PM, not dramatic speeches
Modi should replace the chief minister and home minister of Maharashtra for their administrative failures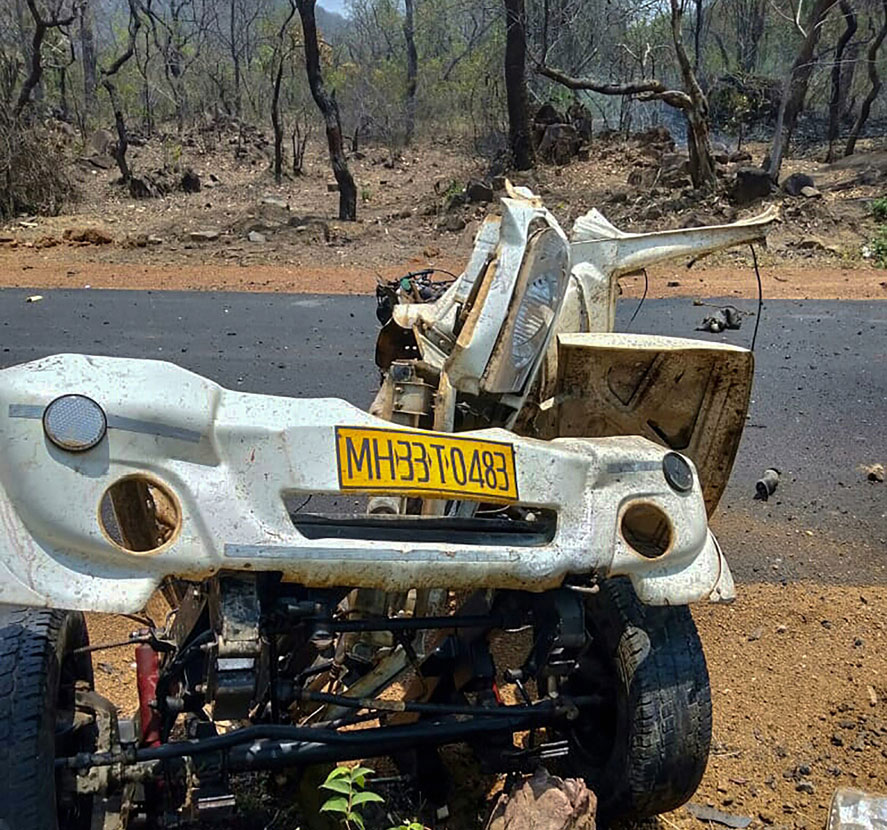 Mangled remains of a police vehicle that was blown up, allegedly by Maoist rebels, by using IED, while it was carrying 16 security personnel, in Gadchiroli district of Maharashtra, Wednesday, May 1, 2019.
(PTI)
---
Published 05.05.19, 07:35 AM
|
---
Well played

Sir — The Delhi Capitals and the Kolkata Knight Riders must be lauded for winning their respective matches against the Royal Challengers Bangalore and the Mumbai Indians. Delhi's win has put them in the play-offs for the first time since 2012; KKR's win over the star-studded Mumbai team was a real surprise. No one expected KKR to cross 200 runs. But promoting Andre Russell to number 3 helped them make a mammoth total of 232 runs, which took the wind out of Mumbai's sails. The Mumbai captain, Rohit Sharma, lost his composure when the umpire correctly adjudged him out on a leg-before-wicket call. He deserved a match ban but was merely fined.
Although Hardik Pandya fought till the end for Mumbai, 232 proved to be an impossible total to surpass.
N. Mahadevan,
Chennai
Hard times
Sir — Labour Day, or May Day, is celebrated all over the world on May 1. Few people, however, think about what the day truly stands for. Labourers face countless problems — poverty, illiteracy, food and water crises. A vast majority of labourers and daily-wage workers remain beyond the purview of labour laws, which means that they have no paid holidays, job security, medical coverage, pension or provident fund, as well as no limit on the number of working hours or any access to paid overtime. In India, there is also the menace of child labour, which is growing at a disturbing rate. Underprivileged children have little access to education and health facilities. This is appalling, for children are the future of any country and we should all be working towards helping them flourish.
Jubel D'Cruz,
Mumbai
Sir — It was deeply saddening to read about the tragedy in Gadchiroli, Maharashtra, in which 15 policemen and their driver were killed in a blast that was part of a planned Naxal attack. Before this, 27 vehicles were burnt. It is time for our purportedly all-powerful prime minister, Narendra Modi, to take swift and stern action. Instead of resorting to slogans and dramatic speeches, he should replace the chief minister and the home minister of Maharashtra for their administrative failures. The inspector-general, the deputy inspector-general and the head of the crime investigation department must be suspended immediately, and made to provide explanations for not being able to prevent the attack. Mere condolences will not be of any use. It is the job of the Central government to root out the menace of Maoist violence.

Mohammad Yaqub,
Calcutta
Sir — The killing of 15 members of the quick response team of the Kurkheda police station in Gadchiroli by an improvised explosive device blast by Maoists is infuriating. What is intriguing is that the security personnel were heading for an inspection to check the vehicles that were damaged by the Maoists earlier that day. The vehicles belonged to a road contractor. One wonders how the security personnel were allowed to venture into the area without adequate preparation when it was clear that there was an active Maoist threat.
It is also a matter of concern that home-grown terror outfits seem to grow unchecked. The government should be dealing with terrorists with an iron hand, since ordinary people suffer most on account of terrorism.
Sravana Ramachandran,
Chennai New fear
Sir — It was appalling to read about Shabbir, an undertrial prisoner in Tihar jail who was branded with the 'Om' symbol and denied food while in custody ("Marked cruelty", April 29). It is obvious that he was targeted in such a fashion because of his religion, especially in light of the manner in which religious minorities are being treated all over the country at present.
It is no secret that the conditions of prisons in India are dismal — they are overcrowded, inmates live in abject squalor, and are treated terribly by the authorities. Must they now also live with the fear of being persecuted on account of their religion?
Shailpik Basu,
Calcutta