From Brexit to Balakot: Countries, companies, and the age of unstoppable commerce
As States unsuccessfully look to deliver the people's mandate, our everyday lives are monopolised by private companies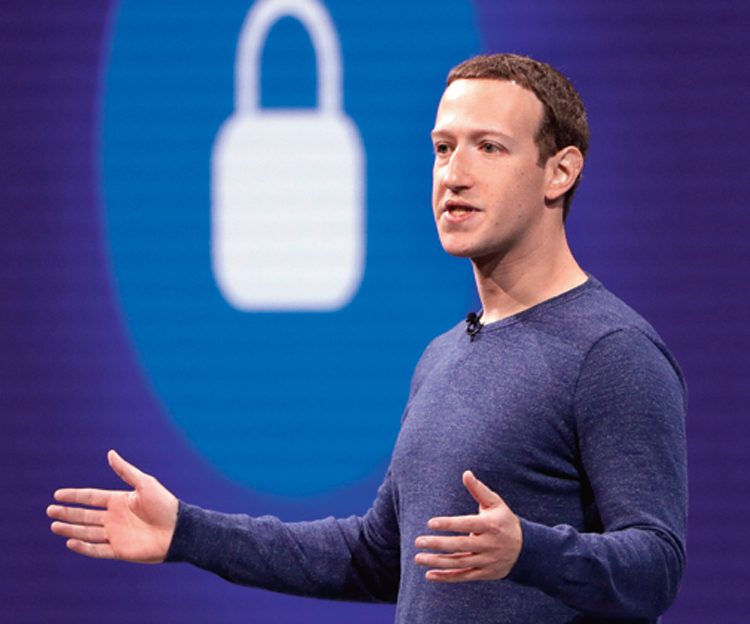 In this May 1, 2018, file photo, Facebook CEO Mark Zuckerberg makes the keynote speech at F8, Facebook's developer conference in San Jose, California. Zuckerberg laid out a new "privacy-focused" vision for social networking on Wednesday, March 6, 2019.
(AP)
---
Published 20.03.19, 03:22 AM
|
---
If you applied for a visa to the United Kingdom recently, you might be forgiven for thinking you were choosing instead to be part of an airline frequent flyer programme. The bronze level application gives you the basics — an appointment to submit documents with a few freebies thrown in; a silver level application comes coupled with the same freebies plus a walk-in appointment; the gold level application includes a priority lounge; and the most expensive home-to-home application comes with a chauffeur-driven car and a personal assistant to help you through the process. Lest you thought that this was only the brainchild of the private sector operator to whom the UK government had outsourced part of its visa application process, think again — the government is willing to process your visa in five days if you pay a little more than thrice the amount you would pay for a regular application and in only one day if you pay approximately 11 times the amount.
Mercenary British governments are, of course, a matter of vintage. Making a business opportunity out of people wanting to visit the UK might just be ahead of the curve, just as the East India Company was, in late medieval India. The revenue-hungry UK home office in this sense marks the closing of the loop — from company to empire and back to company. Albeit this time, the company makes its money out of commercial ingenuity sans the plunder. This is the modern, rule of law State visualizing itself as a profit-making enterprise.
While the Indian government has not caught onto the diverse revenue-generating opportunities that visas might afford, its relationship with companies is primordial — since Independence, it has run several key companies itself as public sector undertakings. The PSU was once the crown jewel in a new nation's quest for stability, growth and prosperity. Today, it symbolizes the slow death of the ancien régime where ardent national interest alone was believed to be sufficient in driving commerce. Except a few notable outliers and natural monopolies, most PSUs can neither compete, nor are they efficiently governed.
The prime example of PSU non-performance is Air India. So bleak are its prospects that despite having a significant fleet, prime slots at airports, a reputed brand and being part of the Star Alliance network, not a single bidder submitted an Expression of Interest to the Government of India during Air India's latest divestment process in 2018. Its corporate governance framework, like several other PSUs, reads like a laundry list of exemptions from the law. Unsurprisingly, the airline is expected to make losses between 1.5 to 2 billion USD over the next two years, possibly funded by the Indian taxpayer. This is over and above the successive bailouts using taxpayer money to keep the cash-strapped airline afloat. The Maharaja in the skies is a national embarrassment, a living sign of State failure in running a company.
As States run companies and become increasingly company-like, companies are becoming increasingly State-like in their demeanour and public posturing. In a wide-ranging blog post recently, Mark Zuckerberg announced his 'privacy-focused vision for social networking'. The vision is grand in its ambition. It promises a new type of personal communication based on private messaging that is encrypted, safe and private. It claims to respond to popular concerns with Facebook and build several features that allow individuals to communicate without being afraid of snooping governments, data thieves and leaving a trail of embarrassing photographs. Facebook now wants to be more than the digital town square where people can broadcast their views. Armed with its group entities, WhatsApp and Instagram, it is also shaping up as the digital living room where people can talk to each other in private.
Four parts of this vision are particularly striking. First, despite the furore over Cambridge Analytica and the sharing of personal data in unexpected ways, Facebook's strategic shift was not primarily prompted by legislation or regulation — it was a product of introspection. Facebook responded to popular pressure; most governments merely postured but failed to act decisively. Second, in the entire vision statement, the key audience is not the Facebook shareholder but, rather, the general public. Zuckerberg has himself taken on the mantle of defending privacy and freedom of expression of every internet user so that, in his own words, "people can speak privately and live freely." Third, the move towards privacy is not a fundamental change to the way in which Facebook itself operates. In fact, nothing in this vision says that Facebook will stop advertisement-based revenue that is contingent on the collection of personal data. Instead, it will additionally provide safe private messaging and value-added products like payments on that application. Like a lot of political messaging, its silences are as critical as its declarations. Finally, Facebook promises to roll out these changes in an open and participatory manner. This is quite like a democratic process where decisions are taken based on public reason and not on secretive boardroom determination.
That each of these aspects is salutary for the future of Facebook and the internet is arguable, although beside the point of this piece. What is unarguable, however, is that taken together, they make Facebook more democratic and responsive, and Zuckerberg himself emerges as the self-anointed defender of human values worldwide.
This is not just about Facebook. From Brexit to Balakot, as States unsuccessfully look to deliver the people's mandate on lightning rod issues, the everyday lives of people continue to be monopolized by private companies. From highways to communications, banks to schools, the decline of the State is palpable. As the continuing saga of Air India demonstrates, the answer to the failure of the service provider State was to attempt to privatize these services. But with the country fashioning itself as a company in the banal matter of visa processing on the one hand and the company taking on the mantle of a responsive, borderless governance behemoth on the other, we appear to be moving beyond mere privatization and seeing the early signs of the age of unstoppable commerce.
We have been in this age before. In the 1680s, Elihu Yale served as the governor of Fort St George, the outpost of the East India Company in Madras. Yale ran Madras autonomously, imposing high taxes and administering the slave trade which firmly established the rule of the Company. His office made him enormously wealthy and the Company dismissed him for 'self-aggrandizement at company expense'. The most notable fruit of his riches was Yale University to which he made successive gifts, ultimately resulting in the university itself being named after him in 1745. The government was then, quite literally, a company, and Yale as its governor had a larger-than-life global footprint. Zuckerberg may not be running a province and countries may not actually be companies yet, but unstoppable commerce and its emanations, both then and now, are defining the course of human history.