Free metro rides for women — a policy crafted with an eye on populism
Experiments with public transportation around the world are usually undertaken to decongest the network and not as sops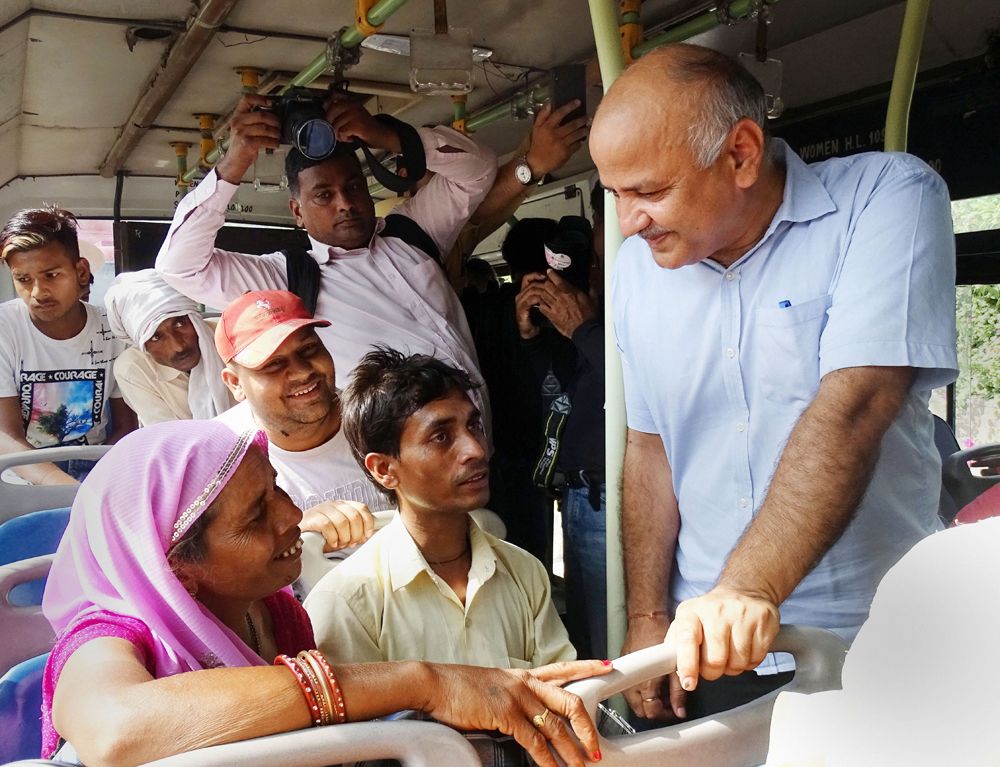 Delhi Deputy Chief Minister Manish Sisodia interacts with a passenger on a Delhi Transport Corporation bus, in New Delhi, Tuesday, June 4, 2019. Delhi CM Arvind Kejriwal has announced free ride for women in all DTC buses, cluster buses and Delhi Metro trains.
(PTI)
---
Published 10.06.19, 03:51 AM
|
---
There are free lunches — in New Delhi at least. The state government, headed by the Aam Aadmi Party, has proposed free rides for women commuters in buses and on the Delhi Metro. The proposal — it is reportedly in the works at the moment — has its own rationale. Arvind Kejriwal's government believes that such a concession would enable women to discard unsafe, informal modes of transportation — shared autorickshaws, for example — for options that are convenient, efficient and, most important, free from threats. The AAP also believes that such a model — it has precedents in several countries around the world — would also encourage many more women to enter the work force.
The safety of women has been a matter of concern in India's capital city. Delhi has witnessed several chilling assaults on women, even though such crimes have dropped marginally, or so say the police. Women's safety is non-negotiable. But the government's intent in this case, however noble, may not be feasible. Neither is it entirely innocent. One of the obstacles that has been cited is cost. Subsidizing some forms of public transport for women would cost the exchequer a sum of around Rs 1,200 crore annually. Mr Kejriwal's government insists that it has the funds. But can such a measure be sustained in the long run? Incidentally, a decade after Hasselt, a Belgian city, made public transport free, rising operational costs forced the administration to shelve the project. The principle of such an intervention is problematic too. Public transport mandates equitable treatment to all citizens. It is inadvisable to single out a single group — women in this instance — for favourable treatment no matter what the compulsion. Discounts for all disadvantaged groups, as opposed to free transportation on the lines of gender, would have been a better way of making Delhi's mass transport system inclusive. The fogginess of the logic is discernible in other ways. The responsibility of the government does not end with making popular forms of transportation safe for women. An elected dispensation in a democracy is mandated to uphold the safety of all its subjects in public and private spaces. It must be mentioned that experiments with public transportation around the world are usually undertaken to decongest the network and not as sops. But in India, policy is invariably crafted with an eye on populism. And therein lies the problem.