Fine balance: Prioritizing education
A recent survey by Unicef shows that nearly 463 million children worldwide have been deprived of learning since schools closed owing to Covid-19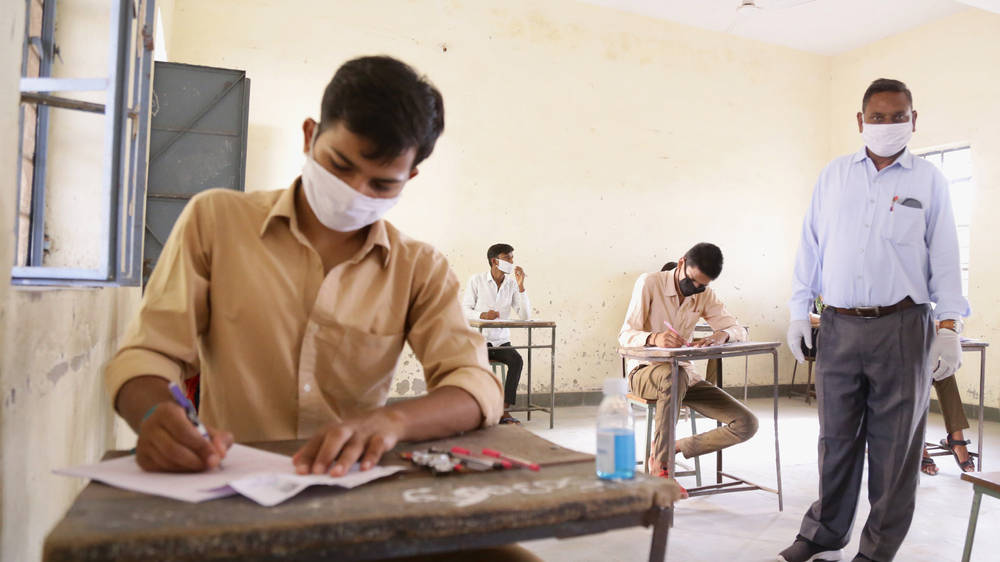 Students appear in the 12th standard board exam at Government Patel School, during fifth phase of nationwide Covid-19 lockdown, in Beawar.
Shutterstock
---
Published 01.09.20, 01:35 AM
|
---
Inequalities must not become the new normal. Restrictions to check the pandemic have led to the closure of schools and colleges, kindling the demand for education to go online. This, in turn, has given rise to numerous concerns about accessibility, with vast sections of the population, especially underprivileged students, getting left behind since they are either unable to afford the technology or live beyond its reach. A recent survey by Unicef shows that these concerns are not unique to India. Nearly 463 million children worldwide have been deprived of education since schools closed owing to Covid-19, says the report. It also found that even when children had access to the necessary platforms, learning remotely was not always possible owing to such factors as the pressure to do domestic chores, the need to earn wages, a poor environment for learning and so on. Exclusion is not the only problem. Another recent study in West Bengal has reported that child labour among school-going children has increased by a shocking 105 per cent in the state during the lockdown, with girls, unsurprisingly, faring worse than boys. Poor access to learning seems to be having a domino effect, aggravating other social ills like malnutrition, child marriage and gender equality.
Prioritizing education in the budget as well as investments in digital literacy and infrastructure would be the first steps to bridge these gaps. But to imagine that the radical shift to online education is the way forward would be simplistic. Classrooms are diverse, vibrant learning spaces; clubbing them into a homogenous online model would destroy the ideal of inclusive pedagogy. Online education must thus complement formal systems of schooling — the opening of schools as early as possible is one of the suggestions of the Unicef report. The pandemic has exposed the shortcomings of both traditional and online modes of teaching. The former suffers from stagnation — the same method of one-way dissemination of information has killed the spirit of learning. Yet, online education — even if it became accessible to each student — would put many students at a disadvantage owing to the absence of the right learning environment. Take, for instance, the fact that in India, 71 per cent households with three or more members have dwellings with two or less rooms. The role of online resources should be that of a facilitator, opening up a world of opportunities and information for all students, be it at home or in school. The problem lies in thinking that new technologies can replace tried and tested models of learning without dangerous consequences.