Family fires: Editorial on tightening grip of Modi and Shah on BJP
The power appears to be vested — constricted — in a few hands within the saffron party, a vocal critic of Congress, as well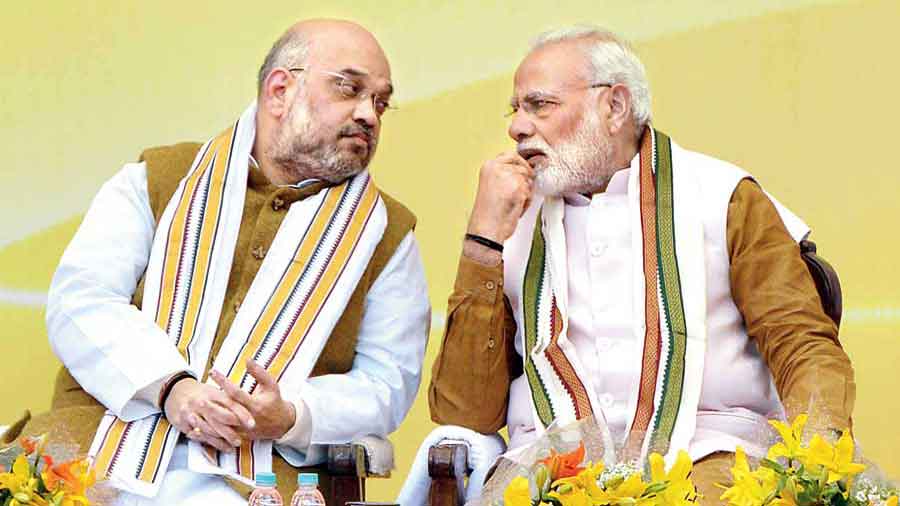 Amit Shah and Narendra Modi.
File photo
---
Published 19.08.22, 04:28 AM
|
---
The Bharatiya Janata Party is in the habit of mocking the Congress for its supplication to the Gandhis — the party's First Family. But power appears to be vested — constricted — in a few hands within the BJP as well. The recent changes to its crucial parliamentary board — the highest decision-making forum in the BJP — signal the tightening grip of Narendra Modi and his lieutenant, Amit Shah, over the BJP's internal affairs. Thus, Nitin Gadkari, who has been known to hurl veiled critical remarks at the present leadership, has been shown the door. Shivraj Singh Chouhan, a four-term chief minister perceived to be a relic preceding Mr Modi's era, has not made it either. The most interesting omission, however, is that of the chief minister of Uttar Pradesh. The more radical segments in the BJP's rank and file view Yogi Adityanath to be a worthy successor of Mr Modi. Yet, Mr Adityanath has been denied a seat at the high table, indicating the unwillingness of the powers that be to share the levers of power. There is another story to be told about those who have made the cut. Devendra Fadnavis, sulking after being denied the crown of Maharashtra, has been rehabilitated with a push up the hierarchy. B.S. Yediyurappa, who had to give up Karnataka's chief ministerial seat, has, the BJP would be hoping, been mollified too.
For all its claims of being a fair, democratic party, the recent changes in the BJP's parliamentary panel go to confirm a suspicion: the BJP, like any other party, is not only riven by personal rivalries and soaring ambitions but has to bow down to electoral imperatives. Mr Yediyurappa's promotion bears proof of the latter. In poll-bound Karnataka, the BJP could not risk displeasing the veteran leader who has considerable influence among the Lingayats, a crucial vote bank. Similarly, Mr Adityanath's exclusion is a testament to factional parleys that influence decisions even within highest bodies. These push and pull factors can, ironically, lead to merit getting sacrificed. Mr Gadkari is a case in point. One of, arguably, the cabinet's efficient ministers, he has not been rewarded for his efforts. All this goes to show that even a regimental party like the BJP is not immune to division and competition. But it manages to conceal the fault lines better than its rivals.