On your screens soon, The Serpent, the life of Charles Sobhra
EYE ON ENGLAND: Marking Maradona's passing in Buenos Aires & Calcutta and celebrating X'Mas with curry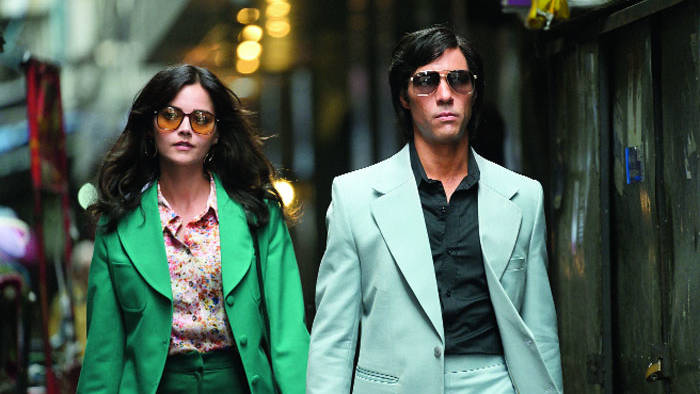 ---
Published 12.12.20, 12:08 AM
|
---
Hot on the heels of Vikram Seth's A Suitable Boy, the BBC is doing another big Indian story, The Serpent, based on the life of the serial killer, Charles Sobhraj. It has announced that the eight-part TV drama, a co-production with Netflix, will begin on New Year's Day. As with The Crown, Netflix has probably taken "artistic licence" with the tale but there is much about Sobhraj still shrouded in mystery. Depending on who you believe, Sobhraj, born in Saigon on April 6, 1944 to a Sindhi father and a Vietnamese mother and brought up in Paris, murdered between 12 and 24 western hippies.
I have been discussing the drama with British-Asian actor, Alyy Khan, who plays Narinder Tuli, "DSP, Crime Branch, New Delhi, who actually caught Charles. Sobhraj was involved in a heist when he tried to steal some diamonds. He took a room at the Ashok Hotel, drilled his way into a jewellery store and seemed to pull off a daring robbery."
Khan is currently living in Karachi but also has homes in London and in Mumbai, where he went to school and college and later did much of his work. He says Sobhraj managed to escape twice from Tihar Jail. Now 76, and in poor health, Sobhraj is serving a life sentence in Kathmandu for two murders. "He's appealing (as a French national) to President Macron to get him free. He is also threatening to sue Netflix because they haven't taken his approval for this TV project."
Most of the filming was done in Thailand, with Hua Hin dressed to look like a beach in Goa. Renowned French actor, Tahar Rahim, is playing Sobhraj and Jenna Coleman his girlfriend and accomplice, Marie-Andrée Leclerc. Asked whether Sobhraj was a serial killer, Khan answers without hesitation: "Absolutely."

Mirror image
 
After the deaths of Soumitra Chatterjee and Diego Maradona, what I was thinking was put into words by Debanjan Chakrabarti, director of the British Council in East and Northeast India, during a Zoom meeting organized by the Bengal Heritage Foundation in London: "We have lost Feluda and Maradona in the space of a few days." Chakrabarti felt he had lost a part of his childhood.
Since I had once lived in Buenos Aires (during the Falklands War and subsequently), I was comparing how the two cities were marking the passing of their cultural icons. I had noticed how the emotional Argentines express joy, anger and sorrow by jumping up and down with both hands held straight up in the air. They had done so outside the Casa Rosada (the Pink Palace) when they thought they had won the war against Margaret Thatcher, and did that again when they realized that actually they were the ones who had lost.
I turned last week to my one-time interpreter and later close friend in Buenos Aires, Jorge Posse, who painted a less than sentimental picture. He said that Argentina's populist government had tried to exploit Maradona's death for its own political advantage. It had opened up the Casa Rosada for Maradona's lying in state. "But the hooligans reacted very violently against the police and broke everything in their way. There was a lot of alcohol and drugs involved." Jorge, who is coming to London for Christmas, said he would "tell me more personally". It seems as though Maradona's departure was marked in a more dignified way by his fans in Calcutta.
Chemical reaction
Yusuf Hamied, head of Cipla, is trying to do his bit for India. He extended his support to a collaboration programme backed by the Royal Society to bring top scientists to India, as Venkatraman Ramakrishnan stepped down after five years as its president. "The enhancements to this programme will help us to continue bringing together the best scientists from the UK and India," said Venki. Meanwhile, the chemistry department at Cambridge University, where Yusuf did his degree and PhD, is being named after him. The university's vice-chancellor, Stephen Toope, explained that "a university would not rename any department lightly" but the decision was made to recognize his "transformational gift".
Yusuf emphasized that "the work that was done [in the department] in the mid to late 1950s led to [James] Watson and [Francis] Crick developing the double helix structure of DNA". Afterwards, Yusuf assured me his charitable wing would give the Covid-19 vaccine free of charge to people in India who cannot afford the cost. Cambridge University has given him an honorary doctorate of science for helping to save the lives of 15 million AIDS patients in Africa with "dollar a day" drugs.
Guest of honour
Although there is no confirmation, I have seen reports suggesting that Boris Johnson might be the chief guest at India's next Republic Day function. Either way, he has promised to visit India as soon as he can. The Sunday Telegraph ran a three-quarter page piece on how Johnson has done a mega deal with Sunil Bharti Mittal to launch Britain into the space race through OneWeb, a satellite operator. I have noticed that stories about Indians are migrating from the news to the business pages. There is much curiosity about how the steel tycoon, Sanjeev Gupta, dubbed the "saviour of UK steel" finances his acquisitions. He has convinced Prince Charles, who has appointed Gupta as his 'personal industrial ambassador'.
Footnote
Turkey "with all the trimmings" remains traditional fare at Christmas. But The Sunday Times is promoting what I have long thought of as a good idea — a "curry for Christmas". It recommends a "gourmet feast" from Gymkhana, "one of the... most famous and in-demand restaurants", "for those wanting a change from Christmas staples". A box for four costs £110 and includes "wild muntjac biryani" and "4 tandoori masala lamb chops" — the latter are probably the best in Britain.