The real mystery of Agatha Christie
EYE ON ENGLAND: Getting to know Winston Churchill from the Darkest Hour; a 'lockdown' poem from Simon Armitage referencing Kalidasa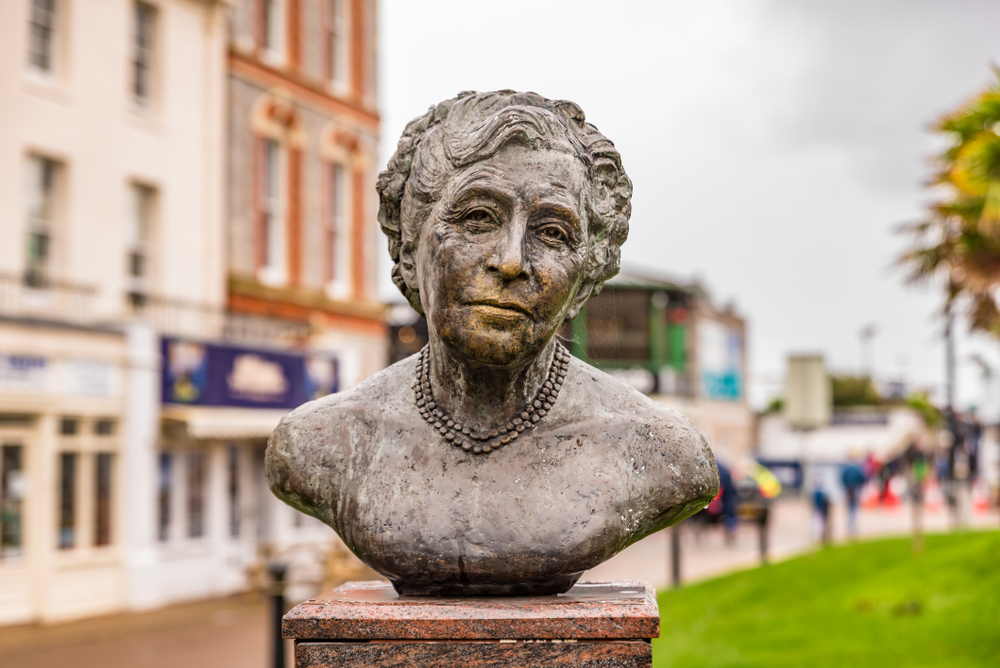 ---
---
Laura Thompson's Agatha Christie: A Mysterious Life shows why the British probably write the best biographies. This is an updated version of the biography first brought out in 2007. But 2020 is special because it marks 100 years since the "Queen of Crime" introduced the Belgian, Hercule Poirot, in her first novel, The Mysterious Affair at Styles.
Laura unravels the real mystery in Agatha's life. She disappeared for 11 days between December 3-14 in 1926, a few months after her husband, Colonel Archibald Christie, had told her that he wanted a divorce as he had fallen in love with a younger woman, Nancy Neele (whom he subsequently married). Having talked to Agatha's daughter, Rosalind, Laura has concluded the crime writer suffered a mental breakdown.
Incidentally, Archibald was born in British India. His father, also called Archibald, was a judge in the Indian Civil Service. Archibald took Nancy to India, probably to show his second wife the country of his birth. Laura tells me she has been a "bona fide Agatha Christie fan" since reading The Murder on the Links at the age of 10. Among her favourites are Five Little Pigs, The A.B.C. Murders, The Pale Horse, Murder is Easy, And Then There Were None and The Hollow. The biography has a light touch but is a work of scholarship, nevertheless: "Nobody else can do what she does in my opinion. I have read all her novels many, many, many, times. I know them embarrassingly well."
History lessons
Most people probably have learnt more about M.K. Gandhi through Richard Attenborough's Oscar winning film than through books or history lessons at school. Perhaps the same is true about Winston Churchill, who was the subject of Darkest Hour, shown on BBC TV last week.
It is a wonderful film directed by an Englishman, Joe Wright, who was married to Pandit Ravi Shankar's daughter, Anoushka, from 2010-2018. Gary Oldman justly won an Oscar in 2018 for playing Churchill, who is shown battling against the odds, with Hitler's forces sweeping across Europe, when he takes over from Neville Chamberlain as prime minister of Britain on May 10, 1940.
King George VI, who did not want Churchill as prime minister, protests: "His record is a litany of catastrophe... the India policy... Winston lacks judgement."
Because Indians have deep reservations about Churchill, it is important to understand why the war-time leader holds a unique place in British history.
Great loss
It makes me very sad to write about David Twiston Davies, but last week The Daily Telegraph devoted three-quarters of a page to his obituary. He was a close friend and colleague. He would have found it ironic that the man who had written hundreds of obituaries for the paper was now himself the subject of one.
He often consulted me if he was writing the obituary of a Maharajah, a Bollywood star or a former colleague to see if I had any "anecdotes" to offer. He didn't think an obituary was readable unless it contained a revealing anecdote or two.
One of our last conversations a few months ago was quite flattering. "By the way, have you written your memoirs?" he asked. "No." "Pity."
He showed that behind writing a good obit lies years of scholarship, and often a long lunch with the subject.
David was very old-school, very courteous. He bowed to Arup Kumar Sinha, whom I had invited to lunch with the hope of persuading him to lay claim to the title, sixth Baron Sinha of Raipur, following the death of his father, Anindo Kumar Sinha, the fifth Baron, and greeted the bewildered young computer engineer with, "Your Lordship". Incidentally, I failed to get both Anindo and Arup to take the hereditary peerage that was created for Satyendra Prasanna Sinha, First Baron Sinha, in 1919.
Passing cloud
Simon Armitage has written a poem, "Lockdown", but referencing Kalidasa's "Meghdoot", in which "an exile sends reassuring words to his wife in the Himalayas via a passing cloud". He explains: "The cloud is convinced to take the message because the yaksha, which I think is sort of an attendant spirit to a god of wealth, tells him what amazing landscapes and scenery he's going to pass across. I thought it was a kind of hopeful, romantic gesture." How I wish my old English teacher, Father Cleary, were around to decipher the poem word by word: "And I couldn't escape the waking dream/ of infected fleas/ in the warp and weft of soggy cloth/ by the tailor's hearth/ in ye olde Eyam./ Then couldn't un-see/ the Boundary Stone,/ that cock-eyed dice with its six dark holes,/ thimbles brimming with vinegar wine/ purging the plagued coins./ Which brought to mind the sorry story/ of Emmott Syddall and Rowland Torre,/ star-crossed lovers on either side/ of the quarantine line/ whose wordless courtship spanned the river/ till she came no longer./ But slept again,/ and dreamt this time/ of the exiled yaksha sending word/ to his lost wife on a passing cloud,/ a cloud that followed an earthly map/ of camel trails and cattle tracks,/ streams like necklaces,/ fan-tailed peacocks, painted elephants,/ embroidered bedspreads/ of meadows and hedges,/bamboo forests and snow-hatted peaks,/ waterfalls, creeks,/ the hieroglyphs of wide-winged cranes/ and the glistening lotus flower after rain,/ the air/ hypnotically see-through, rare,/ the journey a ponderous one at times, long and slow/ but necessarily so."
Footnote
The chancellor of the exchequer, Rishi Sunak, who extended the government's furlough scheme to October, fascinates parliamentary sketchwriters. The Daily Mail's Henry Deedes reported: "The Boy Wonder returns!... Rishi arrived at the despatch box looking like a member of a sixth-form debating society: taut suit, skinny tie, hair moussed with a top stylist's precision. There seemed genuine surprise around the chamber when it was announced he was celebrating his 40th birthday."