Lost freedom: The Afghan situation
Eye on England: 'Twelfth Night' with a twist at the Globe, Sarah Gilbert's new book, Geoffrey Wheatcroft's title on Churchill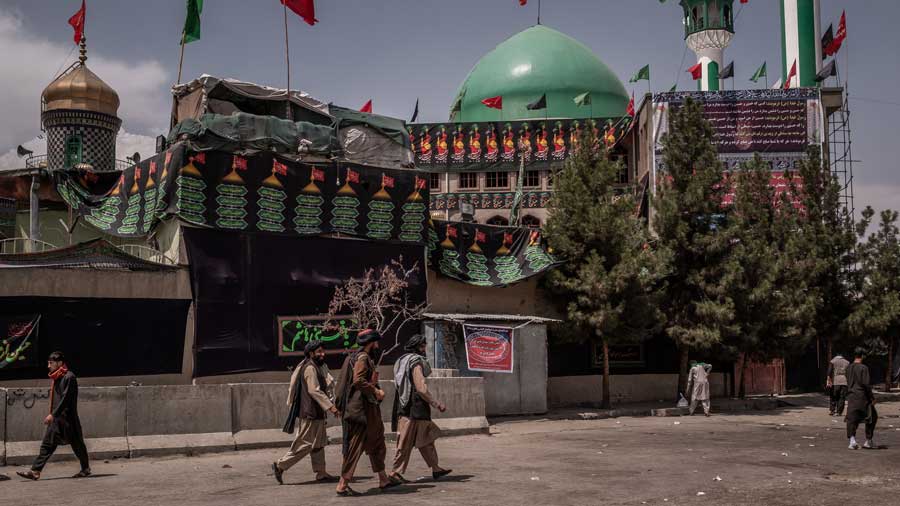 Members of the Taliban, center, look to secure a site for an Ashura celebration in Kabul, Afghanistan on Thursday, Aug. 19, 2021.
Jim Huylebroek/The New York Times
---
Published 21.08.21, 12:32 AM
|
---
My limited knowledge of Afghanistan comes from seeing a DVD of Tapan Sinha's Kabuliwala and reading A Study in Scarlet, in which Sherlock Holmes tells John Watson at their first meeting, "You have been in Afghanistan, I perceive." I also saw a stage version of Khaled Hosseini's The Kite Runner in London in 2017 and thus listened carefully when he was recently interviewed on BBC Radio 4's The World Tonight by Ritula Shah, who said: "Khaled Hosseini's novels made dusty, distant Afghanistan seem a little more vivid in all its beauty and cruelty. And in A Thousand Splendid Suns you write vividly about the plight of women under the Taliban."
In the early 1980s, I did slip across the border from Iran into Afghanistan in a pick-up truck to try and "interview" the invading Russians but they were on the other side of the country. But I remember the spectacular beauty of Afghanistan's purple mountains. Hosseini, who has been given asylum in America, was "just heartbroken" and found the Taliban's return "absolutely devastating". He urged the international community to maintain pressure on the Taliban because "the way they ran the country before 2001 is no longer acceptable. Afghanistan is not the country the Taliban left behind. What will happen to the women who have painstakingly carved a niche for themselves, at least in urban centres? Will freedom of movement, their right to attend school, to enter the workforce, to work in the government, to show their faces in public, to dress as they like, to leave home without the company of a male, be erased in one fell swoop?"
Role model
It says much about British society that Sarah Gilbert did not jump the queue when it came to being given the Covid vaccine. After all, Gilbert, professor of vaccinology, is the woman who designed the Oxford vaccine. "Since I was not a healthcare worker or in any of the other priority groups, I would have to wait my turn," she explains in her book, Vaxxers: The Inside Story of the Oxford AstraZeneca Vaccine and the Race Against the Virus, co-authored with a colleague, Catherine Green. On New Year's Day, she was at home when she read something odd was going on in Wuhan, China. Two weeks later she had the vaccine. But it took a year to ensure it was safe. The book tells how the Serum Institute of India, "the world's biggest vaccine manufacturer", was brought into the picture.
The authors, "two ordinary people" who write their chapters as "Sarah" and "Cath", relate a very human story. Sarah, a mother of triplets, worried about a son who was living in Bath. Cath, meanwhile, reveals her personal heartbreak: "My husband had left me a few months earlier and I was still angry and hurt and a bit fearful of what 2020 would bring." Sarah emphasizes that the vaccine was "a collaborative effort by an international network of thousands of heroes — dedicated scientists in Oxford and across four continents." And it wasn't a race against other scientists but "against the devastating virus that took millions of lives". It is fitting that Gilbert was given a standing ovation at Wimbledon and has inspired a Barbie .
Shakespeare with a twist
When Ajay Devgn came with Vivek Oberoi to the Cannes Film Festival to promote Omkara, Vishal Bhardwaj's adaptation of Shakespeare's Othello, he had assured a press conference: "His script is so good, it is even better than the original." In London, after more than a year's lockdown, Shakespeare's Globe and other theatres have reopened, I am pleased to report. These days Shakespeare is always done with a twist. I recently saw Twelfth Night at the Globe — it's the first play I studied at school in England — but with women taking the roles of Sir Toby Belch, Feste, Fabian and even the yellow cross-gartered Malvolio.
Then I went to the National Theatre to see Paradise, described as "a new version of Philoctetes", the Greek epic written by Sophocles in 409 BCE. Its 12-strong cast was all women, seven of them non-white. Theatre audiences are usually white but the National has committed itself to "diversity" and says it wants to reflect a multicultural Britain.
A dark shadow
Of the books I have read on Winston Churchill, Geoffrey Wheatcroft's just-published Churchill's Shadow: An Astonishing Life and a Dangerous Legacy is probably the best. The author, who read modern history at Oxford and has been literary editor of The Spectator, acknowledges Churchill's greatness as wartime prime minister but also tackles his racism, the Bengal famine and his irrational hostility to Indian independence. Wheatcroft recalls that years ago he went to an India-England Test at Lord's when "my friend Pankaj Mishra said to me, 'It is not easy for an Indian to love Winston Churchill.' And I completely understand that."
Wheatcroft adds: "Another Indian friend has just written to me about the Test match, saying he was obviously pleased that India had won but he very much dislikes the behaviour of Kohli and the team. And he said this is yet another example of the India of Modi and the ugly Indian."
Footnote
Wearing his teacher's hat, Wisden editor and The Daily Mail cricket writer, Lawrence Booth, has been giving marks out of 10 after the Lord's Test. They range from 3 for Dom Sibley to 4 for Haseeb Hameed, 5.5 for Moeen Ali, 7.5 for James Anderson and 9 for Joe Root. Among the Indians, the lowest mark — 6 — goes to Kohli, Pujara and Pant. Jadeja and Rahane get 6.5; Ishant 7; Shami 7.5; Rohit 8; Rahul and Bumrah 8.5; while Siraj tops with 9. England's total is 66.5; India's 79.5.