Editorial: Evil fire
Bangladesh should not fritter away it's economic gains to predatorial majoritarianism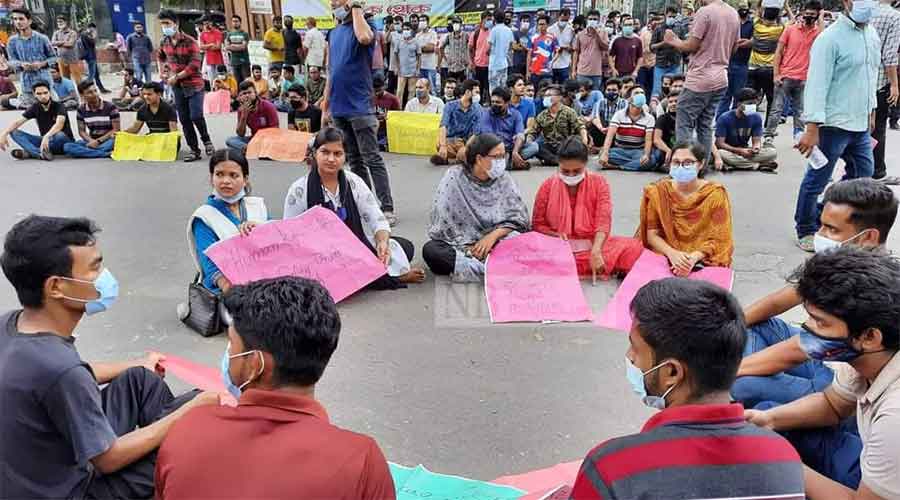 Monday's rally against communal violence at Shahbag, led by students, staff and faculty from Dhaka University.
Twitter/@MarginalS4th
---
Published 20.10.21, 01:42 AM
|
---
Shahbag Square in Dhaka is roaring, once again. The spontaneous demonstration by thousands of people cutting across religious lines against the spate of vandalism targeting Hindus in Bangladesh during the Durga Puja on alleged charges of blasphemy is reassuring. It goes to show that unlike some of its bigger neighbours, Bangladesh's civil society has the spine to take on the mischief of fundamentalist forces consistently. The prime minister, Sheikh Hasina Wajed, who recently stated that India should remain vigilant so as to ensure that religion is not used to divide citizens, must use this public momentum to crack down against the perpetrators. Ms Wajed's government has arrested several miscreants and deployed the Border Guard Bangladesh in as many as 22 districts after violence and vandalism shattered the peace in several places in the Chittagong range. Yet, sporadic cases of communal tensions continue to be reported. For instance, minority-owned temples and shops bore the brunt of vandalism in Feni on Saturday. Ms Wajed must ensure that such events are not repeated. The administration must get to the root of the crisis to identify the shadowy patrons and then punish these instigators. There are two compelling reasons for this. First, Bangladesh, which has taken giant economic strides and, consequently, progressed on social indicators in recent times, should not fritter away these gains to predatorial majoritarianism. Second, a tepid response would encourage rabid Islamist forces that have a history of unleashing unrest in that country.
The Narendra Modi government, while expressing concern, has also been appreciative of the steps taken by Ms Wajed to control the situation. Strangely, leaders of the Bengal unit of the Bharatiya Janata Party remain unconvinced unlike their bosses in Delhi. A prominent state party leader met the Bangladesh envoy in a bid to rake up the issue. The intentions are clear. The BJP would like to milk the disturbances in Bangladesh for electoral benefit in the upcoming by-elections in Bengal. After all, polarization has yielded rich dividends to the party in electoral contests. Bengal, admittedly, rebuffed this strategy of the BJP during the assembly elections. Those who resisted the BJP's divisive policy — civil society activists, students, political opponents and an overwhelming number of ordinary citizens — must continue to be on guard on this side of Bengal and douse efforts to kindle communal flames. Eternal vigilance is the price for not only sustaining liberty but also snuffing out religious discord.