What would Picasso with The Telegraph?
EYE ON ENGLAND: An exhibition at the Royal Academy features 340 of the master's art works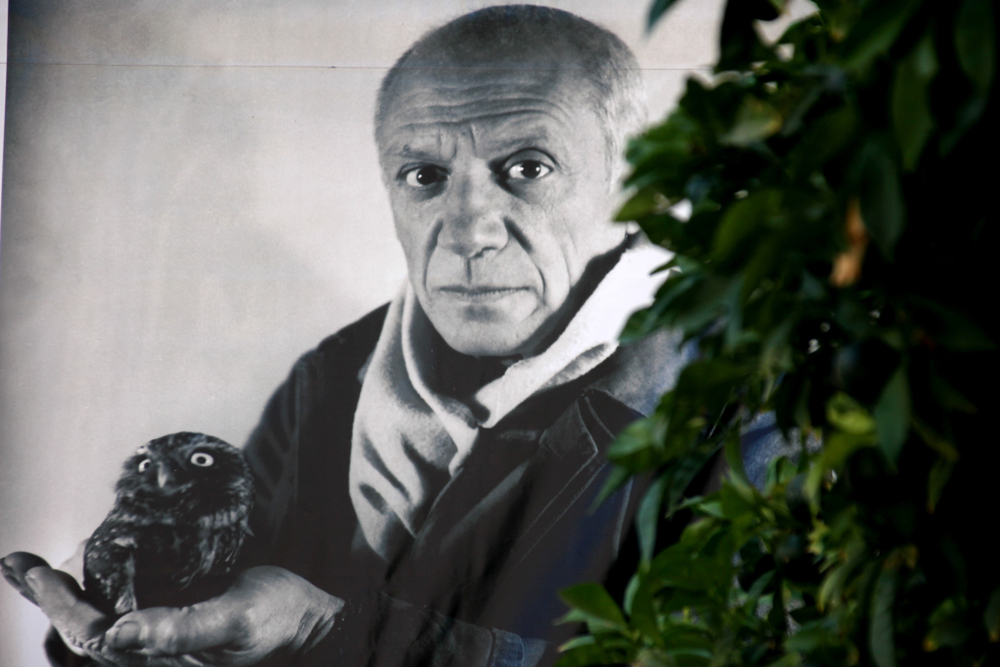 Black and white poster with Pablo Picasso portrait and green tree at Picasso exhibition hall, Dubrovnik, Croatia.
Shutterstock
---
Published 24.01.20, 08:31 PM
|
---
Coolest Man
Stephen Ward was a society osteopath in 1960s Britain; his patients included the Duke of Edinburgh, Princess Margaret and John Profumo, the minister for war in Harold Macmillan's cabinet. British television audiences are currently gripped by the BBC drama, The Trial of Christine Keeler, a retelling of the most famous British sex scandal, which resulted after Ward had introduced Profumo to the 19-year-old Keeler.
A former Labour parliamentarian and long-time supporter of India and Indians, Stephen Pound, wrote an intriguing article revealing that as a 15-year-old, he had run odd errands for Ward at the height of the scandal. Pound revealed: "I remember Ward as the coolest man I'd ever known. He wore Ray-Ban sunglasses, and I couldn't believe anyone outside Hollywood could do that and carry it off... He may have been the son of a Torquay vicar but he had a clipped, upper-class accent and people said he'd had 'a good war', serving as a second lieutenant in the Royal Army Medical Corps in India, where (he liked to claim) one of his patients was Mahatma Gandhi."
What's been happening across England?
Keep going back
An exhibition worth flying to London for is Picasso and Paper at the Royal Academy, which did make me wonder what he would have done had he got hold of a copy of The Telegraph from India. We are told that Picasso "experimented with everything from newsprint and napkins to decorative wallpaper. He spent decades investigating printmaking techniques, sourcing rare and antique paper from as far as Japan... Picasso didn't just draw on paper — he tore it, burnt it, and made it three-dimensional... For Picasso, paper was both a tool to explore his ideas and a material with limitless possibilities."

The three curators from the institutions involved — Ann Dumas from the Royal Academy, William Robinson from the Cleveland Museum of Art and Emilia Philippot from Musée National Picasso-Paris — spent four-and-a-half years picking 340 artworks. These have been divided by them into rooms dealing with Picasso's Blue and Rose periods, cubism and surrealism, his reaction to the Second World War and to African culture, his visits to the circus and the theatre, his reflections on both violence and tenderness using the Minotaur and how he kept "reinventing himself" and how his art remained youthful and vibrant even as he approached death at the age of 91 in 1973 after an 80-year-long career.
There has been talk of how Picasso abused the many women in his life, but Robinson told us during a guided tour: "He takes things from his personal life but creates universal images out of them. The humanity of his works is what strikes me." Philippot revealed that Picasso "always had a sketchbook in his pocket — like a studio in a pocket — for notes and ideas" while Dumas summed up, "It's a very rich exhibition, you probably have to come back a few times".
So much to do
Since the Indian all-rounder, Ravichandran Ashwin, will be following in the footsteps of Sachin Tendulkar, Yuvraj Singh and Cheteshwar Pujara in playing for Yorkshire County Cricket Club this season, he should perhaps make an effort to see something of England's largest and, in some ways, most beautiful county. For a history of the club, founded in 1863 and which has produced Len Hutton, Freddie Trueman, Geoffrey Boycott, Michael Vaughan and Joe Root, the book recommended by the head of marketing at the club, Treve Whitford, is Who's Who of The Yorkshire County Cricket Club by Paul Dyson.
Whitford also suggests that Ashwin, who will be based in Headingley, could also enjoy the rich cultural life in Leeds, visit the National Railway Museum in York and the Yorkshire Moors where Emily Brontë set Wuthering Heights. At Yorkshire Tourism, Alice Bailey said Ashwin could see the wonderful countryside by cycling and also the county and agricultural show in Harrogate, the Yorkshire Dales Food & Drink Festival in Skipton and taste fish and chips to die for at the Magpie café in Whitby, the seaside town where Dracula landed in Bram Stoker's 1897 novel.
True Gratitude
When I dropped in for a cappuccino at the House of Lords last week with the Tory peer, Dolar Popat, he told me that his memoir, A British Subject: How to Make It as an Immigrant in the Best Country in the World, had been nominated for 'Best Biography or Memoir by a Parliamentarian' by the Booksellers Association and the Publishers Association. It is a very readable account of how Popat came to Britain from Uganda at the age of 17, worked for years in a Wimpy fast food outlet to pay for his accountancy course, became a successful businessman, helped David Cameron attract Indian voters and was nominated by the former prime minister in 2010 for a peerage.
Popat's problem is that his book is up against Cameron's For the Record. All parliamentarians are eligible to vote, with the winner set to be announced on February 26. What makes it doubly embarrassing for the Indian peer is that Cameron has written a very generous Foreword to Popat's book which he concluded by saying: "I hope you enjoy Dolar's story as much as I did." Popat tells me he would much rather people did not vote for him: "Cameron has been so good to me — I want him to win."