Editorial: Sins of the fathers
Going by Nitish Kumar's reasoning, India's history and geography must both be revised, since drinking is not Indian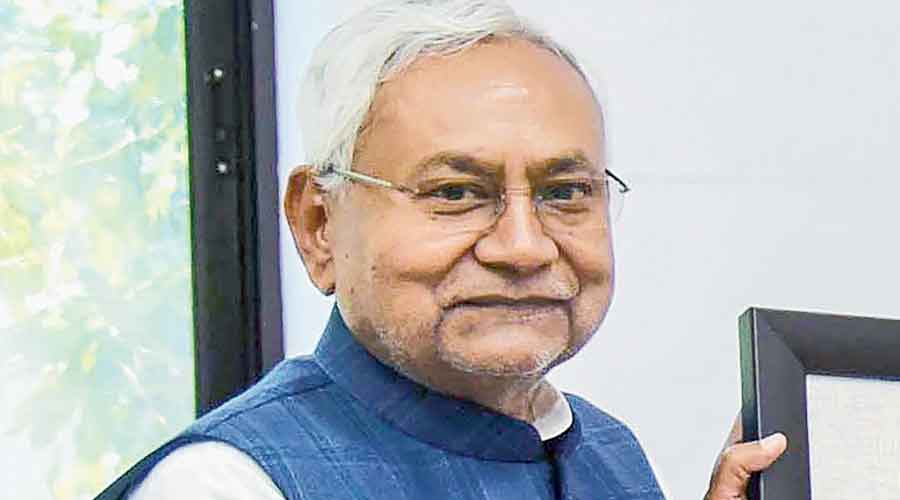 Nitish Kumar
File picture
---
Published 03.04.22, 12:19 AM
|
---
Advanced in technology and morality, Ancient India in the hands of the present rulers has acquired a burnished new look. It shimmers with the sheen of uninformed fantasy, while its wise men are installed in positions of honour in contemporary practices. Hence Charaka, known as the father of Ayurveda, is now the originator of the oath for medical students; Charaka's oath is an alternative to the conventional Hippocratic one. In the same high vein, confident of superior Indian traditions flowing down sacred rivers such as the elusive Saraswati, the chief minister of Bihar, Nitish Kumar, condemned all those who drink alcohol as mahapaapi — great sinners — who are not 'Hindusthanis', presumably meaning 'Indians'. How would Mr Kumar respond if he were reminded that Charaka, one of the heroes of his friends in the Bharatiya Janata Party and now much in the news, mentions 84 kinds of alcoholic drinks? Not one, not two, not 20, but 84. Which suggests that the India Charaka knew was a jolly old place where folks did not stifle the pleasures of life with stuffy notions parading as morality.
Even rituals then required the pouring of som rasa, the elixir of life that Vedic gods quaffed liberally. Gods and goddesses, kings, queens, heroes and heroines, sages and sinners, burghers and villagers, enjoyed liquors drawn from fruits, flowers, plants and grains at ceremonies and joyful junctures, to welcome guests and experience togetherness. Surely Mr Kumar does not believe that he is descended from a race of mahapaapis? Right down to his times, India remains rich in traditional liquors differing from region to region, whether it is mahua or arrack, taadi or haandiya or any of the scores of others. To be fair to Mr Kumar, he did not call upon Ancient India but only upon Gandhi. In this he is in tune with his BJP friends, who pull Gandhi out of their drawer when it suits them while people they know — to put it politely — celebrate his assassin.
For Mr Kumar, this was an awkward moment. His government was having to tweak his flaunted prohibition law — of Gandhian inspiration? — a wee bit; he needed to drown that by stridently declaring the depravity of liquor lovers. But forcing the horse away from the water may be the surest way to make it drink: so Bihar's prohibition law has driven much of the liquor business underground, causing deaths from illicit liquor on the one hand and spawning a generation of addicts hooked on drugs on the other. Far from the companionable enjoyment of glittering brew of ancient times, drinking among labouring people today becomes destructive when work, money and modes of relaxation are all inadequate. But in one magnificent sweep, Mr Kumar has dismissed vast numbers of the country's population as not Indian. For it is not just the poor who drink; the better-off carry on ancient India's traditions too.