Editorial: Flame alert
Good time to include forest inhabitants in all conservation efforts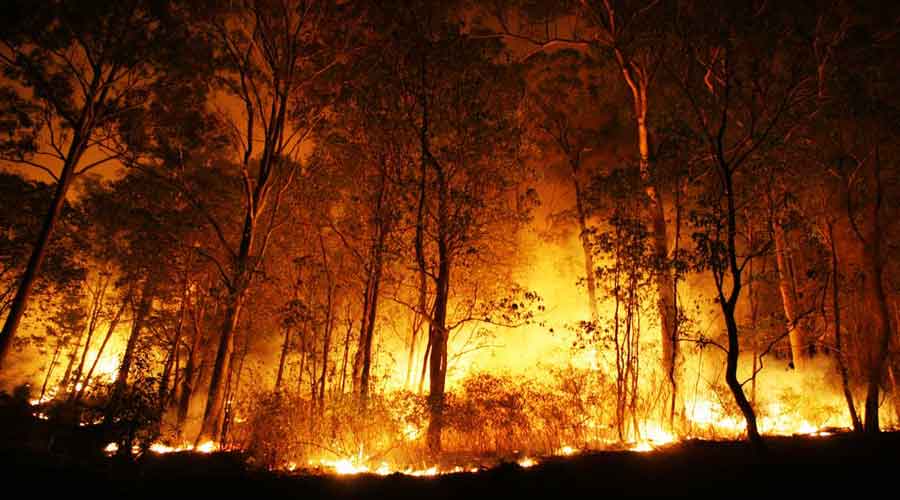 Representational image.
File photo
---
Published 14.03.22, 01:01 AM
|
---
The season of forest fires is upon India. Wildfires are most commonly reported in March, April and May owing to the presence of large quantities of dry wood, grass and dead leaves on the ground. Forest areas in Uttarakhand, Himachal Pradesh, Nagaland, Madhya Pradesh and Odisha are some of the most vulnerable: these states have seen a spike in forest fires since 2021. Uttarakhand witnessed over 1,000 incidents of wildfires within a span of six months. According to the India State of Forest Report 2019, large tracts of forested land in India are "extremely prone" to forest fires: 1,72,374 sq km — 26.2 per cent of the total forest cover — are "highly prone" or "moderately prone" to wildfire eruptions. The picture is grim globally. The 2019-20 Australian bushfires and the 2020 lightning wildfires in California singed thousands of kilometres of prime forest land, devastating lives, livelihoods and ecosystems, exacerbating climate change by releasing greenhouse gases into the atmosphere. Worse, a report by the United Nations Environment Programme and GRID-Arendal concluded that there will be a massive surge in wildfires around the world in the upcoming decades.

The growing threat of forest fires can serve as an opportunity to reimagine forest management by including its principal stakeholders — tribal communities and forest dwellers — within the ambit of conservation. The colonial edifice of conservation continues to disproportionately influence forest management, excluding not just indigenous communities but also their systems of knowledge and practices. It would be pertinent to mention that the Scheduled Tribes and Other Traditional Forest Dwellers (Recognition of Forest Rights) Act, 2006 has not been able to settle many a contested claim of indigenous people over forest lands. Forest-dependent communities, which have successfully maintained a fine balance between environment and livelihood — something that successive governments have failed to achieve — can be critical allies in arresting such hazards. Thoughtful traditional practices — periodic controlled burns — can be fused with modern conservation tactics to manage the crisis. A fundamental shift in ideas about conservation and collaborative efforts between tribal people and the bureaucratically-minded forest departments can not only help mitigate the crisis but also accord due recognition to these communities. The democratization of the conservation process will be crucial to the fight to protect the environment.