Editorial: Bloodbath
Trinamul has inherited Bengal's shameful legacy of political vendetta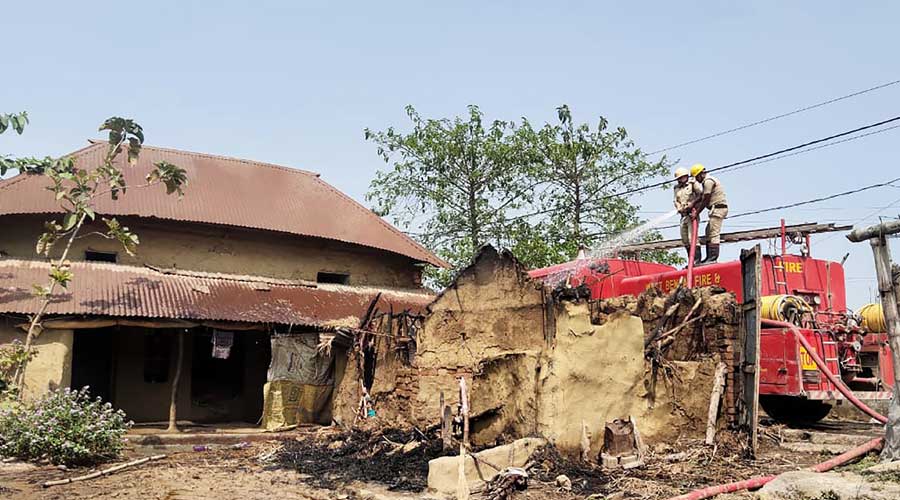 Firefighters try to douse the fire after some miscreants set the houses on fire allegedly for avenging the killing of TMC leader Bhadu Sheikh, at Rampurhat in Birbhum district, Tuesday, March 22, 2022. At least 8 persons were burnt to death in the incident, according to officials.
PTI Photo
---
Published 24.03.22, 12:01 AM
|
---
The political responses to the ghastly massacre of at least eight people, including women and children, in a village in Birbhum in retaliation to the murder of a local leader of the Trinamul Congress have unfolded on predictable lines. The Bharatiya Janata Party has, as expected, put forward the exaggerated demand of the imposition of President's rule in the state. The governor — not the most impartial of voices — has remarked on Bengal's 'deteriorating' law and order situation. The chief minister, meanwhile, has smelled a political conspiracy to malign the state's image. This political slugfest must, however, not divert public attention from an important fact. Irrespective of the colour of the government, Bengal has been vulnerable to the culture of vendetta. Episodes of violent retaliation have, therefore, smeared the governance record of nearly every political dispensation. The Congress bore the brunt of the turbulence of Naxal violence that was characterized by gory recriminations. The Communist Party of India (Marxist) had blood on its hands during its long reign: the deaths in Nandigram, Chhoto Angaria or, say, a tea estate in Dalgaon bear evidence of this. The Trinamul Congress has now inherited this shameful legacy, even though it must be said that the massacre in Birbhum is quite unprecedented.
Some common strands are evident in these tragic incidents separated by time. The first — obvious — shared trait being the political hegemony of the ruling party. Birbhum has been rendered Opposition-mukt: allegations of intimidation against the TMC were rife during the recent municipal elections. The TMC's political domination has certainly weakened checks and balances necessary to pre-empt such clashes. The other, equally important, element is the prevailing complicity between criminals and the political class. In this case, the rise in economic and social prominence of the victim, a local satrap, unleashed an ugly reprisal. The ruling party cannot feign ignorance of its ugly underbelly. Administrative culpability cannot be ruled out either. There is concern that the lack of coordination between the police and the civil administration has often made matters worse in Bengal's districts. These persistent structural deficiencies must be identified and then addressed in a non-partisan way. In the months leading to the last assembly elections, the spate of defections from the TMC to the BJP had been described as a healthy purge. It is evident that this was not enough to cleanse the TMC's rank and file. The chief minister must now expedite the process.