Cradle Tales
Ram's birthplace having been established, Hanuman's, too, would have to be located; even that is disputed at the moment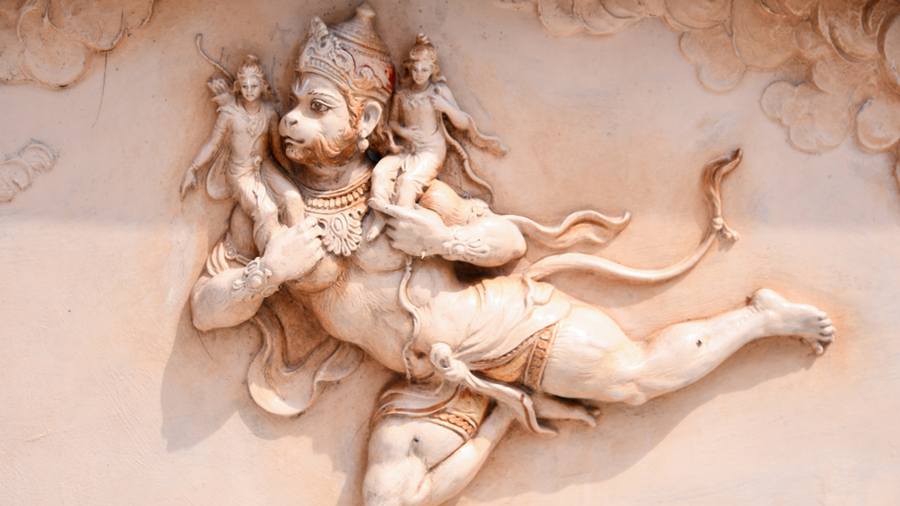 Representational image.
Shutterstock
---
Published 17.04.21, 12:33 AM
|
---
Nothing succeeds like success. The saying may be banal, but its manifestations are exciting. The coolest thing on the block nowadays is birthplace spotting, since aggressive viruses can hardly be called cool. It is best to look away from such transient unpleasantnesses and find instead that visionary gleam, those glimpses of unearthly glory, that a Western poet had once longed for. He had mourned their passing, but they have not passed in 21st-century India. They are manifested in the building of the Ram temple underway after it was established by faith and other means that Ram, the hero of an epic for some and a deity for others, was born at that exact spot in Ayodhya. With the determination of the right place was also established the enormous potential for success in birthplace spotting.  
If Ram is given his cradle, can Hanuman be far behind? Hanuman has been worshipped through the ages as the ideal devotee; the numberless bhakts peopling India today would naturally wish to visit his birthplace at a new pilgrimage site. It is a little awkward that the birthplaces of figures from mythology and the epics are not always easy to pinpoint in soil and stone. As a result, Andhra Pradesh and Karnataka are at loggerheads over Hanuman's correct birthplace: each state is claiming that the site lies within its territory. Karnataka has thrown two sites into the fray, actually. But the Tirumala Tirupati Devasthanams, which manages the Tirumala Venkateswara Temple among others in Andhra Pradesh — which is not a Bharatiya Janata Party-ruled state, by the way — formed an eight-member committee of experts that will, presumably, analyse and organize the "mythological, astrological and scientific" evidence regarding proof of Hanuman's birthplace. The committee boasts various professors and vice-chancellors of Sanskrit and Vedic universities, a senior scientist from the Indian Space Research Organization and a senior archaeologist. The wonder represented by this unique blend of faith and science surpasses comment.
Karnataka, however, cut to the chase as soon as the TTD formed its panel. The state is planning a multi-crore religious tourism project for the spot it first identified near Hampi as Hanuman's birthplace. Hanuman Janmasthala will thus become a pilgrimage site, although the second site being claimed at Gokarna will also have a temple, an image and all the paraphernalia of a pilgrimage by next Ram Navami. Not fair to believers of course, torn between two, nay, three, possible birthplaces, but who would give up the revenue coming in from religious tourism? Nothing, as was noticed earlier, succeeds like success. Andhra Pradesh might appear to be giving back the BJP a lesson in faith-harvesting in its own coin, but its conflation of faith and science is harmful, cynical and self-serving.
With all these birthplaces popping up, the mothers who gave birth might have been expected to figure somewhere. Jesus's mother has her own space. But this is India after all.