When the home minister changed colours
DELHI DIARIES: Rajeev Shukla thanks Sonia Gandhi and the Press Club of India issues rare 'reflection'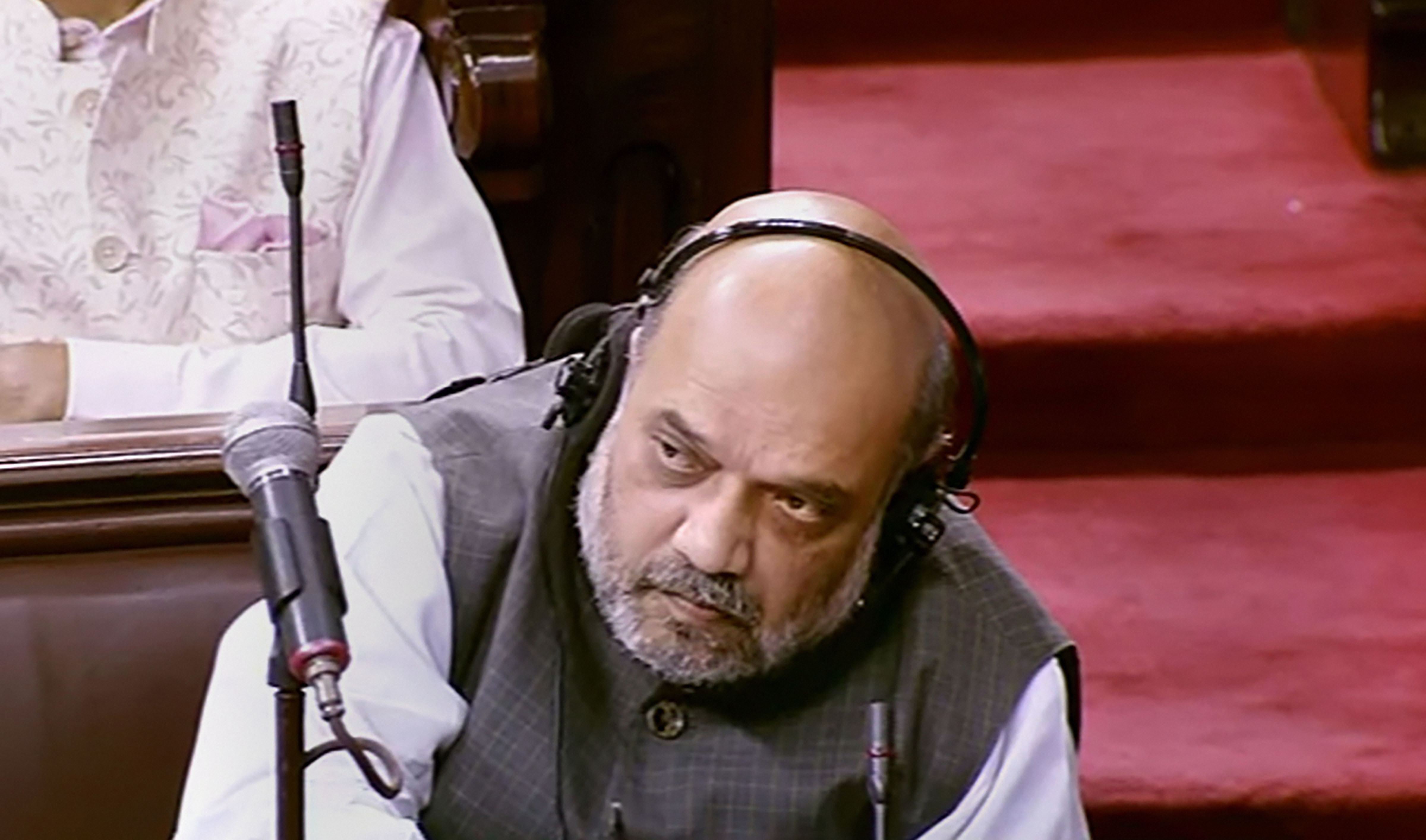 ---
Published 14.03.20, 07:04 PM
|
---
As things heat up outside, the atmosphere inside Parliament seems to be cooling down. The home minister, Amit Shah, looked like a different person in Parliament during the debate on the Delhi riots. His usual aggressiveness and belligerence was missing. The change in tone, however, was deliberate — his effort to present a sombre picture to go with the tragic loss of 53 lives in the riots was showing. The brightly coloured jackets, mostly in shades of saffron, which he donned while piloting the Citizenship (Amendment) Act were missing. In the Lok Sabha, he wore a blue jacket and in the Rajya Sabha a shade of grey. His body language was different too. Shah, who has a habit of putting one hand on his waist while speaking, tried to stop himself, even though the hand wound its way to his waist once or twice.

Party insiders revealed that in spite of accusing the Opposition of provoking the riots, the death of so many people in the country's capital was seen as a big blow to Shah's image. The riots coinciding with the India visit of the American president, Donald Trump, made the failure of the government an international affair. But Shah is not one to acknowledge failure. Party leaders said the change in his approach was more to ensure that the Opposition does not aggressively press for his resignation. He seems to have succeeded to some extent since only the Congress staged a walkout to demand Shah's resignation.
Great sacrifice
Selection of Rajya Sabha candidates caused a lot of heartburn within the Congress. Aspirants who failed to get a nomination were seething with rage. Nothing unusual about this. But this time, the nomination process was also cause for much mirth. Rajeev Shukla, a three-term Rajya Sabha member who retired in April 2018, was lobbying hard for a re-nomination. Since he did not make the cut, he tweeted, "I would like to thank congress president Sonia ji for offering me rajya sabha nomination from Gujarat but currently I am focusing on organisational work so requested her to nominate some other person in my place [sic]". Shukla tagged the Congress party handle, Priyanka Gandhi, Gujarat Congress and KC Venugopal, the general-secretary in charge of organization, to ensure that his claim acquired some credibility.
Congressmen had a hearty laugh at his expense. While some wondered whether this was the second great act of sacrifice in the party after Sonia Gandhi's refusal to become the prime minister, others asked whether this meant that he had not been focusing on organizational work all this time. A former MP and a claimant to a Rajya Sabha re-nomination said, "Ok, Rahul Gandhi can relax now, Shuklaji has taken it upon himself to rebuild the Congress. Modi-Shah beware!"
The reason why his claim evoked such sarcasm and ridicule is that he was desperately trying to get into Parliament this time. Shukla is known for networking, not a political leader with organizational skills. The political grapevine has it that he succeeded in getting three terms because of the blessings of an affluent businessman. This time, however, local leaders in Gujarat put their foot down against Shukla.
Not a joke
Rajeev Shukla is not the only one who has given cause for laughter. In his debut speech as a legislator in the Delhi assembly, the Aam Aadmi Party's suave youth icon, Raghav Chadha, linked the coronavirus to the National Population Register. Supporting a resolution urging the Centre to scrap the NPR and the National Register of Citizens, Chadha said, "At a time when we are considering postponing the IPL, and shutting down movie theatres, why can't we see the threat the coronavirus poses to people where NPR officials will be going door to door to collect data... Even if one person is infected, he could spread infection to so many different people." After the session, supporters joked about his theatrical debut. Chadha tried hard not to laugh saying, "It's very serious."
Old habits die hard
ST Somashekar, one of the Congress legislators who joined the Bharatiya Janata Party last year to bring down the Congress-Janata Dal (United) coalition government in Karnataka has since been rewarded with a cabinet berth. Be that as it may, Siddaramaiah never tolerates when someone tries to interrupt his speech. During one such address in the House, Somashekar suddenly got up to counter his former mentor. But a stern Siddaramaiah shouted, "sit down," after which the minister quietly sat down. The Karnataka home minister, Basavaraj Bommai, joked that Somashekar still obeys Siddaramaiah. Perhaps it would take some more time for the turncoats to realize they have switched colours.
Rare reflection
In a rare move, the Press Club of India issued a "reflection" on the coverage of the Delhi riots, including incomplete explanations on ineffective policing and why "communalists got into action almost straight away" after BJP leader Kapil Mishra's speech. The club takes up attacks on journalists but refrains from commenting on news itself. It had drawn flak for not allowing the screening of a documentary on human rights violations in Kashmir.