Death sentence delays
Looseness in the schedule of capital punishment helps no one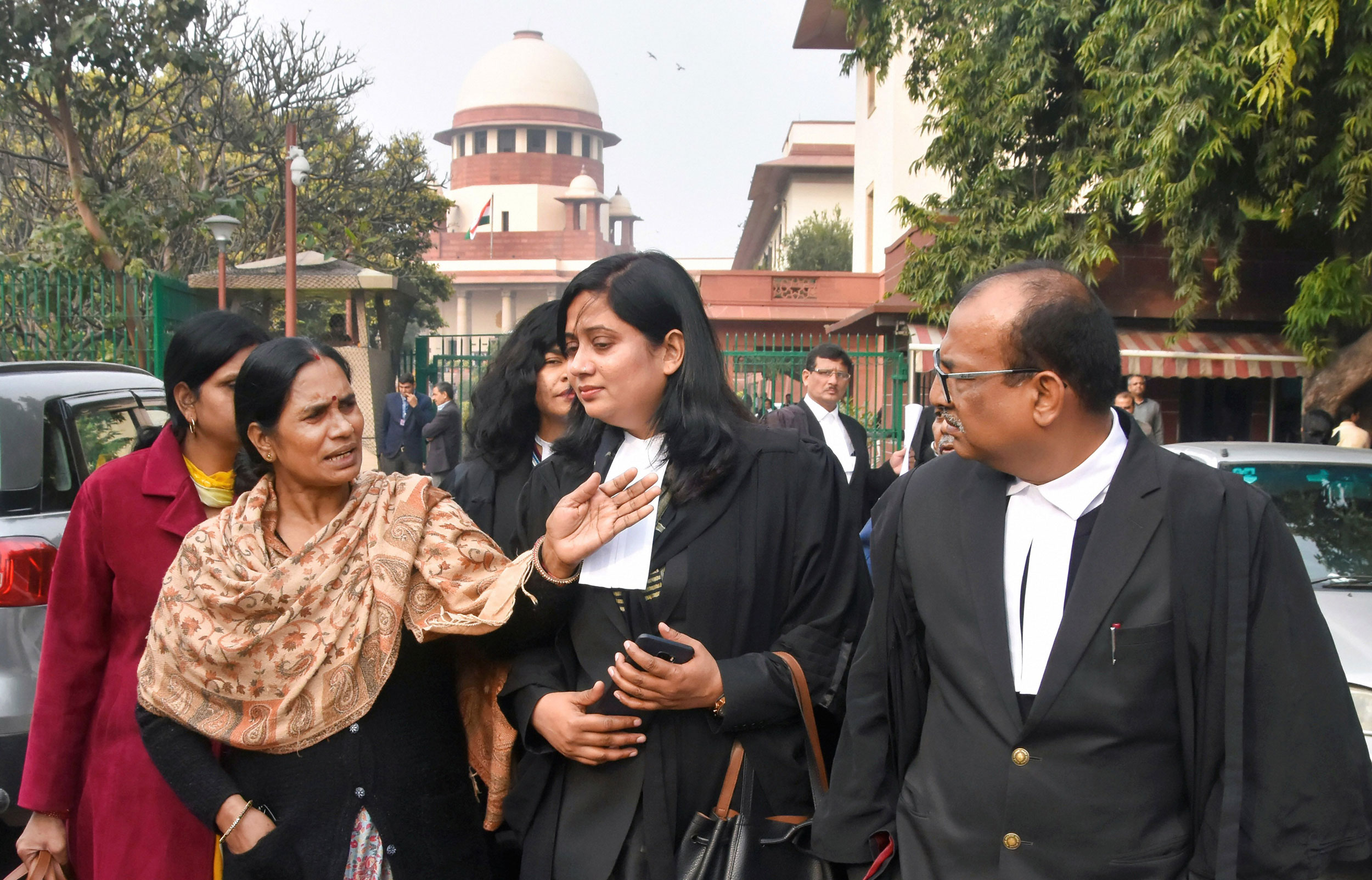 2012 Delhi gang rape victim's mother, Asha Devi, at the Supreme Court in New Delhi on Tuesday.
(PTI)
---
Published 29.01.20, 06:41 PM
|
---
It is not justice alone that is delayed in India, but execution too. Review petitions, curative petitions — submitted after review petitions have been rejected — and mercy pleas from convicts on death row take their own time, with the date of execution being postponed in expectation of the outcome of the petitions and pleas. The Centre recently moved the Supreme Court to change the guidelines regarding death penalty cases so that a limit of seven days after receiving the death warrant is fixed for convicts within which they can exercise their last legal options. Also, the death warrant should be given within seven days of the rejection of mercy pleas. If all legal options of a particular individual have been exhausted, then the execution should be carried out on the date set, irrespective of the state of the petitions of the co-accused. The Centre believes that the death penalty rules are weighted in favour of convicts, which allows them to play with the law and delay execution.
There is much to be said for streamlining the justice process, and the benefits may work in more ways than one. The Union home ministry's present concern about these delays seems to have been caused by the petitions from the convicts in the 2012 Delhi gang rape case, and a consequent change of date of execution. The crime had then caused national outrage, so these delays are once again giving rise to public ire. The Bharatiya Janata Party-led Union government could have found this the perfect opportunity to make a point against the Aam Aadmi Party with the elections in Delhi just a breath away. But even myopic politics may do some good, at least in this case. Going beyond the condemnation in the Centre's comment about convicts delaying execution, it has to be said that fixed time limits would also help, not just frustrate, those on death row by reducing suspense and the oscillation between hope and despair. The latter is a kind of violation of humaneness. Looseness in the schedule of death penalty cases helps no one. It may even suggest a covert indecisiveness regarding the death penalty that is built into the system. Ultimately, it is this that has to be addressed: is India certain about capital punishment and about the crimes that demand it?