Death by plastic: Urgent measures are needed to protect marine life
The series of deaths of whales proves that the oceans are no longer safe for marine life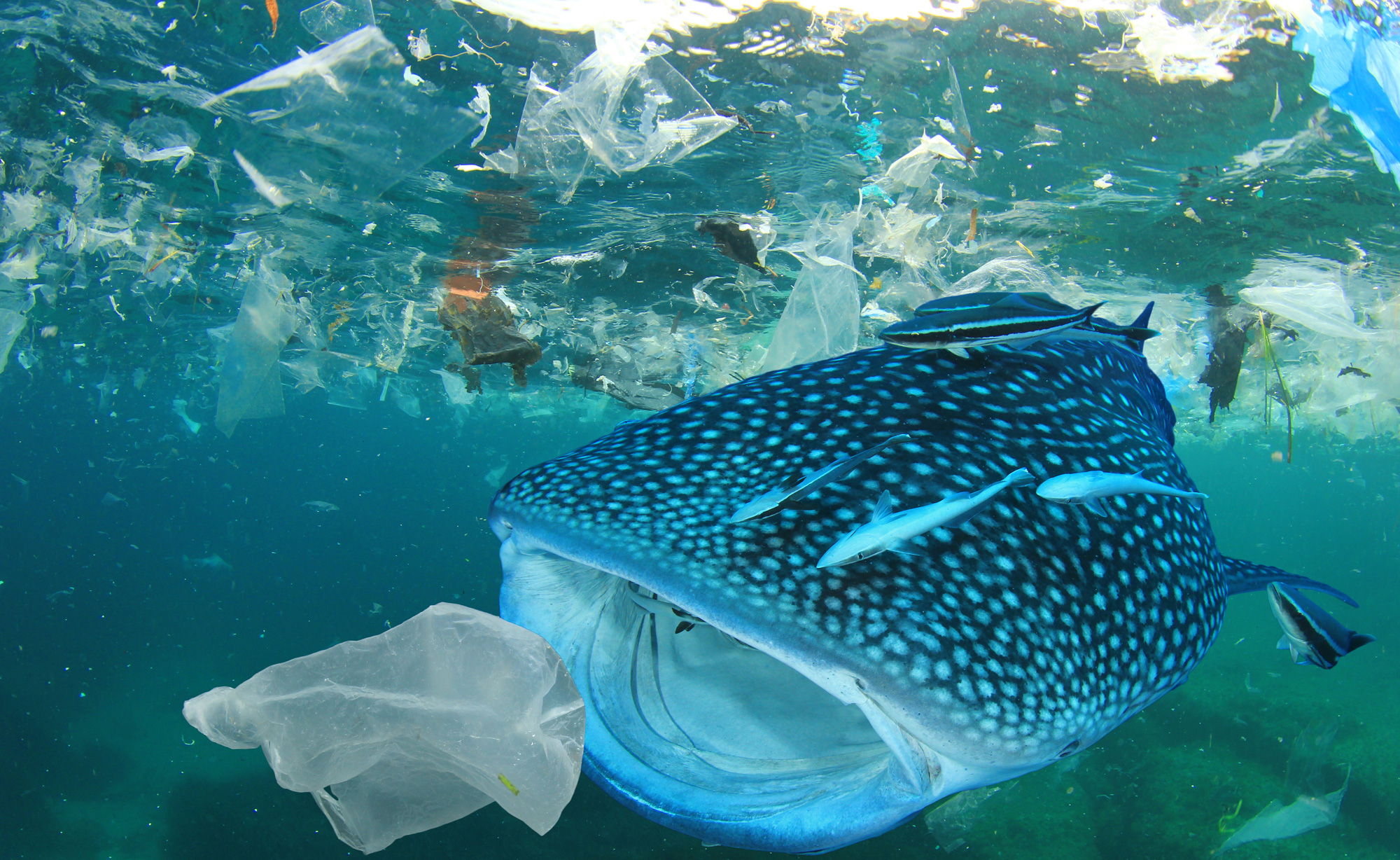 A whale shark about to swallow a piece of plastic. Scientific disposal of waste can help avoid deadly mishaps
Shutterstock
---
Published 21.03.19, 09:36 AM
|
---
Sir — A whale died after ingesting 40 kilogrammes of plastic in the Philippines. A number of such deaths have been reported from southeast Asian countries. Last year, a similar incident had taken place in Thailand. The series of deaths of whales proves that the oceans are no longer safe for marine life. This is because human beings continue to dump plastic and toxic material in the waters. Scientific disposal of waste can help avoid such mishaps. Unless precautions are taken at the earliest, the world would lose many of the creatures that make the ocean a rich and diverse ecosystem.
Kartik Banerjee,
Calcutta
Selfish move
Sir — China's use of its veto power in the United Nations security council to block the attempt to designate the Jaish-e-Mohammad chief, Masood Azhar, a terrorist is shameful ("Beijing blocks Masood terror tag", March 14). This clearly shows that China is unwilling to root out terrorism from the subcontinent. Its only objective is to destabilize India by encouraging Pakistan's use of terror.
The four remaining permanent members of UNSC — the United States of America, the United Kingdom, France and Russia — are in favour of India's proposal to list Azhar as a global terrorist. Frustrated by China's adamance on the issue, the US has warned that the members might be forced to "pursue other actions" at the UNSC if China does not change its stand. This is heartening. What China is doing amounts to covert support for terrorism; this must be exposed.
Mihir Kanungo,
Calcutta
Sir — China has used its veto power to put a hold on the move to ban Masood Azhar for the fourth time. The other permanent members of the UNSC have warned China against protecting a terror mastermind. India has expressed its disappointment over the issue. There are several implications of China's repeated use of its veto power to support its all-weather ally, Pakistan. One of these is that China is promoting Pakistan's dependence on terror to exercise State power for its own gain.
However, more importantly, the incident highlights an urgent need to reform the UNSC. Not only is there a misrepresentation of countries and a clear misuse of the veto power of the permanent members, but the UNSC has also failed to guide all member nations towards a sustainable future.
China's move is no doubt a setback for India, but it should not lose heart.
Harsh Agarwal,
Siliguri
Sir — China's move to put a technical hold on the listing of Masood Azhar as a global terrorist is unfortunate. It should realize that encouraging the chief of a terrorist outfit can threaten its own safety in the long run.
As protest, India should boycott the purchase of Chinese goods or, at least, impose higher tariffs on these the way it raised the custom duty on all imports from Pakistan in the wake of the Pulwama attack.
N.R. Ramachandran,
Chennai
Tragic lapse
Sir — The collapse of an overbridge outside Mumbai's Chhatrapati Shivaji Maharaj Terminus must be the result of flouting safety rules. The death toll could have been higher had the traffic signal at a junction near the overbridge been green. Severe and exemplary punishment must be given to those responsible for the disaster.
Most infrastructure in the big cities of India would not meet international standards as far as construction and upkeep are concerned. This is unacceptable, especially since several people use such facilities on a daily basis. Building and maintenance of infrastructure has been reduced to a means of making quick money. Further, when a tragedy occurs, authorities are busy passing the buck amongst one another. This allows the guilty to get away.
What is worrying is that the overbridge in question had undergone a structural audit just few months ago. But it failed to reveal the actual condition of the bridge. The structural auditor has rightly been arrested.
Khokan Das,
Calcutta
Sir — The recent footbridge collapse in Mumbai, in which six people died and several others were injured, should serve as a wake-up call for urban development authorities. Although that was not the case here, one of the primary reasons behind the collapse of bridges in India is that most of them were constructed in the colonial era and have been poorly maintained. A thorough safety audit should be carried out of all such bridges by a credible independent agency. Further, all footbridges that have passed their expiration dates should be overhauled using advanced construction technique and sturdy material. Special attention should be paid to footbridges in busy localities that receive heavy footfall.
Ramesh G. Jethwani,
Bangalore