The holes in the vaccine policy
Rather than prioritizing who receives the scarce vaccines, in reality, access to Covid-19 vaccination is increasingly being determined by socio-economic status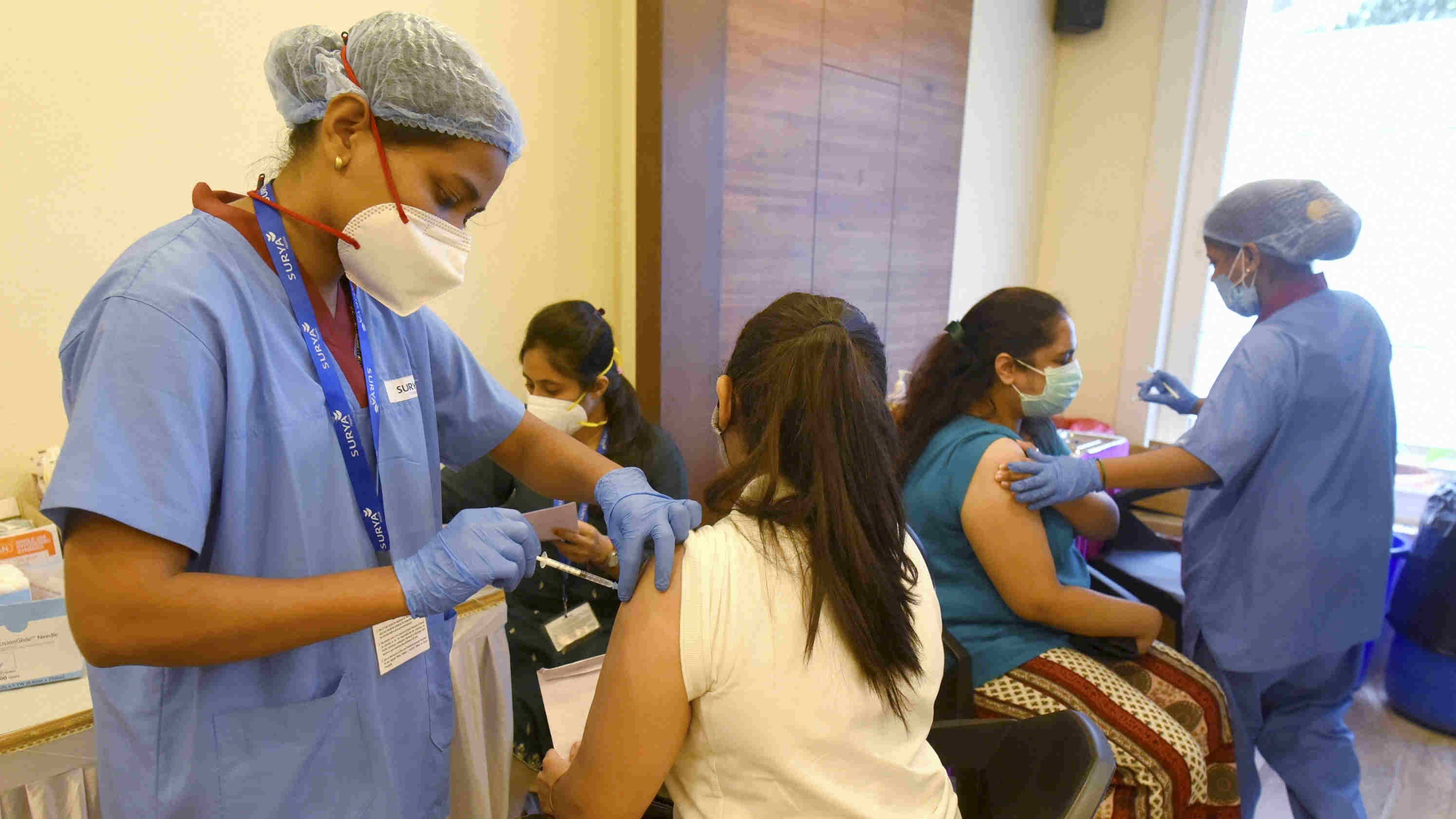 ---
Published 07.06.21, 12:57 AM
|
---
The first phase of India's Covid-19 mass vaccination programme was launched with healthcare professionals and other frontline workers on January 16, 2021. The second phase began on March 1; it was meant for people above 60 and those over 45 with certain comorbidities. The immunization coverage was expanded on April 1 to cover everyone aged 45 and above. The Centre began the third phase on May 1, opening it to those above 18 years. While the vaccines would be provided free of cost to those above 45 at government vaccination centres, all adults would now have the option of purchasing them from private facilities.
It is worth noting that amidst a severe shortage of vaccines, the government decided to decentralize its vaccine procurement policy by limiting its purchase to only 50 per cent of the monthly production of Serum Institute of India and Bharat Biotech, whereas states and private hospitals were told to purchase the doses directly from the vaccine manufacturers. The question is where are the doses going to come from? Due to persistent supply issues, many are returning home without receiving a shot. One, therefore, has to ask why the demand for vaccines was accelerated?
Those over 60 continue to be most at risk of dying or becoming seriously ill from Covid-19, followed by older adults (45-60 years) with chronic diseases, such as heart ailments. As the pandemic remains in its most virulent phase, immunizing these people first would have averted the surge in hospitalizations and deaths. Yet, the average daily vaccination rate slumped by 11 per cent between April and May, even though more than 20 million low-risk, young people (18-44 years) were given jabs in the last one month. Consequently, the share of the elderly in Covid-19 vaccination fell sharply, from 42 per cent on April 30 to 12 per cent on May 20. The opening up of the vaccine campaign to all adults has shifted the vaccine doses meant for healthcare workers, older people and other at-risk groups, thereby contributing to thousands of Covid-19 deaths. The point to be noted is that the majority of the people in the 18-44 age bracket received expensive jabs from private hospitals, while the states are struggling to procure the required vaccines for the priority groups.  
The Centre claims that its vaccine policy has been designed to ensure equitable distribution. However, an examination of the Covid-19 vaccination status among states and within the same state gives us a different narrative of equity. There is an almost 12-fold difference in the Covid-19 reported disease burden rate among the states, with Kerala, Maharashtra and Karnataka having the highest rates, and Bihar and Uttar Pradesh the lowest rates. Yet, less than 12 per cent of Maharashtra's high-risk population has been fully immunized. The vaccine situation is worse in Tamil Nadu, with a mere full immunization rate of 7.6 per cent. Unsurprisingly, Bihar and Uttar Pradesh recorded the lowest full inoculation rate (6.8 per cent) among the needy. At the other end of the spectrum are Uttarakhand (24 per cent), Gujarat (21 per cent) and Himachal Pradesh (19 per cent), which have fully immunized about a fifth or more of their most vulnerable groups.
However, observing the Covid inoculation coverage by states provides us a limited glimpse of the problem of vaccine inequity. In order to get a better understanding of the story, we need to dig a bit deeper.
A worrying feature of the second wave is the surge in coronavirus infections and deaths in rural India. Yet, the immunization coverage remains very low in India's rural districts. Statistics support this. While more than a third of Calcutta's vulnerable population was either partially or fully vaccinated by May 20, their counterparts in Jhargram were not as lucky. Jhargram, a rural district of Bengal with a sizeable tribal population, immunized about 7 per cent of its high-risk population. The low inoculation rate in Jhargram can be attributed to either vaccine hesitancy or shortage.
Aside from the glaring disparities in access to Covid-19 vaccines across states and between rural and urban areas, the vaccination rate also reveals a sharp gender gap. As of June 1, just 867 women were inoculated per every 1,000 vaccinated men despite the fact that mortality risk from Covid-19 is much higher in women than in men in India. The low vaccination rate is possibly one of the reasons for the 'Indian enigma' of relatively higher mortality in women. This was very much predictable, given that South Asia has a disconcerting record of female discrimination; what is surprising is that nothing was done to address the implications of gender bias. Instead of being gender-neutral, the vaccine policy should have been gender-sensitive and equity-focused, which would have lessened the impact of structural inequities.
Rather than prioritizing who receives the scarce vaccines, in reality, access to Covid-19 vaccination is increasingly being determined by socio-economic status, with very low coverage in rural areas and among females and disadvantaged urban populations. The vaccine inequities would exacerbate and contribute to thousands of deaths. The Union government must review the vaccine policy and take measures, including 100 per cent centralized procurement of vaccines manufactured in India, patent waiver and technology transfer for the manufacturing of additional doses.
Soumitra Ghosh is Associate Professor, Tata Institute of Social Sciences, Mumbai