Far-sighted: Moral lesson in pandemic
Notion of self-reliance was little short of absurd — coming from a government which forgot to prioritise the most vulnerable segments when it imposed a lockdown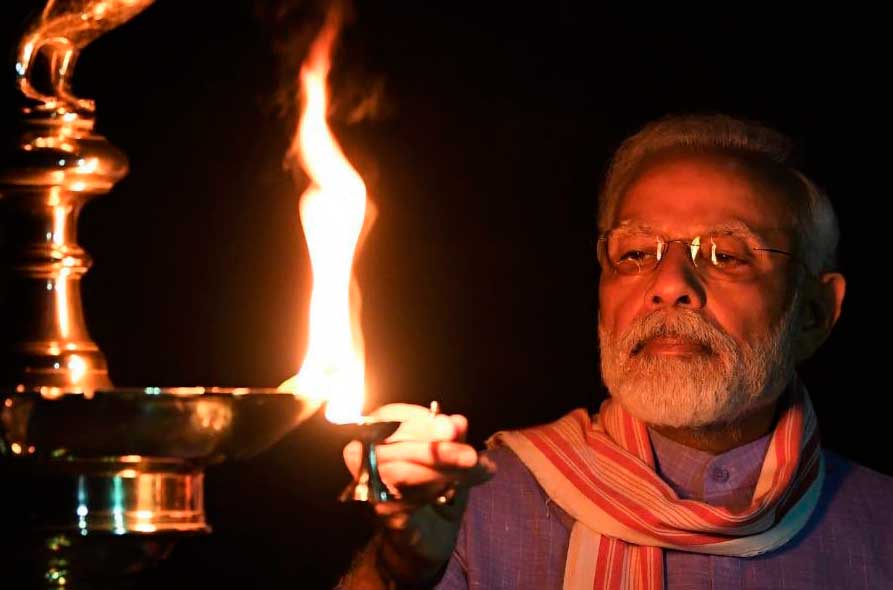 This image posted on Indian Prime Minister Narendra Modi's twitter account shows Modi lighting an oil lamp to mark the country's fight against the Covid-19 pandemic in New Delhi, India, Sunday, April 5, 2020.
PTI
---
Published 28.04.20, 06:55 PM
|
---
It is indeed an original mind that can discover a moral lesson in a pandemic that has shut whole countries down, causing severe illness, death and acute economic distress. As sarpanchs expressed their admiration for the Indian prime minister when he spoke to them on Panchayati Raj Day, he was equally complimentary, remarking on the world's wonder at how India was managing the coronavirus outbreak. That was only because the villages had been following lockdown guidelines. And out of the challenge of the pandemic has been born the lesson of self-reliance, he said. Narendra Modi declared that not only were India's people showing self-reliance, but the crisis had also pointed the way to India's self-reliance and self-sufficiency in the future, as in ancient Indian civilization. What went unmentioned was the economic distress of enormous sections of the village population, going without wages or deprived of their livelihood because of the lockdown, in need of not just money but food as well. The notion of self-reliance was little short of absurd — coming from a government which forgot to make the most vulnerable segments a priority when it locked the country down.

The lesson of self-reliance, however, was political rather than moral. The prime minister found no reason not to make use of an epidemic to deliver an edited version of the sangh parivar's thrust for a swadeshi economic model, especially since the pandemic has proved to it that both capitalist and statist globalization had failed. Speaking earlier at the Congress working committee meeting, the party president, Sonia Gandhi, had referred to the absence of compassion, large-heartedness and alacrity on the Centre's part. The prime minister's speech turned out to be a telling example of this. At the CWC meeting, Congress leaders spoke of the urgent need to support the states financially — beginning with releasing their share of the goods and services tax — and to ensure adequate supplies of personal protective equipment while also arranging for the safe return of all migrant workers. While the CWC resolution opposed the top-down attitude of the Centre, Manmohan Singh emphasized the need of the Centre and the states to work together to ensure the availability of resources. But the prime minister evidently likes the sound of inspiring speeches rather than the discussion of such matters.