Chandrayaan-2 is a challenging but prestigious mission
Hopefully it will improve our understanding of the lunar topography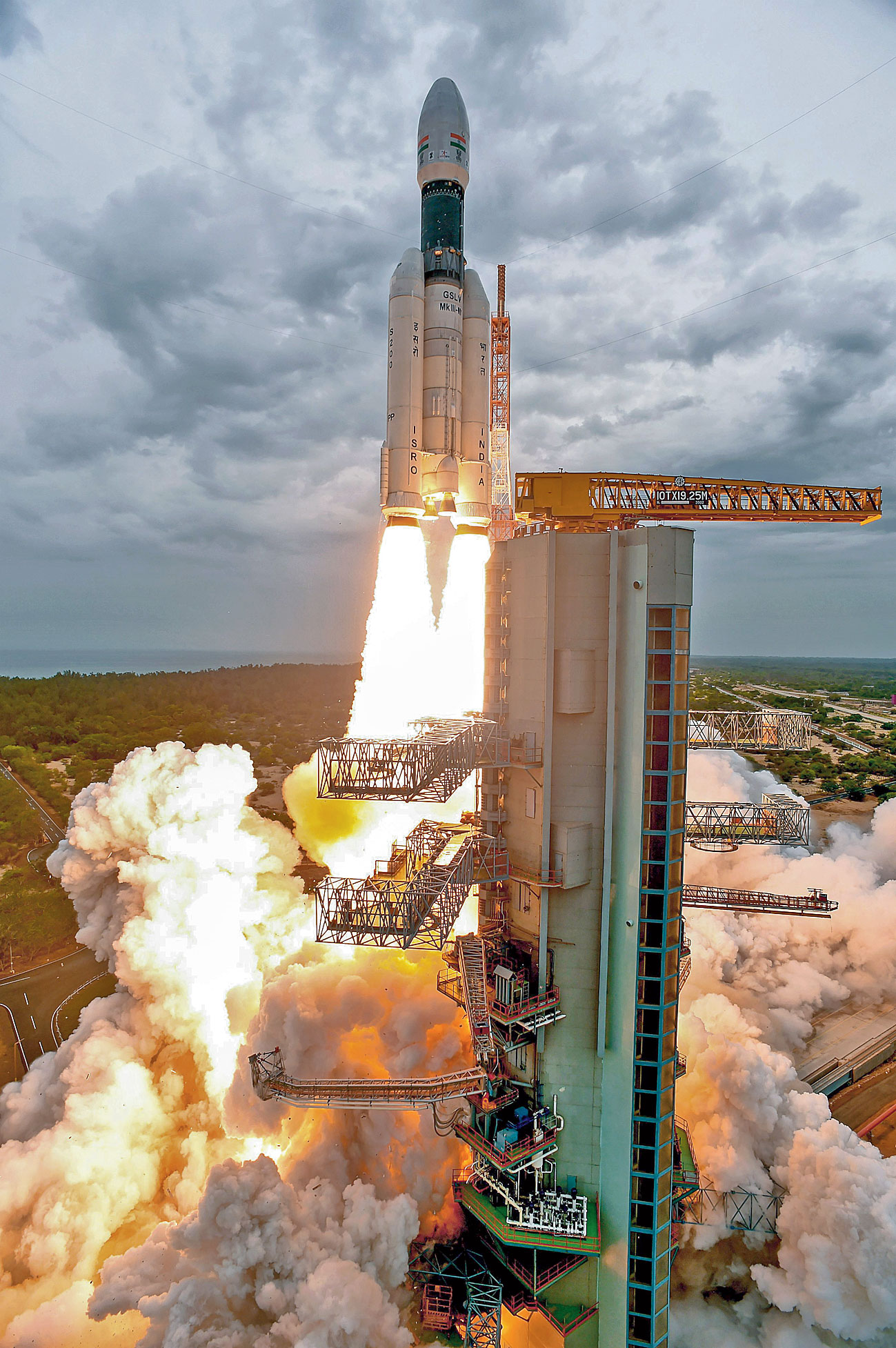 ---
---
Sir — With the successful launch of Chandrayaan-2 India is all set to explore the uncharted south pole of the lunar surface.
Additionally, the role played by Chandrakanta Kumar, a farmer's son from Gurap in West Bengal, in the mission has made us equally proud. Kumar overcame numerous hurdles to become a scientist at the Indian Space Research Organisation. As deputy project director, he was responsible for the radio frequency system of Chandrayaan-2.
What is also praiseworthy is that quick remedial actions were taken to rectify the technical snag in the rocket, Baahubali, during its scheduled launch on July 15.
Hopefully this challenging but prestigious mission would improve our understanding of the lunar topography.
Souvik Chakraborty,
Calcutta
Sir — Isro scientists have achieved spectacular success with the launch of Chandrayaan-2. India has become the fourth nation after the United States of America, Russia and China to land a mission on the moon. One hopes that the lander, Vikram, and the moon rover, Pragyan, would function as planned.

N.R. Ramachandran,
Chennai
Sir — With Chandrayaan-2, a lunar mission that has deployed cutting edge technology, Indian scientists would be aiming to expand India's footprint in space and shed light on an unexplored section of the moon. The mission would enhance knowledge about space, stimulate the search for advanced technology and also promote global scientific alliances. Chandrayaan-1 had created history by orbiting the moon. With Chandrayaan-2, India has become the fourth country in the world to land a mission on the moon.
Isro is aiming to put a lander and a rover on the moon. The scientists must be congratulated for the successful launch of the mission.
Bidyut Kumar Chatterjee,
Faridabad
Liquid pleasure
Sir — Bengalis love their tea. But Calcutta does not have a decent tea room. Most establishments, including an iconic address on Park Street, are eager to shoo away customers who would like to watch the world go by while sipping on their favourite brew. The Coffee House in College Street has lost its former glory too. Is it too much to hope that an innovative entrepreneur would come along and revive the pleasure of tea and adda within plush surroundings?
Rishikesh Dutta,
Calcutta
Parting shot
Sir — It was not the fault of Amaresh Manna, the owner of a barbershop, that he printed a card that said, "All Kinds of barbaric activities are done at a reasonable price..."("Joke for some, jolt for Manna", July 20). English can have its deficiencies as a language.
But the card has helped Manna's salon get considerable publicity. He must not be ashamed of the howler.
Sukhamay Biswas,
Calcutta