Carry on, Sidhu
Two former cricketers offer a bridge of hope across the border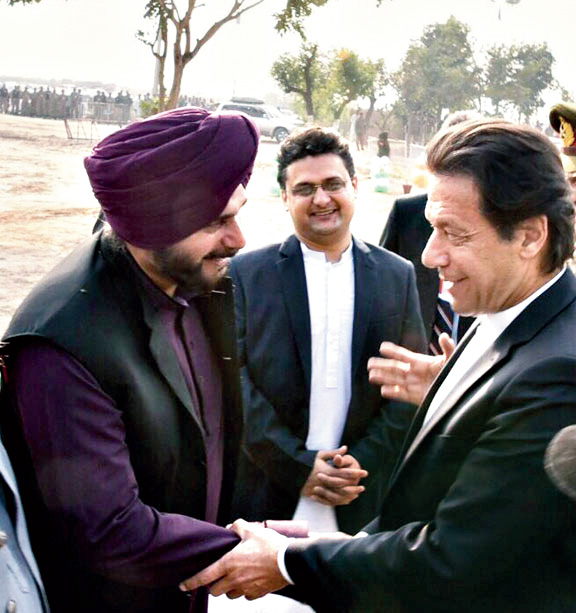 Pakistan's Prime Minister Imran Khan (right) shakes hands with Indian cricketer-turned-politician Navjot Singh Sidhu during the ground-breaking ceremony for the Kartarpur corridor
PTI
---
Published 03.12.18, 03:07 AM
|
---
Navjot Singh Sidhu has worn many hats. All of them, much like his turbans, have been bold, colourful and flamboyant. Few individuals in India have been quite as successful as Sidhu in turning themselves into an enduring brand. There are others, of course, with greater "brand value" — but they are usually successful movie stars, cricketing legends or mass political leaders.
Sidhu is different. He has straddled many a vocation and brought his inimitable style and irrepressible persona to bear upon them all. He first made his name in the cricketing field as a top order batsman in a career spanning nearly two decades. He captured the imagination of a cricket crazy nation with his sweeping boundaries and came to be called "Sixer Sidhu" by adoring fans.
But it was after he retired from the game that Sidhu gained a much bigger fan club — with his cricket commentary. Even those who seldom follow cricket were tickled by Sidhu's steady stream of one-liners and no-holds-barred digs that soon came to be known as "Sidhuisms". A sports channel even launched a website, sidhuisms.com, and invited fans to choose the best Sidhu one-liner of the day.
From commentary to full-fledged comedy was a short route. Taking advantage of the explosion of television channels, websites and social media, Sidhu became an entertainer par excellence. He participated in the reality TV show Bigg Boss, was a judge on the popular The Great Indian Laughter Challenge show, and became a permanent guest on the even more popular Comedy Nights with Kapil.
His ubiquitous presence on the small screen and his gift of the gab soon led him to the biggest mass platform of them all: electoral politics. In 2004, he contested the Lok Sabha elections from Amritsar on a Bharatiya Janata Party ticket and won with ease. He was forced to vacate the seat after being convicted for a road rage incident that had resulted in a death. When the Supreme Court suspended the sentence, Sidhu won the Amritsar seat again in a by-election. In 2009, he retained Amritsar but had to give up the seat five years later when the BJP chose to field Arun Jaitley instead. Sidhu did not publicly protest the decision but made it clear that he would not contest any seat but Amritsar.
In April 2016, the BJP nominated Sidhu to the Rajya Sabha but he quit the House and the party within months. He went on to join the Congress in January 2017, won the Amritsar East assembly seat soon after and was sworn in as minister for local government, tourism, cultural affairs and museums in the Captain Amarinder Singh-led Punjab cabinet.
Ministerial responsibility has not subdued Sidhu's ebullience one bit. He is still active as a celebrity-speaker at mass rallies and talk shows alike. Not given to modesty, Sidhu describes himself on his official Twitter handle, @sherryontopp, as "Master of All Trades, jack of none, All-in-One; Proud Indian; Cabinet Minister, Punjab; four-time MP; Cricketer; Commentator; Motivational Speaker & TV Personality".
But this long list of attributes misses out Sidhu's latest and most significant avatar: an unabashed champion of peace and brotherhood with Pakistan.
It is easy for critics to dismiss Sidhu as just a comedian who can extract easy laughs by playing to the gallery with his over-the-top witticisms. But in recent months, Sidhu has shown that beneath his cultivated levity lies a generosity of spirit and courage of convictions that has become almost extinct in India's public life.
This was first evident when Sidhu accepted the invitation to attend the swearing-in of Pakistan's newly elected prime minister, Imran Khan. His party, Pakistan Tehreek-e-Insaf, invited only three Indians for the occasion whom they described as "cricket legends from India and Kaptaan's old friends" (Kaptaan being a reference to Imran Khan from his days as the Pakistan cricket team skipper). The three invitees were Sunil Gavaskar, Kapil Dev and Sidhu.
Given the shrill jingoism that has overtaken India's public discourse over the last few years, any engagement with Pakistan is pilloried as an act of treachery. Afraid, perhaps, of the troll army that would be unleashed upon them and also to keep on the right side of the powers that be, both Gavaskar and Kapil Dev declined the invitation.
Gavaskar cited "commentary commitments" to duck the invite. Kapil Dev, who initially said he would be more than happy to attend the swearing in, suddenly found "personal reasons" not to do so.
But Sidhu, the only one among them in active politics, did not let career considerations come in the way of an old friendship. That visit generated a huge amount of controversy, especially after Sidhu was caught by the cameras exchanging a hug with Pakistan's chief of army staff, General Qamar Javed Bajwa.
Back home in India, Sidhu received flak not just from the BJP but also from his immediate boss, Amarinder Singh, for embracing "the enemy".
An unfazed Sidhu, with typical chutzpah, said, "It was a second-long hug, not a Rafale deal. It's very common in Punjab. When two Punjabis meet, if they want to express gratitude, they hug each other emotionally. It is a way to show warmth and affection."
Explaining why he was grateful, Sidhu said the Pakistan army chief had assured him of fulfilling a long pending demand of the Sikh community in Punjab — opening the Kartarpur corridor before Guru Nanak's 550th birth anniversary next year.
His critics dismissed that claim as just another Sidhuism till Pakistan actually decided to deliver on the promise. For more than two decades, Sikhs have been demanding a three-kilometre long fenced corridor across the India-Pakistan border connecting Dera Baba Nanak in Gurdaspur district with Darbar Sahib gurdwara in Kartarpur where Guru Nanak, the founder of the Sikh faith, spent the last 18 years of his life and breathed his last.
The Narendra Modi-led government, keen to deny Sidhu any credit, now claims that the issue of the corridor had been periodically taken up with Pakistan. But as recently as May 2017, a parliamentary standing committee had ruled out its construction in light of the strained relations between the two neighbours.
The truth is that it was only after Imran Khan assumed power that the Pakistani establishment decided to speed up the issue. Sidhu has reasons to take some credit for the decision too.
It was only natural, therefore, for Sidhu to accept the invitation from Pakistan for the ground-breaking ceremony at Kartarpur on November 28 where Imran Khan laid the foundation stone for the corridor on the Pakistani side of the border.
The Punjab chief minister declined Pakistan's invitation and gave enough indication that he was not happy that Sidhu had decided to attend, albeit in his "personal capacity". India's foreign minister, Sushma Swaraj, also refused the invite, and the government sent two Union ministers instead. But it was Sidhu who stole the show.
And Sidhu did so not because of any clever one-liner but because of his heartfelt and heart-warming paean to the imperative of peace and goodwill between India and Pakistan. Describing Kartarpur as a "corridor of infinite possibilities", Sidhu heaped praises on Imran Khan for ending a 71-year-long wait, and held out hope that the corridor was only the first step in building a lasting friendship.
Imran Khan painted an equally hopeful picture — underlining that good intentions and determination could resolve all differences since war between two nuclear armed neighbours was an impossible option. "If man can walk on the moon, what problems are there that we cannot resolve — if we are determined to?" he asked.
India, on its part, made it clear that the Kartarpur moment was no breakthrough and repeated the tired line that talks and terror cannot go hand in hand. But if New Delhi can maintain diplomatic ties with Islamabad despite its alleged State-backed terror attacks, this resolute refusal to hold talks and spurn every overture by Imran Khan appears to neutral observers as peevish and petulant.
Perhaps that is why Sidhu's words in Pakistan came across as both gutsy and sincere. "We hope we don't have to wait till Sidhu becomes PM before peace talks can happen," joked Imran Khan.
On this side of the border, all of us who believe that peace with our western neighbour is essential for India's own prosperity and well-being, can only hope that the Indian establishment will see sense in leveraging Sidhu's enormous popularity there and use him as a permanent human bridge to reach out to Pakistan...