Can climate-change sceptics be in denial after the sight of the melting Greenland ice sheet?
Record temperatures have been registered even in Greenland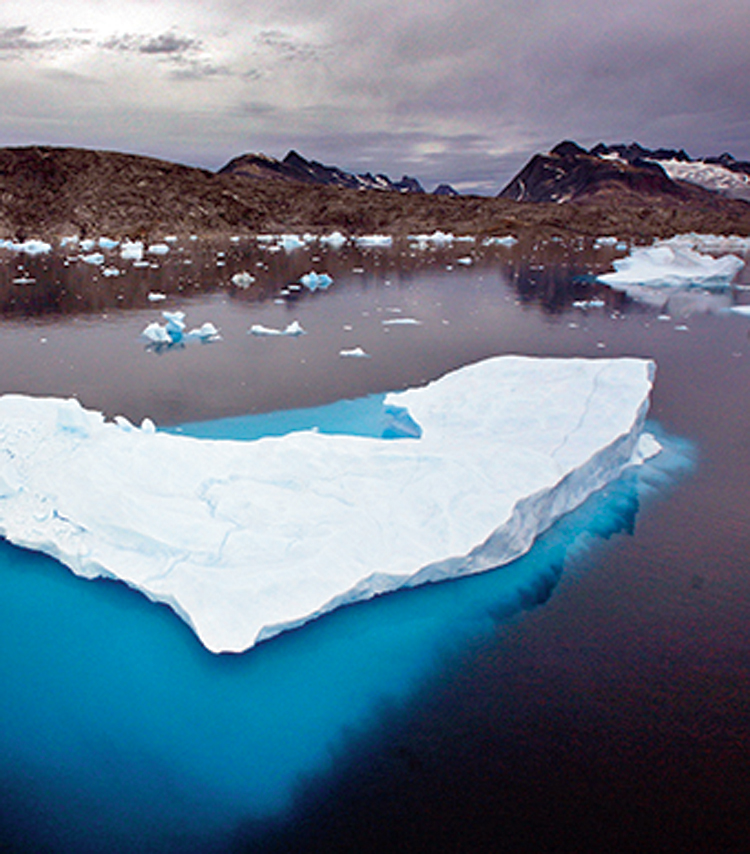 Icebergs float in a bay off Ammassalik Island, Greenland, in this July 19, 2007 file picture. Not enough is being done to change things
AP file picture
---
Published 29.06.19, 02:58 AM
|
---
Sir — A recent photograph of a melting ice sheet in northwestern Greenland has gone viral. Scientists are of the opinion that 2019 could be another disastrous year for the Arctic. Record temperatures have been registered even in Greenland. It appears that climate-change sceptics will no longer be able to deny that the planet is headed for a disaster. Unfortunately, not enough is being done to change things. Perhaps it is time for voters across countries to demand policy changes. Sharing images of melting ice sheets will not be enough to avert the impending catastrophe.
Dalia Banerjee
Calcutta
Spirited fight

Sir — Meena Menon cut off her hair as a novel way to protect her trees ("Woman cuts hair in tree ache", June 21). All her attempts, including seeking legal redressal from the Kerala High Court, failed to protect her biodiversity-rich land, Shantivanam, from the Kerala State Electricity Board, which wanted to lay a transmission line on her property by chopping down trees. The proposed cable would pass over a four-kilometre residential area and pose a risk to all, but no one joined the protest launched by Menon.
Adversity enhanced her determination; she cut off her tresses and uploaded a video, which was circulated. This resulted in further attempts to fell trees being stopped. Long locks are precious to women and cutting them off is no mean feat. In the story, "The Gift of the Magi", for example, the heroine had shorn off her hair to buy a Christmas gift for her husband; it was a sacrifice for love.
Sanjit Ghatak
Narendrapur
Sir — The plight of tree lovers was palpable when Meena Menon cut her hair to register her anger and sadness. The KSEB cleared 6,500 square feet of her forested property. This was done to lay a long transmission line that would solve the issue of low voltage faced by more than two lakh people.
Herein lies the perennial conflict between nature and development. Recently, some trees were cut down at the Exide Crossing in Calcutta to make way for a footbridge. Those trees could have been transplanted for a sum far less than the cost of the bridge. Whether on Menon's property or in a public place, civic authorities must be sensitized to look for alternative ways of saving nature.
Dyutiman Bhattacharya
Calcutta
Fond adieu

Sir — Yuvraj Singh, a fighter and a finishing batsman for the Indian cricket team, announced his retirement from international cricket. In his career of almost two decades, Yuvraj has obviously loved playing as both fielder and batsman. His dominance as batsman was not only entertaining for spectators but was also praised by his peers. He represented India in the under-19 World Cup, and was later outstanding as vice-captain of the Indian team. A recipient of the Arjuna Award and the Padma Shri, and a true entertainer, he embodied the spirit of the game. Few know that he was also a roller-skating champion.
Yuvraj's life has not been easy since his cancer diagnosis. In spite of his comeback, his position in the national squad was unstable. The Board of Control for Cricket in India should have appreciated him more for his contributions towards his country. He was excellent in all forms of the game, from one-day internationals to county cricket and the Indian Premier League. He responded to all criticism through his on-field performance. Yuvraj has played over 300 ODIs, scored over 8,000 runs and secured 111 wickets with an average of 38.68. He has also helped many cancer patients since 2012. An iconic figure like him is rare in society, entertainment and sports.
Rathin Kumar Chanda
Burdwan
Sir — Yuvraj Singh will always be remembered for his match-winning capabilities. He was primarily responsible for India winning the 2011 World Cup. One hopes that he will now consider playing a role in coaching the Indian team.
Shalini Roy
Calcutta