Businesses step up to help unpaid US government workers
Many restaurants and companies stepped forward to help out federal employees affected by the shutdown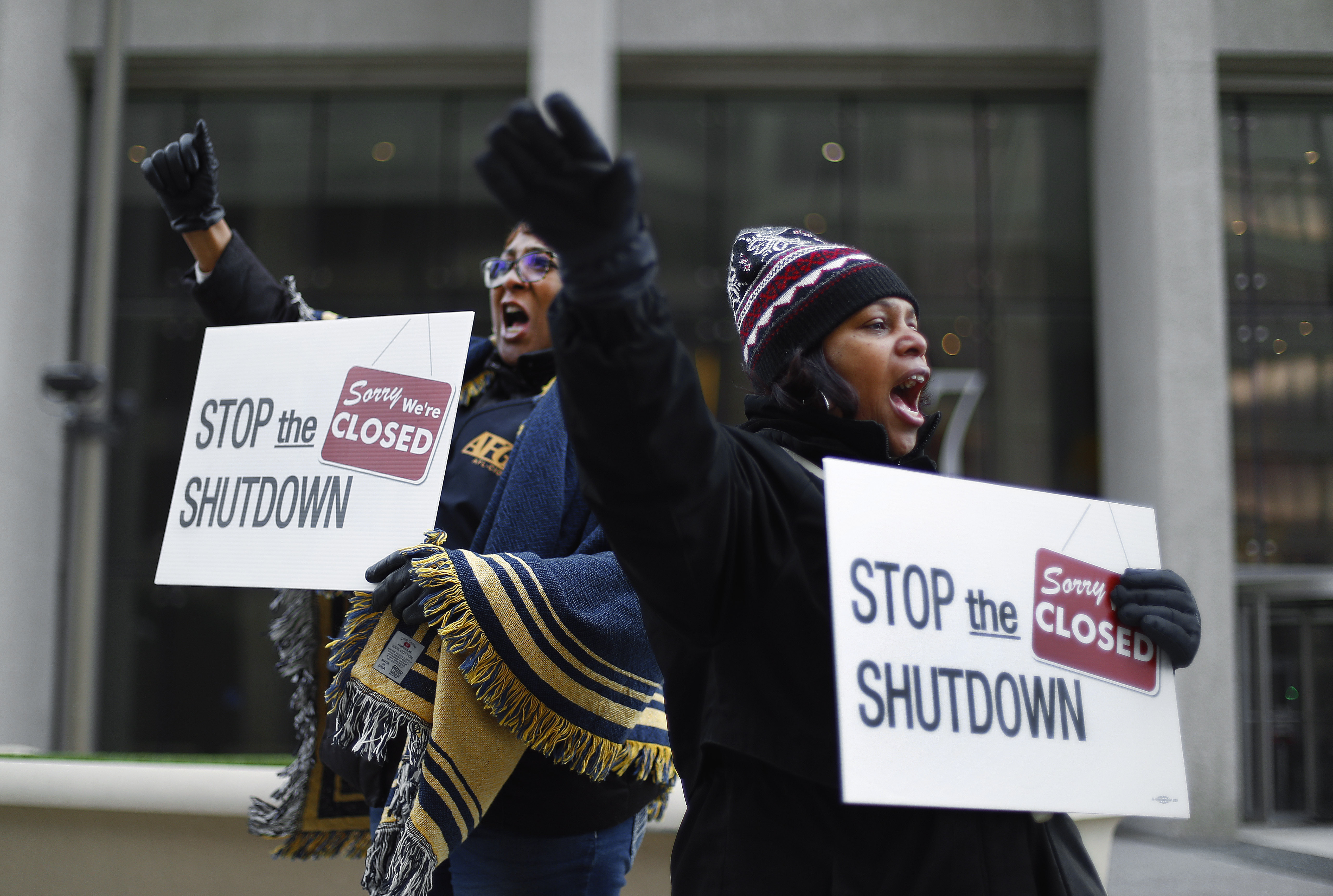 In this January 10, 2019 file photo, Cheryl Monroe, right, a US Food and Drug Administration employee, and Bertrice Sanders, a Social Security Administration employee, rally to call for an end to the partial US government shutdown in Detroit
AP Photo
---
Published 02.02.19, 04:56 AM
|
---
The record-breaking 35-day government shutdown led to approximately 8,00,000 federal workers going an entire month without pay cheques. This is larger than the population of the states of North Dakota, Alaska, Vermont and Wyoming. Of those, some were forced to choose unpaid leave. This left around 4,20,000 working without pay. To help alleviate the hardship, many restaurants and companies stepped forward to help out the employees in need. In Philadelphia, several bars, restaurants and grocery stores offered discounts and free food items.
The chef, José Ramón Andrés Puerta, and his non-profit, World Central Kitchen, also helped out. The chef and his team had served free meals to Puerto Ricans affected by 2017's Hurricane Maria, survivors of last year's Camp Fire in Paradise, California, and now those suffering during the shutdown. Since January 16, a World Central Kitchen pop-up restaurant had been serving daily free meals to DC area workers affected by the shutdown.
Federal workers in the greater DC metro area were also aided by Kraft Heinz. The company established a pop-up store that, from January 16 to 20, gave out bags filled with Kraft Macaroni & Cheese, American cheese singles and other products to anyone who could display a valid government identity proof. Walmart announced last week that it committed $3,00,000 to support a number of programmes geared towards helping workers affected by the shutdown, including Feeding America's Shutdown Response Fund, the Coast Guard Foundation, and United Way's United for U.S. Fund.
Fantasy lands
The Metropolitan Museum of Art is bringing books as well as works from the screen to the galleries. Starting March 1, you will be able to immerse yourself in Crown and Prophet: An Epic Fantasy Adventure at the Met, which brings you close to works from A Game of Thrones, Lord of the Rings and other beloved high fantasy sagas. It will be launched by Fable & Lark, a tour company that uses games and activities to bring iconic books and stories to life at museums. Each activity builds upon another, each riddle taking you to the next. "You may find something that looks like the Lannister coat of arms — we look at the pageantry, the banners, the coats of arms... there are direct parallels in those galleries," said Evan Levy, the company's founder to AM New York. "Both stories [A Game of Thrones and Lord of the Rings] have origins in earlier myths."
The tour guides fantasy fans around the Met to find objects and art that may have served as inspiration for the iconic stories — shining armour, intricate tapestries and coats of arms within the museum's arms and armor, medieval art and European sculpture and decorative arts departments. Through group activities, scavenger hunts and guided tours, the iconic pieces that inspired some of the series can be found. For instance, George RR Martin found heavy inspiration for A Game of Thrones in the story of the 'Wars of the Roses'. Exhibits thus include some classic artworks from medieval England. You will also encounter some influences from Norse, Germanic, Persian and Greek mythologies that strongly shaped JRR Tolkien's The Lord of the Rings.
Historic gathering
The Women's March just kicked off across the United States of America. It first took place shortly after Donald Trump's inauguration in 2017 as the president of the US, and its scale as a historic protest made the world pay attention. The concept of the Women's March began in 2016 with a single Facebook post calling for women to rally in the wake of Trump's election.
This year, there were two competing Women's Marches being organized in the city in protest against the Trump administration. It grew out of a rift based on accusations of anti-Semitism against members of the national Women's March leadership in Washington, prompting Jewish organizations, civil rights groups and other local Women's March organizations to break away from them. This year, in New York City, the procession began at 72nd Street and Columbus and 72nd Street and Central Park West. Unlike last year, which included numerous lengthy speeches, there will be only 15 minutes given to speakers to kick off the march, and entertainment, including a Brazilian women's drum line and a Joan Rivers impersonator.
Different goodbye
A bill was presented before the Washington state legislature to make the state the first in the nation — and probably the world — to allow human remains to be disposed of and reduced to soil through composting, or what the bill calls 'recomposition'. It was introduced by the state senator, Jamie Pedersen, and is being monitored by green burial enthusiasts.
In the last few years, 17 states have legalized alkaline hydrolysis, or water cremation, where bodies are dissolved in a mix of water and lye. Traditional burials can easily cost over $10,000, and embalming fluids leach toxins like formaldehyde into the soil and groundwater. Space is also a major concern, especially in urban centres. In NYC, no new cemeteries have been established in over 50 years, so the cost of each individual plot is also rising. People are open to the concept of above-ground decomposition primarily for environmental reasons, Pedersen said. There's no coffin, chemicals or fossil fuels needed for cremation, and no expensive cemetery plot. 
Footnote

A restaurant in NYC literally lets you fish for your meal. Zauo is a family-friendly eatery that has three indoor tanks with rainbow trout, striped bass and salmon trout. Diners must eat whatever they catch. Each diner is assigned a 'helper' who cheers them on as they try to catch their fish of choice, no matter how long that takes. Going in a group is recommended in order to get a variety of fish served in sashimi or tempura style, grilled or simmered in soy sauce.