Breathless: India's worsening air quality
According to a study undertaken by the Centre for Science and Environment, 70 per cent of Calcutta residents reportedly suffer some sort of respiratory disease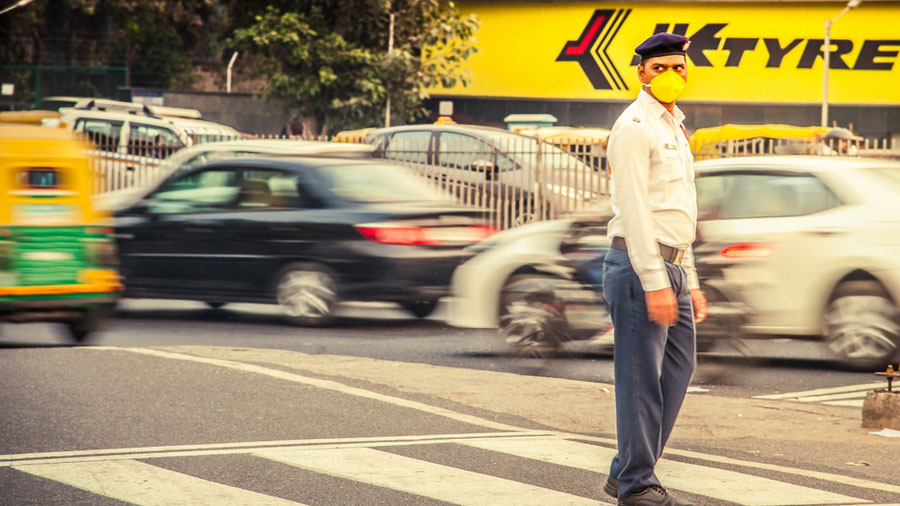 A policeman wearing a mask against smog on October 30, 2017 in New Delhi, India.
Shutterstock
---
Published 05.08.20, 12:17 AM
|
---
The mandatory wearing of masks in India may now be serving more than the purpose of just warding off the coronavirus infection. This would be a reasonable inference to make in the light of recent data from the University of Chicago's air quality life index. According to the study, which took pollution levels from 2018 as a baseline, India has the second-worst air quality in the world. With particulate pollution having gone up by 42 per cent since 1998, ordinary citizens are losing over five years of their life spans. These findings, while appalling, are not really new: the fact that the nation continues to pay a steep price for its air pollution has been highlighted on several occasions by bona fide agencies. The implications of such a significant difference in life expectancy owing to air quality are troubling. For one, it shows that in spite of the focus on a greater use of renewable energy — last month, the Union minister of state for power, R.K. Singh, said that India will have around 60 per cent of its installed electricity generation capacity from clean sources by 2030 — the fight against air pollution continues to fall short on other fronts.
There are many reasons for this failure, and they vary from region to region. The main contributors to pollution — emissions by industries, vehicular pollution and construction activity — persist. In a city like Calcutta — where, according to a study undertaken by the Centre for Science and Environment, 70 per cent of the residents reportedly suffer some sort of respiratory disease — the pollution caused by diesel vehicles poses a stiff challenge, especially since the city's public transport is still not fully reliant on green technology. In the national capital region, stubble burning — a practice that continues in spite of a Supreme Court order to offer subsidized seeders to gram panchayats and farmers — has emerged as a major cause for the deteriorating air quality. It is thus clear that the problem persists not only because its multi-layered nature is ignored but also because the twin interventions of implementation and sensitization leave a lot to be desired. This institutional apathy can only be challenged if investments by the State to combat air pollution are accompanied by education and adequate awareness campaigns. Only then can respiratory health and longevity of citizens be safeguarded.