Blunting the edge: Why we must prepare for earthquakes in high-risk zones
The seismic threat presents a golden opportunity for the Saarc countries to work in tandem to defeat the impact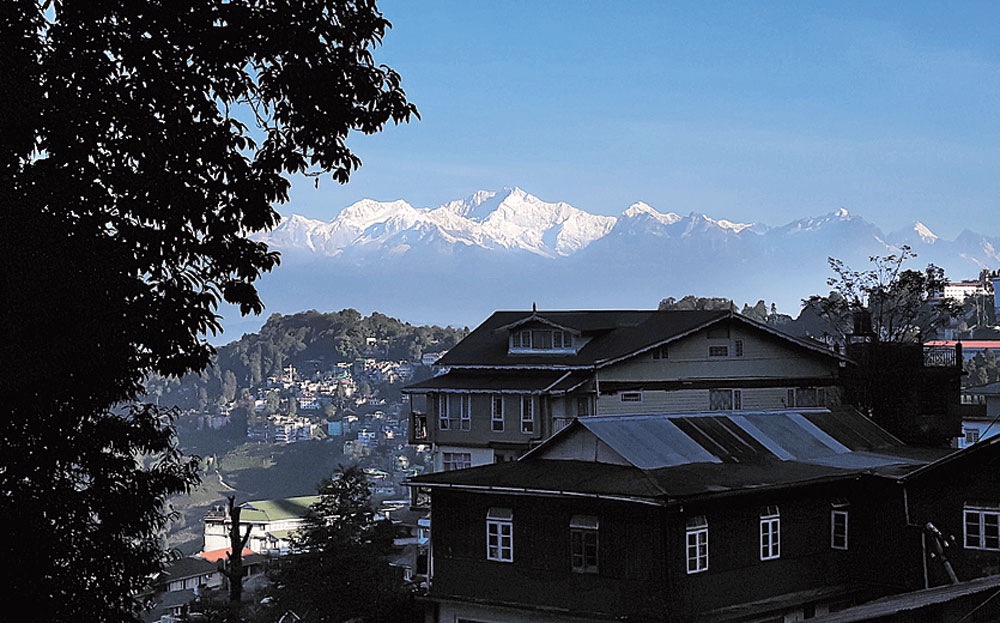 A settlement in Darjeeling with the Himalayas in the background.
Telegraph picture
---
Published 23.12.18, 03:42 AM
|
---
Its fist is raised, knuckle an inch away from the door. It could stay there and stay and stay. On the other hand... 'It' is the mother of all earthquakes. And the 'door' is our own central Himalaya. That description — central Himalaya — recalls in an abstraction white peaks under blue skies. And so it is. But the central Himalaya is also so many towns and villages with human populations, very vulnerable to the 'knock' when it comes. Falling under India's Very High Risk Damage seismic Zone V, this region includes Kashmir, north and central Bihar, the whole of our Northeast. Zone V also holds non-Himalayan terrains — Kutch and the Andaman and Nicobar Islands. Under the shadow of Zone V lies India's next most vulnerable seismological zone, the High Risk Damage Zone IV, which includes the national capital territory of Delhi, Jammu, Himachal Pradesh, Uttarakhand, Sikkim and large swathes of the Indo-Gangetic Plains including North Bengal and the Sunderbans.
If Zone V is under Very High Risk, Zone IV cannot but be under High Risk. How high are these 'Very High' and 'High' risks?
The seismologist, C.P. Rajendran of the Jawaharlal Nehru Centre for Advanced Scientific Research Institute in Bangalore, puts it bluntly: "...enormous stacking up of (seismic) strain in the region portends at least one earthquake of magnitude 8.5 or more in one of the overlapping segments of the central Himalayas anytime in the future." The word "portends" is chilling. Rajendran goes on to elaborate: "An earthquake of magnitude 8.5 or more is overdue in this part of the Himalayas, given the long-elapsed time. Considering this potentially high seismic risk, this will be particularly catastrophic for a region marked by an ever-growing population and unhindered expansion of the built-up environment, to be contrasted with poor preparedness to meet this contingency."
"...will be particularly catastrophic…" cannot but be taken seriously.
Roger Bilham, a geophysicist from the United States of America at the University of Colorado, corroborates Rajendran's anticipation. Bilham says that Rajendran is "undeniably correct" but adds that the prospect is actually a shade worse. He says: "My own evaluation of the available evidence suggests their estimate is conservative, and should the rupture zone extend from east of Almora to west of Pockara (Nepal) the earthquake will exceed 8.7."
Nothing, but nothing, will alter the seismic resolve. When exactly, we cannot say, but the earthquake will happen. Whether at 8.5 or 8.7 on the Richter scale, again, who can say?
May it never come. May Rajendran and Bilham be proved totally wrong. But if — god forbid — they were to be proved right, from fragile Bhuj to crowded Srinagar through jam-packed Shimla, bustling Almora and dense Mussoorie, to hugely congested Darjeeling, and going further east, to Guwahati, Shillong and the other capital towns of our Northeast, and through the Andaman and Nicobar Islands, we the people of India in Zone V will feel Richter 8, feel its rattle in our bones, on our heads. Our houses, walls, roofs, plumbing, wires will all feel it and twisting, coiling, they will crumble. Bijli and pani will vanish, the Great God Internet will chortle into the sky.
If Zone IV were to be rocked even at 7 or 7.5, the people living in Delhi, Chandigarh, Varanasi, Patna, Siliguri, Jalpaiguri, Cooch Behar and the Sunderbans, among others, will hear, feel the trauma Nirad Chaudhuri has described in The Autobiography of an Unknown Indian in an earthquake, circa 1917, in Kishorganj, East Bengal: "The earth was quivering without interruption, but its progress towards destruction appeared to be agonizingly slow. I saw the north wall of our house coming down, and could note every stage of its descent from the roof-level to the ground as if the collapse were being demonstrated by a very slow moving cinema projector. I also saw the blocks of fallen masonry roll across the lawn like croquet balls, but just at that moment I fell down and became unconscious..." One may note that the temblor Niradbabu describes was not a Richter 8, but rather less.
Rajendran and Bilham are not astrologers, they are not predicting earthquakes by looking at stars or planets. They are anticipating this one by studying the behaviour of the earth's crust. And they are not alarming us, they are alerting us.
Richter 8.5 demands more than alertness, more than attention. It requires national action. Our prime minister and our chief ministers are hugely preoccupied with challenges and crises that have already occurred to be able to lock horns with disasters that might occur, even those that are more or less certain to occur but as yet, are theory not reality.
So?
This is where the president of India can come in. The president? Is he not too, too senior, in too, too formal an office for such a hands-on role? He is senior, seniormost, in fact, and that is why in this Very High situation he can impart to the crisis the very high seriousness it calls for. I believe the president at the head of a committee of governors from the states in Zones V and IV to draw up an emergency plan to blunt the edge of Richter 8.5 would give the exercise just the profile it deserves. As his heading a national committee for public solidarity in war would. Meeting this anticipated earthquake would be no less than being at war. The minister for earth sciences should be the committee's convenor, with the chairman of the national disaster management authority its member-secretary. The committee should interact with seismologists, earth scientists and invite experts from the world's earthquake laboratory — Japan — to meet it and give suggestions for action, preparatory action, reparatory action of which the following plans for Zone V and IV must form part:
1. Putting in place an emergency relief and evacuation plan, complete with air and naval support, the army, fires services, with the Border Security Force and the Indo-Tibetan Border Police playing key assigned roles and factoring-in all weather variables.
2. Decongesting high-population density areas and reviewing high altitude dams' seismic-proofing.
3. Setting up medical infrastructure in the two zones with orthopaedic trauma care being at its core.
4. Drawing up a separate recommendation for Delhi with the courage to consider relocating Parliament and the Supreme Court, in South Africa's style, to other cities, in safer seismic zones, and certainly shifting the nuclear power plant at Narora.
5. And, when ready, presenting to the prime minister and chief ministers concerned its urgent recommendations.
In a democracy which boasts of public awareness — the asset which, as Amartya Sen tells us, has played a great part in preventing droughts turn into famines in India — there is something else that must be done. This committee should set up task forces of technical and administrative personnel to meet and interact with all zilla panchayats in the two zones and get their inputs on what should be done to meet the knock. Nothing can be more reliable in such matters than ground-level wisdom,
And finally, an 'external' dimension. This anticipated earthquake is likely to affect Pakistan, India, Bhutan, Nepal and Bangladesh — five out of the seven countries of the South Asian Association for Regional Cooperation. This one will be, whenever it comes, a Saarc earthquake. Its anticipation can jolt Saarc into purposive joint action, giving its existence a new real-life meaning. The seismic threat presents a golden opportunity for the Saarc countries to work in tandem to defeat the earthquake's impact, using state-of-the-art technology and the soundest of collaborative means towards that end. And it must include Afghanistan and Myanmar in the exercise, for they are not too far out of its 'zone' of risk. India must turn this challenge into a triumph of its national will — an India 10 versus a Richter 8.
Did not Iqbal say "Kuchh baat hai ki hasti mit-ti nahin hamari..."?