Black History Month: remember them all
AMERICAN DIARIES: This year's theme was 'African Americans and the Vote'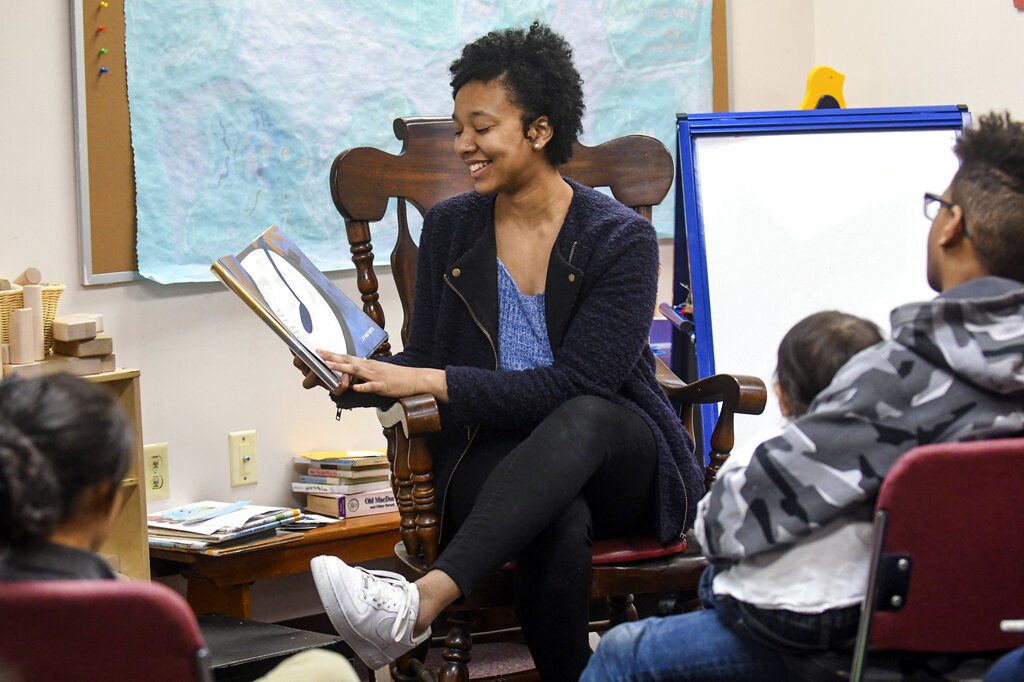 Sierra Watkins, of Pottsville, Pa., reads "Thank You, Omu!" by Oge Mora during the annual Read-In-Chain in recognition of Black History Month in Julie's Activity Room at the Pottsville Free Public Library in downtown Pottsville, Pa., on Thursday evening, Feb. 27, 2020.
(Jacqueline Dormer/Republican-Herald via AP)
---
Published 28.02.20, 07:05 PM
|
---
Remember them all
February is Black History Month, a celebration of the contributions of the African American community to society and its central role in the history of the United States of America. Every year at this time, schools and workplaces recall the lives of great, influential figures like Harriet Tubman, Charles Drew and Frederick Douglass as well as those of lesser known but significant leaders, artists and scientists.
While this is a great time to reflect on their achievements, it is perhaps more important to face the history behind these. Most schools and museums across the nation have hosted exhibitions during the month to describe historic events and highlight artists and leaders who have contributed to black history. BHM originated in September 1915, half a century after the abolition of slavery in the US, when the Association for the Study of Negro Life and History was founded.
By the late 1960s, BHW had evolved into BHM on many college campuses. Gerald Ford officially recognized Black History Month in 1976 when he was the president, calling upon the public to "seize the opportunity to honor the too-often neglected accomplishments of black Americans in every area of endeavor throughout our history." The theme this year was 'African Americans and the Vote', in honour of the centennial of the Nineteenth Amendment in 1920 granting women's suffrage and the sesquicentennial of the Fifteenth Amendment in 1870 giving black men the right to vote.
A legend's life
Pop-up exhibitions and installations seem to be the latest trend and will endure well into 2020. A noteworthy new pop-up art exhibit involves the legendary Hollywood actress, Marilyn Monroe. The exhibition, named The Red Party, will be held at the HGU New York boutique hotel, featuring the final photos of the actress before her death in 1962. The images were taken by the photographer, Bert Stern, over two sessions across four days at the Bel Air Hotel. The photo-series, known as The Last Sitting, had been commissioned by Vogue. The shots were chosen by Vogue's art director and had been sent to print before the news of Monroe's death emerged.
Monroe, who was described as having been particularly relaxed during the shoot, appeared in it at a time when her career was in decline and she was suffering from depression. But you would not be able to tell from the pictures, where she looks playfully and shyly at the camera. Six weeks after the photo shoot, she was found dead in the bedroom of her Los Angeles home. The coroner ruled her death a suicide.
This tragic turn of events has made The Last Sitting iconic, helping perpetuate the memory of Monroe in pop culture. The show is on until April 13 and, additionally, serves a good cause: 10 per cent of the sale proceeds are going to disaster relief for the Australian wildfires.
Flower power
It is hard to keep up with all the celebrations and goings-on in the Big Apple. This time, the most noteworthy party in New York City was the New York Botanical Gardens' 'The Orchid Dinner', hosted at The Plaza Hotel. The lavish dinner was attended by New York high society. Guests were welcome to enjoy and purchase rare and exceptional orchids selected by the garden's own curators. About 350 guests were in attendance,
in black tie and evening gowns, and paused to take pictures of the orchid centrepieces at their tables. Each year a curated list of the country's top designers are commissioned to design their own orchid-inspired table. They can let their creativity flow; some go bold, some go classic, and everybody goes over the top.
The evening celebrated The Orchid Show: Jeff Leatham's Kaleidoscope, which recently opened at the Enid A Haupt Conservatory, and will run till April 19. Jeff Leatham is the famed art director of the Four Seasons Hotel George V, Paris, and is known for his bold and captivating installations. At this show, thousands of orchids are displayed in various forms and colours — purples, reds, oranges and hot pink —embellished through overhead arches, vine-inspired ribbons, mirrored sculptures and dramatic lighting.
Bigger and better
Amazon is set to open a bigger, better brick-and-mortar store in Seattle that will be sans cashiers. The new Go Grocery is 10,400 square feet and carries 5,000 items. Regular Go convenience stores have ranged between 450 and 2,300 square feet and stocked just 500 to 700 items. An Amazon representative told Bloomberg that Go Grocery is aimed more at apartment dwellers than the office workers other Go stores usually serve.
The typical Amazon grocery stores use a series of built-in cameras and sensors to automatically monitor what shoppers pick up and keep, and charge them accordingly when they walk out of the store. However, the new version of this cashier-less technology has been updated, allowing Go Grocery to automatically monitor the purchase of fresh items like apples and lettuce, which had previously been harder for computer vision and sensors to keep track of.
Amazon is also set to launch its very own chain of full-sized supermarket stores in LA. While these will not include a cashier-less checkout, they will reportedly feature robot-powered order fulfilment for faster online order processing, delivery and pickup. However, Amazon is not alone; two tech start-ups, AiFi and Grabango, are also working on autonomous systems for big retailers competing with Amazon.