Bihar election and its conspiracy theories
DELHI DIARIES: Trump, Modi world views; and why the BJP is restless in Karnataka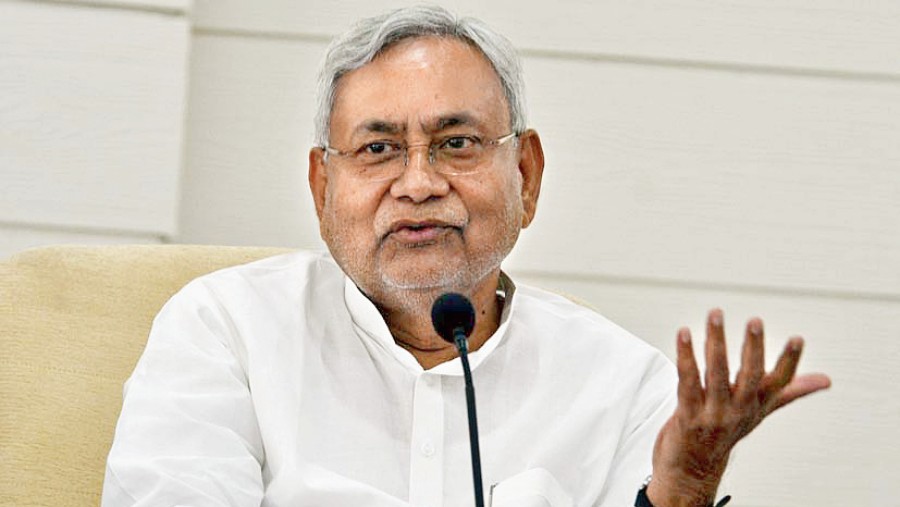 Tight spot: Nitish Kumar
File picture
---
Published 23.08.20, 12:13 AM
|
---
Election season is the most salubrious time for conspiracy theories. Many political observers refuse to believe that assembly elections in Bihar will be held amidst the pandemic. They predict dramatic changes, including a collapse of existing alliances if not a realignment of forces. The political grapevine is abuzz with the possibility of a delay in elections because the Bharatiya Janata Party does not want to contest in alliance with Nitish Kumar's Janata Dal (United) and it would like Bihar to be placed under president's rule before campaigning starts. While Kumar's clout will be whittled down considerably and the BJP will occupy the driving seat in such an event, conspiracy theorists also suspect the dynamics of the Opposition to change, forcing a multi-cornered contest. These observers believe that the BJP will become the front-runner if the Rashtriya Janata Dal and the Congress fall apart and contest separately. This will split the Muslim votes among three parties — RJD, JD(U) and Congress. Although this sounds far-fetched at present, some old-timers claim forces were working on such a plan and nobody knows how effectively it can be executed. Since there are so many loose ends and so many divergent players involved, it is difficult to predict how this plot will unfold. But there is no doubt that the current leadership of the BJP is capable of thinking big and also has the courage and the wherewithal to implement even the most bizarre scripts. After all, luring Kumar away from RJD-Congress, too, was beyond comprehension before it actually happened. If such a four-way contest actually happens, Kumar can only pray for a hung assembly to get back in a position to bargain once again.
Work is worship
The BJP claims time and again that Narendra Modi is the most workaholic prime minister the country has ever had. Modi, it is said, sleeps only for 4-5 hours. When Modi is such a hard worker, how can his closest confidante from way back in his Gujarat days, Amit Shah, be otherwise? Although there is nothing in the public discourse about how many hours the home minister sleeps, he is said to be no less than Modi. Recently, when Shah recovered from Covid-19 and had to be rushed to AIIMS again for "post-Covid care", it was his obsession with work that was blamed for the visit. "Doctors had advised complete rest but Amitbhai spent long hours working from home," one BJP leader said. 
Shah is much younger than Modi but unlike the PM he has other known health conditions. Even under observation at AIIMS, BJP leaders claim, Shah continues to discharge his duties. While past PMs and ministers have also been known to put in long hours, the BJP has succeeded in building a perception that those who ruled before them were only interested in enjoying the fruits of power. "Hum desh ke liye khapne aaye hain (We have come here to get spent for the country)", the PM repeatedly claims.
Shared vision
The former national security adviser, Shivshankar Menon, was in the crosshairs of the right-wing this week, purportedly for writing in Foreign Affairs, the American magazine of international relations, that the president of the United States of America, Donald Trump, gave "the Modi government a free pass on its controversial domestic agenda". This was interpreted by the right wing as an invitation to the US to interfere in India's internal affairs but the sub-text of the criticism seems to be an effort to put some distance between Modi and his "friend", Trump, as the US heads towards presidential polls. What really seems to have got the detractors' goat is Menon writing that Modi shared Trump's world view and politics. That this reminder to an American audience in election season is not something the ruling dispensation here wants right now from someone who is respected in foreign policy circles was evident from the counter written by another former foreign secretary, Kanwal Sibal, who claimed that it is absurd to say that "Modi shares Trump's world view and politics".
Old rhythm
The chief minister of Kerala, Pinarayi Vijayan, has never been a media darling. But many Malayalis seem to be missing him ever since he went into self-quarantine last week. His typical style of delivering the latest numbers and addressing media queries has become a staple for many Malayalis. It would not be an exaggeration to say that a number of people are waiting for him to come out of quarantine in order to hear the staccato delivery of the latest Covid-19 updates again.
Footnote
A section of the BJP in Karnataka has been eyeing a change at the top by replacing the 77-year-old CM, BS Yediyurappa, with a younger leader. The talk within party circles is that the Lingayat strongman is not a strongman after all. But the larger question that is haunting everyone is who would replace the man who single-handedly brought the party to power in a southern state more than a decade ago. The BJP has perhaps been over-reliant on the ageing warhorse.