The Centre must stay neutral in a state ruled by an Opposition party
The Centre's admonitions to the Bengal government began flowing after the BJP gained 18 seats there for the first time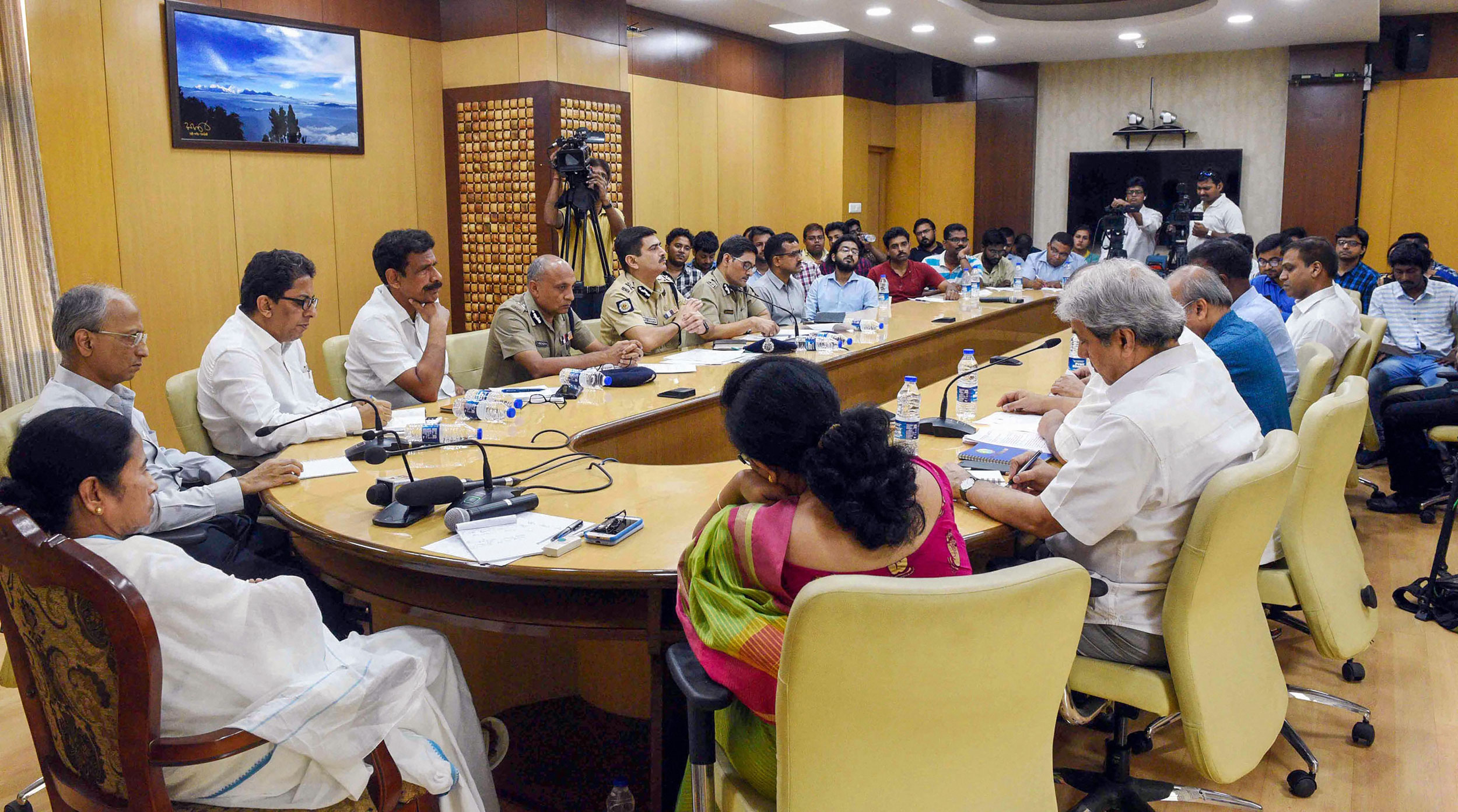 Bengal chief minister Mamata Banerjee conducts a meeting with junior doctors and officials in Howrah on June 17, 2019.
(PTI)
---
Published 20.06.19, 03:25 AM
|
---
Disagreements and contrary positions are inevitable in a vibrant democracy. Non-violent approaches to the resolution or containment of such conflict is the mark of a democracy's maturity; so far India has not demonstrated maturity in that sphere. That does not make violence excusable: localized political clashes in West Bengal following the Lok Sabha elections and the assault on junior doctors of a hospital that led to a prolonged junior doctors' strike are not situations to be emulated. At the same time, violent incidents are not unknown in other states. Law and order being a state subject, it is left to the respective administrations to take the appropriate steps in such cases. In the case of West Bengal, however, the Centre's concern about what it has named a 'breakdown' of law and order is rather striking. It sent two advisories in rapid succession to the state government, directing the state to control the situation and punish the guilty, and together with the second advisory, demanded an immediate report of the doctors' strike. From such acute official concern, the impression may be created that the law and order situation is no longer under the state's control. This impression may lead to serious consequences for the state government even without validation.
The political clashes occurred between members of the Trinamul Congress and the Bharatiya Janata Party, with deaths on both sides. West Bengal, unfortunately, is one of the states that has long known such conflict, only this is the first time that the BJP is one of the contending parties. Since the Centre's admonitions to the state government have begun flowing after the BJP gained, for the first time, 18 Lok Sabha seats in the state against the TMC's 22, it is difficult not to perceive the advisories and the demand for a report as responses in line with the state BJP's complaints. Yet the BJP-led Central government seems to have been quite content from its first stint to leave repeated violence in many other states to their respective law-keepers — whether encounter deaths in Uttar Pradesh, caste violence in Gujarat and elsewhere or murders by cow vigilantes throughout northern and central India. Maintaining neutrality is one of the responsibilities of the Centre, even when a state is ruled by an Opposition party. Balance is fundamental to a federal structure.