Be a virgin again - 'Virginity is still an important issue in Indian marriages'
Read more below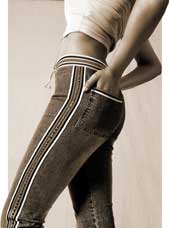 ---
---
The woman who came to Dr Indrani Lodh's chamber in Calcutta seemed embarrassed. She took some time coming to the point — and, when she finally did, she was full of apprehension. She repeatedly urged the doctor not to specify the nature of her surgery in her discharge certificate. And the name and the telephone number that she gave, it was later discovered, were false.
The patient, in her thirties, said she was married, and it was evident that she had borne children. Clearly well-heeled, she spent two nights in the deluxe room of a top-notch hospital for her surgery — when the operation didn't merit even half-a-day's stay. "She was presumably a high-class call girl and wanted the operation to possibly please a client," says Dr Lodh, a consultant gynaecologist at Apollo Gleneagles Hospital in Calcutta.
The operation, in medical terms, is hymenoplasty. In layman's words, it means getting a woman's virginity back for a fee.
Armed with cosmetic solutions for new age women, plastic surgeons and gynaecologists across the country are recreating female virginity with a simple 40-minute surgery, a reconstruction of the delicate membrane, the hymen, which tears during sexual intercourse, if not earlier.
A small but increasing number of women are going in for hymenoplasty in cities in northern and western India. The list of takers is long — young upwardly mobile women between relationships, middle-aged women looking for sexual pleasure, rape victims wanting to undo the trauma, sex workers quitting the trade to marry or to gratify fussy clients, would-be-brides from West Asia afraid of honour killings, and non-resident Indian women about to get married.
"Women from various sections of society come to us," says Ahmedabad-based surgeon Dr Hemant Saraiya. "Young Gujarati girls come with the intent of keeping their husbands under the illusion that they are virgins. I've also operated upon sex workers who want to marry and settle down," he says.
The trend is on the rise in parts of India, taking a cue from the West where hymenoplasty is seen as a fad in some quarters. "I get a lot of queries from Indians in the US and Britain," says plastic surgeon Dr Bijal Parikh, who is also based in Ahmedabad. "If the trend picks up, this is going to be a big medical tourism destination for hymen reconstruction surgery," says Dr Parikh.
Some doctors hold that Mumbai has also witnessed an increase in hymenoplasty numbers. Says Dr Milind Wagh, consultant aesthetic and reproductive surgeon at L.H. Hiranandani Hospital, Mumbai, "More women come in seeking hymenoplasty today than, say, five years ago, when the surgery was just picking up in India. Most of my patients are Indian. Some are foreigners or NRIs, who come to India for the low cost of surgery."
Mumbai gynaecologist Dr Rishma Dhillon, however, holds that there are fewer women seeking hymenoplasty today than earlier. But she adds that she frequently encounters teenage Arab girls from West Asian countries accompanied by a family member for an abortion, followed by hymenoplasty. A Chandigarh cosmetic surgery clinic acknowledges that many NRI Punjabi parents get their sexually-active daughters to undergo hymenoplasty ahead of an impending marriage.
Delhi-based cosmetic surgeon Dr Vijay Kakkar's hospital gets at least two to three young women every month. The number of such cases, he says, has increased by 25 per cent over the last year. "While premarital sex is quite common, virginity is still an important issue in Indian marriages," he says.
Most of these women, between 20 and 30 years of age, provide false addresses and telephone numbers. "They seem to be living a life of dilemma — on the one hand, they believe in asserting their sexual needs and, on the other, are succumbing to traditional views," Kakkar feels.
Doctors agree that those seeking hymenoplasty are mostly young women about to get married. But older women, many in their forties, have also approached doctors for the surgery. In Ahmedabad, which has seen an upswing in the number of referrals for hymenoplasty in recent years, Dr Bijal Parikh was approached by a middle-aged woman from the United States wanting to 'gift' her husband regained virginity on their 20th wedding anniversary.
Chandigarh-based cosmetic surgeon Dr V.D. Singh stresses that older women form about 40 per cent of all clients opting for hymenoplasty. "A 42-year-old housewife from a well-to-do background recently came to me to get hymenoplasty done on her, so that she could gift her virginity once again to her husband on his 45th birthday," says Singh.
However, not all practising cosmetic surgeons agree that hymenoplasty is becoming a trend in the country. Says Delhi-based cosmetic surgeon Dr Rashmi Taneja, "Such cases are still quite rare. Compared to several people who call me on a daily basis to find out about liposuction orrhinoplasty, I get about two enquiries a year for hymenoplasty. It would be just about one per cent of all kinds of cosmetic surgeries put together." Another plastic surgeon in the capital city, Dr Lokesh Kumar, agrees. "I get only about five to six hymenoplasty cases every year," he says.
In Calcutta and Bangalore, surgeons acknowledge that women are coming in for reconstruction surgery but the numbers are not as high. There are stray instances of hush hush surgery, with patients asking for a privacy guarantee. In most such cases, there are no medical records of the operation.
Says Dr Jayanta Gupta, a gynaecologist at the Apollo Gleneagles Hospital in Calcutta, "I don't think there are too many cases here as people are more open to the idea of pre-marital and extra-marital affairs than in other parts of the country." Changing social values mean women don't want to hide their affairs any more. "I have received five cases in the last five years. I think the society is more open to pre-marital sex now," adds Dr D.S.A. Surindher, a surgeon at a Bangalore hospital.
While the surgery costs anywhere between Rs 15,000 and Rs 20,000, many doctors charge fees as high as Rs 75,000 to Rs 1 lakh. "It is a very simple surgery. But because of the secrecy involved, some surgeons charge women much more than the usual amount," says Dr Duru Shah, president of the Federation of Obstetrics and Gynaecological Societies of India.
Chandigarh-based V.M. Plastic Surgery clinic lists the costs of the procedure in dollars ($1200) and Indian rupees (Rs 55,000) on its website, not forgetting to mention that the expenses of getting a surgery done in India are far lower than in the US or the UK.
Women going under the scalpel are mostly reporting happy results. "I separated from my husband and before getting into another relationship went in for hymen reconstruction. I wanted to feel 'new' and give my partner a 'new' me…the results are showing on both," says 37-year-old Deepika Soni, who underwent the operation last year at Ganga Ram Hospital in New Delhi and is marrying again. But others, like Jayanti Shah (name changed on request), who used it as a tool for deception, aren't living in peace. "I have had a number of affairs and when my parents decided on an arranged marriage, we thought of hymenoplasty. My husband is a conservative and good man. I feel guilty for having duped him into the marriage, giving him an impression of a Sati-Savitri."
Is hymenoplasty, ethically speaking, in the same league as other cosmetic surgeries like a nose job or a tummy tuck? An interesting study on 20 second generation immigrant women in The Netherlands who had undergone hymen reconstruction recently revealed that it was in response to the 'fulfilment of a person's need rather than a response to their medical condition and hence was comparable to any other cosmetic surgery in ethics." Other views that came out from the study: "It amounts to conspiring." "It confirms sexual inequality and is a deterrent to women's psychology."
Not surprisingly, women activists believe that hymenoplasty only reinforces stereotypes on the importance of virginity. "Instead of educating women, showing them the light of reason, doctors are reinforcing the myth about virginity being equated to an intact hymen," says Illa Pathak, who heads the Ahmedabad Women Action Group.
But doctors insist that there is nothing wrong with the practice which is already popular in the West. Some argue that it is an individual's right to feel good, and if a women is happy after hymenoplasty it is up to her to decide whether or not she wants it.
There is a flip-side to the surgery, of course. Though a simple process, some warn of complications. "There are chances of developing an infection, as in case of all surgeries, or of scars being left behind," says Dr Taneja. Adds Dr D.S.A. Surindher, "As the hymen is a very delicate tissue, there are chances that it can immediately rupture again after the reconstruction."
Dr Vidyamani Lingegowda, head of gynaecology at Bangalore's Nursing Home, warns that a hymenoplasty procedure should only be done by a skilled surgeon as it can later cause problems such as fibrosis and Dyspareunia — pain during intercourse.
Right now, however, post-operative complications are not on Neha's mind. A 24-year-old employee of a call centre in Delhi, Neha (not her real name) went to Chandigarh-based cosmetic surgeon Dr K.M. Kapoor to get a hymenoplasty done. "She was to get married shortly, and it was an arranged marriage negotiated by her conservative parents with another conservative family. She told me that she didn't want her husband to realise that she was in fact not a virgin, and hence wanted to undergo revagination," says Dr Kapoor.
Another 22-year-old girl wanted to go under the scalpel for much the same reason, says Dr Kapoor, the difference being that she was only out of college and was going to get married soon. "Women of this age group often want to present the image of a Sati-Savitri to their new husbands, since ours is such a conservative society," says Dr Kapoor.
Clearly, in the new age of nips and tucks, nothing is lost for ever.