Letters to the editor: Do animals feel human sentiments ascribed to them
Readers write in from Bengaluru, Kanpur, Chennai, Ujjain, Mumbai and Calcutta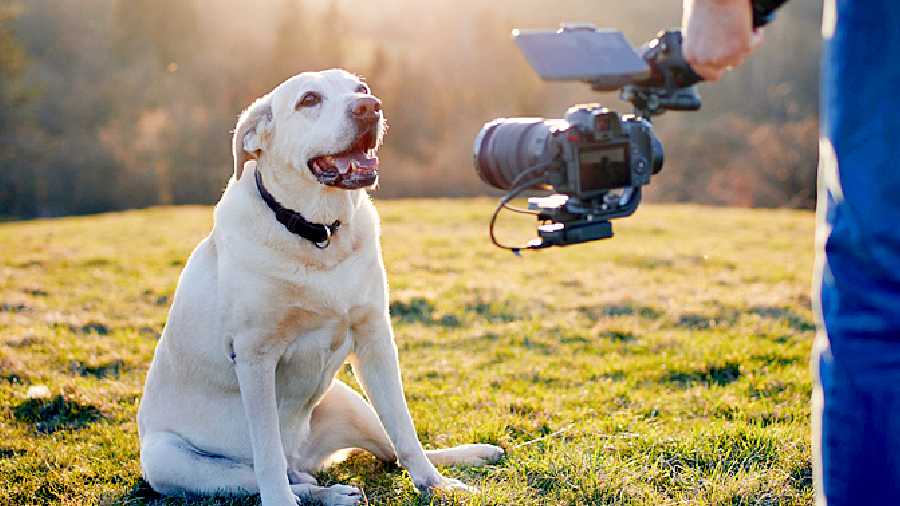 ---
Published 01.09.22, 04:26 AM
|
---
Mixed feelings
Sir — Entertaining videos of pet cats and dogs are among the top trends on social media. In these videos, the four-legged influencers can be seen being playful or mischievous, while human speech is attributed to them in subtitles or in the audio track. However, one wonders whether animals actually feel the human sentiments that are ascribed to them. Scientists have shown that the projection of human emotions on animals might be a result of mankind's superiority complex which leads us to consider other species as lesser beings that lack rationality. Anthropomorphising animals can also lead to inappropriate behaviour towards them. There is no harm in shooting and uploading videos of pets. But these are enjoyable in themselves without speech.
Smriti Dey, Kanpur
Done and dusted
Sir — Two residential towers in Noida were razed to the ground using controlled explosions recently ("Towers gone, dust watch for 2 months", Aug 29). The demolition was ordered by the Supreme Court as the structures violated building regulations and fire safety norms. Some 3,500 kilogramme of explosives were used to bring down the towers; this left behind a massive cloud of dust and a mountain of debris that may take nearly three months to clear. The resultant air pollution cannot be good for those living in the vicinity. Adequate measures must be taken to reduce their exposure to the harmful smog. 
This should serve as a wake-up call for real estate developers who flout norms with impunity. Buyers must find out whether a construction is legal before investing in it. M.C. Vijay Shanker, Chennai "Sir — Supertech, the group that built the Noida twin towers, could not have flouted building rules without help from the planning and supervisory authorities concerned. But the apex court order, which came nine years after a complaint was made, restored people's faith in the judiciary. Illegal constructions in urban spaces have long been a menace. Effective laws and stricter regulations must be in place to minimise such violations. 
Somya Agrawal, Ujjain
Sir — Demolishing the Noida towers was a colossal waste of resources. Worse, banks and buyers might not be able to fully recover their money from the builder. The government could have acquired the buildings and found a way to put them to use. This would have saved precious resources.
N. Sadhasiva Reddy, Bengaluru
Sir — The amount of construction pollution generated by the demolition of the Noida towers is worrying.
B.K. Bandyopadhyay, Calcutta
Suspicious ranking
Sir — In a survey conducted by an American company, the Indian prime minister, Narendra Modi, was declared the most popular leader in the world with an approval rating of 75 per cent. This has prompted his followers to boast of his achievements on social media and make unrealistic claims about his success.
Most authoritarian world leaders are served by a coterie of sycophants and remain oblivious to contrarian points of view. Is Modi any different? At a time when the country is facing unsurmountable challenges on several fronts, the prime minister has not only failed to heed the concerns raised by the Opposition but also resorted to hollow rhetoric instead of taking responsibility for the crises.
Jahar Saha, Calcutta
Fantastical text
Sir — It is shocking that Karnataka has included a passage in a Class VIII textbook describing the Hindu ideologue, V.D. Savarkar, as flying out of the Cellular Jail in Andaman on the wings of bulbuls to visit his motherland . The managing director of the Karnataka Textbook Society has called the distortion an instance of "poetic imagination" ("The phantasma", Aug 31). This poetic imagination is clouding historical facts, such as Savarkar writing several mercy petitions to the British government from jail and promising to withdraw his support for the Independence struggle if released. This belies the claims about Savarkar's patriotism. Students must be taught to distinguish fact from fiction. The authorities should see to it that education centres remain free of any political propaganda. 
Tharcius S. Fernando, Chennai
Sleep well
Sir — Research conducted by an institute based in France has revealed that good sleep is the key to minimising 72 per cent of cardiovascular disorders. It was found that a lack of proper sleep increases inflammation, blood pressure and stress hormones in the body, causing long-term heart damage. Excessive use of technology, sedentary lifestyles and work-related stress have affected normal sleep patterns. But over-the-counter sleeping pills are not the solution. They are addictive and have side effects.  
Kiran Agarwal, Calcutta
Modern approach
Sir — The Centre has granted a sum of 5,200 crore rupees for the modernisation of post offices. This amount will be used to provide government services at the customer's doorstep and to add 10,000 post offices within the year. A similar push for the digitisation of India Post was made in 2012. But the goals of that project have remained largely unmet. The government must ensure that post offices are well equipped.  
Dattaprasad Shirodkar, Mumbai
Sir — India Post recently conducted deliveries with drones in Gujarat. This is encouraging. In spite of several problems, there are some remote corners of the country that are still connected only by the postal service. What is needed is an upgradation of services as well as an improvement in the remuneration of the postal staff.
Ranjini Ray, Calcutta