An unhealthy health budget
The 2021-22 budget focus on healthcare may be historic — but only in popular perception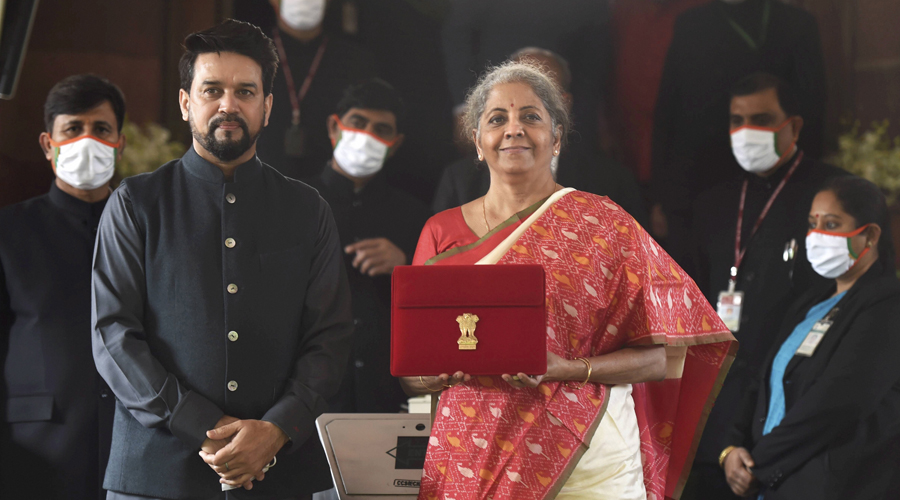 ---
---
The health budget of 2021 is extremely important given the backdrop of pandemic-induced disruptions in the social and economic lives of the people. This year's Economic Survey emphasizes that India should increase its spending on health from an average of 1 per cent to 2.5 per cent of GDP, as aspired in the National Health Policy of 2017, in a phased manner by 2025. The High Level Group on Health Sector has also recommended to the Fifteenth Finance Commission that the Centre should allocate Rs 1.78 lakh crore for the health budget of 2021-22.
In her budget speech, the finance minister announced an allocation of 2.23 lakh crore for 'Health and Wellbeing' expenditure. 'Health and Wellbeing' is one of the six pillars of the budget proposal and is already being identified as the much-awaited financial vaccine for India's crumbling health sector. Therefore, it is necessary to understand how this sixth pillar is going to transform India's health service system.
Apart from the conventional budget categories for health, 'Health and Wellbeing' includes outlays for Drinking Water and Sanitation (60,030 crore), Nutrition (2,700 crore), Covid-19 vaccine-related special allocation as a one-time expense (35,000 crore) and the Finance Commission's grants (49,214 crore for health and water and sanitation) which add up to the sum of 2.23 lakh crore. It is not clear why the Finance Commission's grant is being shown as part of the budget framework as it is not the Centre's resource: it is meant for direct transfer to urban and rural local bodies.
The allocation of 2.23 lakh crore, apparently, offers a framework of "holistic approach to [h]ealth" to strengthen the "[p]reventive" and "[c]urative" parts of the healthcare system alongside "Wellbeing". The benefits secured from the wider determinants of health, such as safe drinking water, open-defecation-free villages, nutrition supplements for pregnant and lactating women and children, do partially address the well-being of the population and may avert many diseases. But can these determinants strengthen health service delivery?
The health budget was supposed to address the age-old needs of infrastructure expansion, building of a skilled workforce, investing in medical research and technologies, reinforcing community-level health schemes and other issues. Merely clubbing the health budget with other social sector overheads may endorse a holistic approach to health but it cannot address the structural problem of low public financing in India's health sector. For 2021-22, the overall health budget of the department of health and family welfare (including AYUSH-Indian systems of medicine and health research) has been decreased in absolute terms by nearly 8,349 crore from last year (from 85,251 crore in 2020-21, Revised Estimates, to 76,902 crore in 2021-22). The government's much publicized flagship programme, Ayushman Bharat (Pradhan Mantri Jan Arogya Yojana and Health and Wellness Centre), has not seen much increment. The HWC component (implemented under the National Health Mission in rural and urban areas) was increased meekly by 300 crore (from 1,600 crore in 2020-21, expenditure budget, to 1,900 crore in 2021-22). The budget outlay for the insurance/assurance-based PMJAY scheme remains the same (6,400 crore) in comparison to the original expenditure budget of 2020-21. Significantly, the pandemic slashed the PMJAY budget outlay in size (3,100 crore in 2020-21, RE). This may be attributed to access-related problems faced by beneficiaries in availing cashless hospitalization services during the lockdown as well as to the threat of virus infection.
The coronavirus finally enhanced the capital outlay on medical and public health after almost three years. It had been falling steadily from 3,048 crore (2017-18) to 2,341 crore (2018-19) to 1,640 crore (2019-20). The pandemic also forced the government to ramp up its infrastructure for medical and public health services by readjusting the allocation to 4,166 crore (RE) from its initial earmark of 996 crore (Budget Estimates) in 2020-21.
The budget confirms, once again, that the NHM has been severely underfunded because of PMJAY. The NHM is the mainstay to lowering maternal and infant mortality and increasing institutional delivery. The fund crunch for the NHM has been adversely affecting allocations for Reproductive and Child Health services, including immunization, communicable diseases — tuberculosis, malaria, diarrhoea and so on — as well as non-communicable diseases for the last three years. An excessive focus on purchasing care mostly from the private sector under PMJAY and an overall stagnation in the health budget have withheld the much-needed expansion of the NHM, after excluding HWC, from 34,659 crore (2019-20) to 35,144 crore (2020-21, RE) to 36,575 crore (2021-22, BE). Ironically, the 2021-22 budget was expected to rejuvenate the NHM to energize public service delivery.
There is also a proposal for system strengthening in addition to the NHM's provisions. The new Centrally-sponsored scheme, the PM AtmaNirbhar Swasth Bharat Yojana, shall have an outlay of about 64,180 crore over a period of six years to upgrade primary, secondary, and tertiary care facilities, strengthen existing health institutions, and build new institutions for research, screening, detection and treatment of prevalent and emerging diseases. All these are at the announcement stage with no reflection in the budget document.
The 2021-22 health budget may be historic — but only in popular perception.