Amit Shah's valiant trip to save 'Gujarat Model'
DELHI DIARIES: In Covid times, Congress leaders lead from the front in Karnataka and Delhi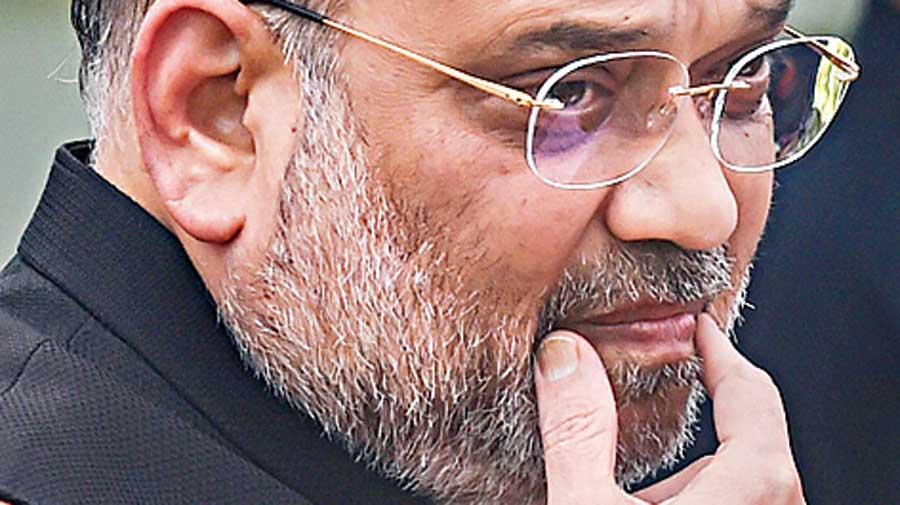 ---
Published 25.04.21, 12:35 AM
|
---
Rush back
After the Election Commission clamped down on campaigning in West Bengal for the ongoing assembly elections, the Union home minister, Amit Shah, rushed to his home state, Gujarat, yesterday. The Covid-19 situation in Gujarat has been particularly bad. Reports of the medical infrastructure crumbling — and leading to large-scale death — have been pouring in from the state where the Bharatiya Janata Party has been in power for over 20 years. The state government has been accused of hiding the death toll figures, with reports from overwhelmed crematoria telling a different tale from the one put forth by the administration. The pathetic state of affairs has exposed the reality of the so-called "Gujarat model" of development. In Delhi's power corridors, Shah's rush back home was seen as an effort to bring into play his famed 'management skills' in a bid to salvage Narendra Modi's "Gujarat model". In BJP corridors, however, the whisper among party leaders was that Shah is more concerned about protecting the Gujarat chief minister, Vijay Rupani, who has been facing flak. It is widely believed that Rupani is Shah's man. "Vijay Rupani is Amitbhai's rubber stamp," one BJP leader remarked. New surprises
The president of the Karnataka Congress, DK Shivakumar, has always been known for his daredevilry in politics. He seldom shies away from taking chances that usually pay off. But him slipping into personal protective equipment and venturing into a Covid-19 ward at a government hospital in his Kanakapura constituency was something even his diehard fans never expected. Most of his party leaders had no idea about his visit to the Covid-19 ward to meet and check on patients and the facilities. As some Congress leaders said, few would dare to replicate Shivakumar's feat.
Exude confidence
It is not enough to know that one is winning; one also has to create a perception to this effect to ward off any attacks by the rival camp. This is exactly what the Congress seems to be doing in Assam — getting its candidates and those of its allies, the All India United Democratic Front and the Bodoland People's Front, to spend time together ahead of the counting of votes on May 2. Although taking a break with family and friends after exhaustive electioneering is the norm, this time the three parties decided to keep their candidates together so that they could get to know one another — know their allies and thwart any perceived bid by the ruling BJP to influence their candidates in case the recently concluded and keenly fought three-phase assembly polls in the state throw up a hung verdict.
The Congress had first flown out AIUDF and BPF candidates to Congress-ruled Rajasthan and Chhattisgarh, respectively. They have since returned. The Congress then got its candidates to spend time in a resort near Guwahati, 'swimming, playing volleyball and strategizing' — exuding the confidence of a winner. This has caused the May 2 verdict to become a topic of discussion among officials, political analysts and those in the exit poll business. The pollsters are revisiting and reassessing their forecasts, once again reaching out to political watchers and journalists to get their results right or come as close as possible to the eventual outcome.
"We are winning but creating a perception also helps, like minimizing the influence of the ruling party on the official machinery. We have succeeded [at] what the BJP has mastered since 2014. Creating perception even where they have no chance," said a senior Congress leader when asked why a hype was created about winning when the party is already sure about winning. For most, however, the suspense over the results will continue till May 2.
Ready to help
The Youth Congress president, BV Srinivas, who earned a robust reputation for his commitment towards helping people in distress during the harsh lockdown last year, has lived up to expectations yet again after the second wave of Covid-19 hit India hard. Srinivas set up a monitoring system and launched a Youth Congress helpline on Twitter. He and the Youth Congress team helped patients get admission in hospitals, and also delivered oxygen cylinders and life-saving medicines to people's doorsteps. Social media might be flooded with thousands of requests for help from all over the country, but it also has stories of help reaching the needy in time.
Although this dedication has earned Srinivas the image of a do-gooder, he responds humbly to praise by asserting that the "Rahul Gandhi team" was responsible for the work, not just him as an individual. While many politicians and activists have done a great job during the pandemic, Srinivas is probably the only person who has succeeded in creating a national network for timely assistance in almost every state. He is using the party's resources, but he has shown exceptional leadership and commitment towards the people. This model of politics is rare today as few young leaders choose to rise through social service and struggle. Srinivas has impressed senior leaders and is destined to play a bigger role in the future. Footnote
The news that the former Union minister, KV Thomas, who has also been a working president of the Kerala Congress, became a 'minister', that too when the Left Democratic Front is still in power, came as a surprise. The once-sulking Congress veteran, who was allegedly gearing up to quit the party upon being sidelined, was back in the news with his pictures splashed across the Malayalam media. Only that Thomas was made a minister in a Malayalam movie, Oru Flashback Story. Wearing the typical snow-white shirt and mundu, Thomas is playing the role of a culture minister. Denied a ticket in the 2019 Lok Sabha polls and the just-concluded assembly elections, Thomas could still become a minister, albeit in a movie.