The president of the Bharatiya Janata Party and now the Union home minister, Amit Shah, has chosen the bungalow of the late former prime minister, Atal Bihari Vajpayee, as his new official residence, and this decision has become a subject of curiosity in the power circles. People are wondering why Shah chose Vajpayee's house. In terms of structure, there is hardly any difference between the residence at 11 Akbar Road, where Shah stays at present, and the bungalow at 6A Krishna Menon Marg, where Vajpayee resided till he passed away in August last year. Both houses are equally sprawling and, in government records, are classified as Type 8 houses, reserved for ministers of cabinet rank.
The Central public works department had spent a lot of money in carrying out renovations in the 11 Akbar Road bungalow to suit Shah's tastes and requirements. Now, the change of residence will lead to yet another round of public money being drained. The only thing that Shah could be interested in as far as the move is concerned is the political symbolism attached to Vajpayee, who was the saffron party's tallest mass leader before the present prime minister, Narendra Modi. But this, too, seems implausible in the case of Shah, according to gossipmongers. Vajpayee was known to be a liberal right-wing leader while Shah's leanings towards the right seem to be far more extreme. Will Shah in government, try to be Vajpayee-like? Many, quite rightly, find this hard to believe.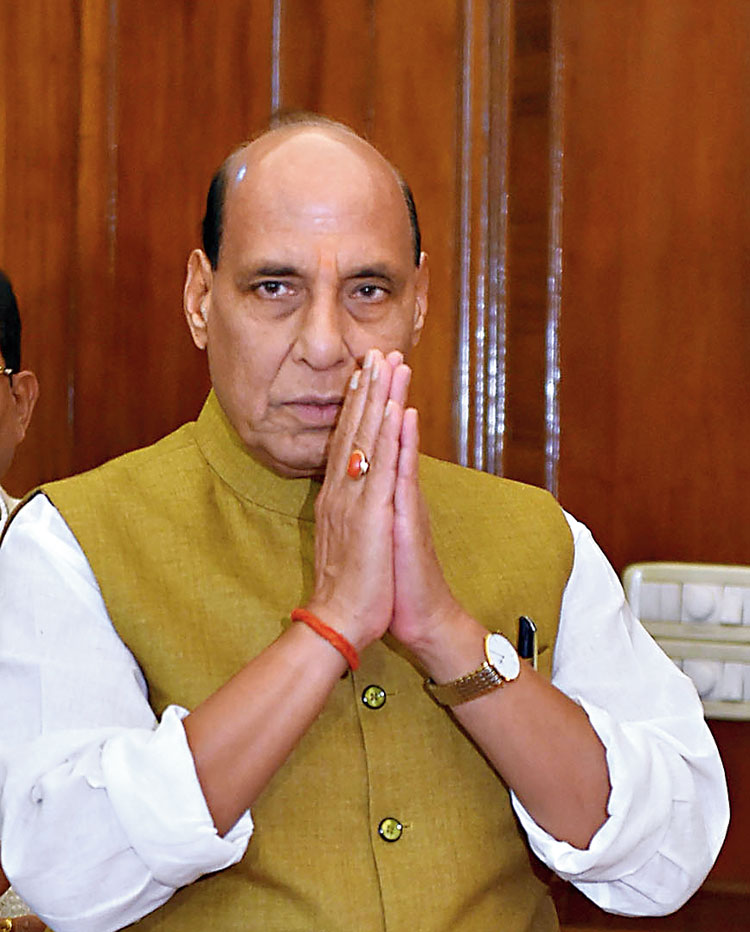 People close to Rajnath Singh claim that on some occasions, he takes a firm position and does not budge from it (PTI)
Stand firm

The Union defence minister, Rajnath Singh, is known to be an extremely mild-mannered leader who rarely loses his cool. As a typical old-school leader, he refrains from knee-jerk reactions and waits for the tide to turn in his favour. People close to him, however, claim that on some occasions, Rajnath takes a firm position and does not budge from it. "The Thakur in him sometimes rears its head, and he is ready for any kind of sacrifice to protect his self-esteem," said a Bharatiya Janata Party leader who is close to him.
Rajnath had quietly accepted Narendra Modi's decision to shift him out of the ministry for home affairs and give it to his most trusted lieutenant, Amit Shah. Leaders close to Rajnath said that allotting ministries was the PM's prerogative, so he did not want to protest over it. However, the Thakur leader from the heartland of Uttar Pradesh could not stay silent when he was removed from key cabinet committees, particularly the one dealing with political affairs of the government.
This was too much for the leader to take, especially given the fact that he has decades of political and parliamentary experience behind him. So he firmly offered to quit and work for the party. This seemed to have rattled the Modi-Shah duo. Subsequently, through a hurried late-night notification, Rajnath's name was included in all the key cabinet commitees. The Thakur's self-esteem appears to have been restored.
Softer image
Strange are the ways of the Congress. As a consensus eludes the former Haryana chief minister, Bhupinder Singh Hooda, on the post of Pradesh Congress Committee president in Haryana, which currently belongs to Ashok Tanwar, the general secretary in charge of the state, Ghulam Nabi Azad, proposed the name of Bhupinder's son, Deepender Hooda, as a formula for compromise. Both father and son lost in the Lok Sabha elections from their seats, and the general perception is that the BJP won because of non-Jat consolidation. Many Congress leaders insist on a leader from outside the Jat community, which ruled both father and son out.
But Azad's advocacy for the young Deepender is attracting less opposition than Bhupinder because the younger Hooda is not yet seen as a proponent of identity politics. Bhupinder evokes strong antipathy among people belonging to other castes as he aggressively pursued Jat politics and tried to marginalize leaders from other castes. His son, on the other hand, has a softer image, and is known to be less rigid in approach than his father. Although some people feel that the young man will flower into a community leader only after enjoying power for a while, even the senior Hooda's sworn enemies are not virulently opposed to Deepender. Also, there is hope in the Congress that Deepender can lure the youth away from the BJP more effectively than his father, who carries a lot of baggage after being a two-time chief minister of Haryana.
Almost empty

A Congress leader from Telangana was seething when 12 legislative assembly members defected to the ruling Telangana Rashtra Samithi, leaving the party almost empty. He said: "One leader who was supposed to look after Telangana often used to tell us, 'khaali haath kyon aaye bhai?' He would expect cash and gifts and won't appoint even block-level office-bearers without gratifications. Now the whole state Congress is 'khaali'." Even for a ticket in the assembly and Lok Sabha elections, aspirants were asked by middlemen and influential leaders who could pull strings in Delhi to cough up money. Most leaders from Telangana and Andhra Pradesh blame the party high command for the wrong policies and the disconnect with local sentiments that destroyed the Congress's base in this traditional fiefdom. Worse, most general secretaries exploited the two states for money and comforts instead of toiling hard to expand the networks of support and party workers. People say that the Congress should stop dreaming of a revival in these states for the next 10-15 years.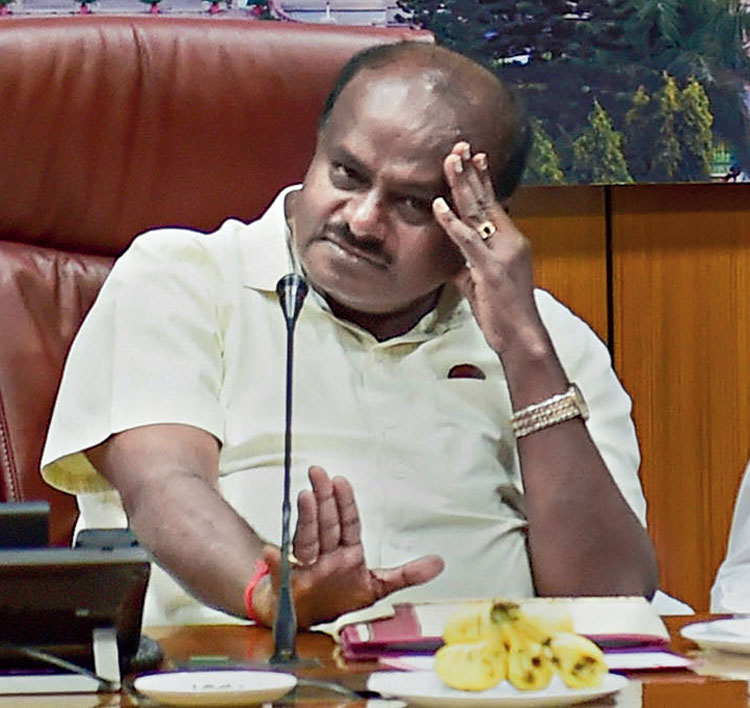 Karnataka chief minister H. D. Kumaraswamy is planning 'village stays' in order to better understand the problems of the rural parts of the state (PTI)
The chief minister of Karnataka, HD Kumaraswamy, is planning 'village stays' in order to better understand the problems that plague the rural parts of the state. As soon as the plan was announced, the deputy chief minister, G Parameshwara, had also chalked out similar trips to the outlying areas of the state to study their woes. Fresh in everybody's mind is the memory of how the autorickshaw driver, Munirathna, had to burn holes in his pocket by spending thousands of rupees to dismantle a western-style toilet in his home — it had been installed by the BJP when the state party chief, BS Yeddyurappa, spent a night at his residence as a part of his 'slum stay' project last year — and rebuild an Indian-style one.