Stand tall: Women's History Month
American Diaries: Awol Erizku'd photographs at about 200 NY bus shelters; 'Crime Scene: The Vanishing at the Cecil Hotel' on Netflix; St Patrick's Day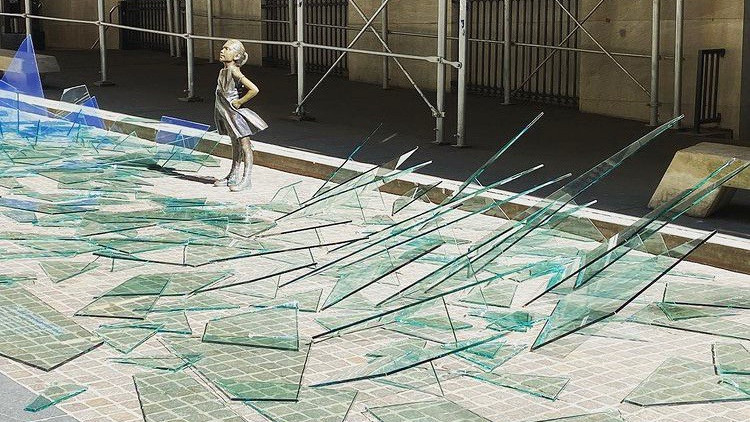 A broken glass ceiling installation by State Street Global Advisors surrounds The Fearless Girl statue, as the world marks International Women's Day, outside the New York Stock Exchange (NYSE) in New York.
Twitter/ @jmsnftzptrck
---
Published 13.03.21, 12:13 AM
|
---
March is Women's History Month — a month-long celebration and acknowledgement of the achievements of women throughout history who have had to overcome unique barriers. It started off as International Women's Day, still celebrated on March 8, and expanded into a week-long celebration until it was recognized as Women's History Month.
In New York, State Street Global Advisors installed shards of broken glass, symbolizing the metaphorical broken glass ceiling, around the statue of the Fearless Girl on Wall Street. A nearby plaque reads: "Today's broken glass ceilings are tomorrow's stepping stones." The Fearless Girl statue was installed in front of the New York Stock Exchange in 2017 right before International Women's Day.
Apple is amplifying women's voices through its music, podcasts, books and more by featuring content created by women. Apple Maps will allow users to discover statues of famous women, restaurants of Michelin-starred female chefs, must-visit businesses in Los Angeles and street art by women artists in New York.
The theme for 2021 is 'Choose to Challenge'. It encourages people from all gender identities to stand up for what they believe in and show solidarity. Covid-19 has shed light on the extent of gender disparity that exists in society given that women are paid less than men, comprise the majority of single-parent households or live close to poverty. The United Nations Foundation summarized in a recent report the disproportionate impact of the coronavirus on women and girls.
Bright idea
The pandemic has decreased the number of visitors to traditional indoor museums, galleries and exhibitions, but there is a new art display in town that you can enjoy just by walking through the city of New York. The LA-based Ethiopian American artist, Awol Erizku, is displaying a series of photographs at about 200 bus shelters across the city through June 20. The show is curated by the Public Art Fund. The subject of photography ranges from gender and race to religion and spirituality. Erizku uses African symbolic art and depicts the Islamic religion in his photos. These can be seen at bus stops in all five boroughs, with a concentration in the Bronx, Erizku's hometown. They are also on display in Chicago.
The Public Art Fund website has city maps of Chicago and New York, each with pin drops showing the location of every photograph. The exhibition, New Visions for Iris, is dedicated to his one-year-old daughter, Iris.
In a similar tone, the Metro Transit agency in Minneapolis commissioned five local artists to create colourful artwork with positive messages to be displayed, to spread some positivity and joy amidst last summer's civil unrest and the ongoing pandemic. Metro Transit will place the artists' images inside 15 bus shelters and on the exterior of 30 buses that will travel through south Minneapolis and the east metro. Images will also be featured in ad spaces inside many Metro Transit buses.
The plot thickens
Last month, Netflix released a new true crime docuseries, Crime Scene: The Vanishing at the Cecil Hotel, that explores an unsolved murder of a college student and hotel guest that took place in a seedy downtown Los Angeles hotel in 2013. The show beat another series that had spent seven consecutive days at the number one spot on Netflix. While the murder remains unsolved, the show dives into various conspiracy theories into what may have happened. In fact, a few days after it started streaming, the Los Angeles Police Department phone lines were ringing off the hook with tips. The 21-year-old victim, Elisa Lam, had gone missing until she was found several weeks later drowned in the water tank on the hotel rooftop. The LAPD told TMZ that a majority of the 'tips' were coming from couch detectives and people riveted by the case doing some internet digging.
Since long before the case, the Cecil Hotel has had a dark history and is featured as a popular spot during city-wide tours in LA. It has housed serial killers, it has had several guests jump to their deaths from their hotel rooms in the 50s and 60s and served mainly as a transient hotel while more upscale hotels were cropping up in the neighbourhood.
The establishment shut its doors in 2017 after a failed attempt to rebrand itself as a low-budget hostel called 'Stay on Main'. If you are in LA, you can still see the 'Stay on Main' sign on the 1920s architecture. If you peer in you can view the lavish lobby and marble flooring.
Raise a toast
It has been almost a year since the United States of America went into lockdown owing to the pandemic. Last year, around this time governors were still on the fence about which public events to proceed with and which to cancel in the spirit of public safety. One of the celebrations that ultimately got cancelled across the country was St Patrick's Day.
Unfortunately, 2021 is not looking to be much different, except many of the celebrations are going virtual on March 17. In Jersey Shore, a large parade was being planned on March 13. But a St Patrick's Day Observance Mass will take place instead. The group said the Catholic church in Wildwood — the largest in New Jersey — can accommodate 2,000 people, but under coronavirus restrictions, about 1,000 socially-distanced seats will be available on a first-come, first-serve basis.
NYC has also cancelled its parade but has planned to have a virtual event to honour front-line workers. It launched a campaign encouraging people to send a message of support to essential workers, family and friends as part of the 'New York City St Patrick's Day Parade Gallery of Greetings'. Officials from the NYC St Patrick's Day Parade still plan to hold a "very small" parade through Manhattan to keep the 260-year-old tradition alive. In Chicago, the Liquor Control Commissioner sent a certified letter to the thousands of liquor licence holders reminding them of their responsibility to uphold safety guidelines. There will be a virtual parade, featuring scenes from past parades and the annual dyeing of the Chicago River.
Footnote
While Joe Biden is settling into his new role at the White House, his two rescue dogs, Major and Champ, are also enjoying the spotlight: the 'First Dogs' have the 'Oval Pawffice' page on Twitter. Donald Trump was the first president in a century to not have a pet. Recently, the pro-Trump conservative network, Newsmax, criticized one of the dogs, and immediately invited criticism. "He's in better shape than any of you — and smarter than all of you combined," tweeted the journalist, Keith Olbermann.