Why Squid Game topped Halloween searches on Google
AMERICAN DIARIES: Who will win the race to space, Jeff Bezos or Elon Musk?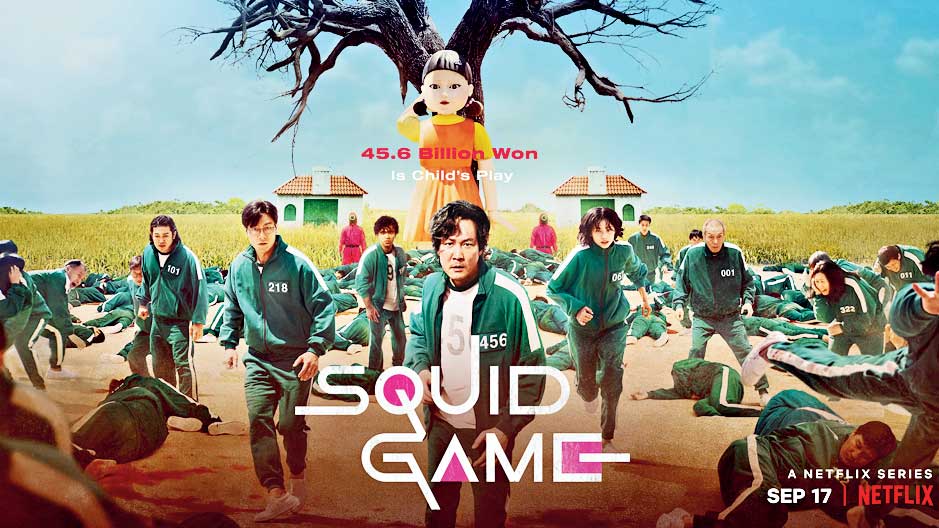 Representational image.
YouTube screengrab
---
Published 23.10.21, 01:33 AM
|
---
Here, there, everywhere
When you're not talking about how you binge-watched Netflix's Squid Game, you're probably discussing how to turn it into a Halloween costume this year. The Korean thriller drama has been firmly placed at number one on the Netflix Top 10 list since it was released. It is the first-ever Korean TV series to be number one in the United States of America. It has permeated social media through memes, recipes and more.
First off, Netflix is partnering with Walmart to sell Squid Game merchandise online. Sellers on Etsy are also gearing up with Squid Game costumes, masks, cookie cutters and other merchandise. According to Google, Squid Game topped in Halloween searches earlier this month.
Amazon, too, is cashing in on the trend with hundreds of products, while TikTok users have been posting videos on how to create the show's trademark 'worker' mask. DIY versions and direct purchase options are also available for a creepy doll that plays a prominent role in the show.
There is also a social media challenge — the 'cookie challenge' — racking up millions of views on TikTok and Instagram, taking after a Dalgona hard candy, made of sugar and baking soda but shaped like a cookie, that plays a critical role in the show (not to give away spoilers). Earlier last year, there was a Dalgona trend on TikTok that involved a frothy coffee drink with sugar.
Race for the stars We can debate all day long over who will win the race to space — Jeff Bezos or Elon Musk. But for now the winner is the 90-year old William Shatner of Star Trek fame who just took his first flight into outer space with Bezos on the latter's 'Blue Origin' spaceship. They were in a tightly packed capsule and the flight was just over 10 minutes long. "This was the voyage of the RSS First Step today," Blue Origin wrote in a Twitter video description. "Its mission: encounter Earth from incredible views at apogee."
This was the second-ever flight for the Blue Origin and so far Shatner is the oldest person in space. After the rocket returned, Shatner could be seen at an intimate press conference moved to tears, grasping for words. Many late night show hosts took a jab at his loss for words as he cried while Bezos was popping champagne. "You're looking into blackness, into black ugliness... There is Mother Earth and comfort, and there is — is there death? I don't know. Is that death? Is that the way death is? It was so moving, this experience." Shatner was heard saying. His co-passengers included the former Nasa engineer, Chris Boshuizen, the healthcare entrepreneur, Glen de Vries, and Blue Origin's vice-president of mission and flight operations, Audrey Powers. Bezos himself has been criticized for these space rides, often called the 'billionaire space race' — just a fun trip for the ultra rich while his own employees at Amazon continue working in unsuitable conditions in warehouses.  
Easily done
The 3D printing market has been growing remarkably over the last few years across a variety of industries, including health tech, manufacturing, fitness trackers, bridges and even homes. Teaching 3D printing has also begun in STEM classes in schools and colleges with students exploring engineering and design by replicated items such as fossil fuels.
A new pop-up at Chelsea Market on the West Side of Manhattan will allow you to do a full 3D body scan and then receive an actual 3D version of yourself. The company, called Dopl, takes a 360 degree image and then creates mini doppelgangers in its Brooklyn lab. The pop-up will be open for another five months.
Honda is also partnering with a 3D developer to create a motorcycle based on 3D printed design. Usually the company uses clay models to design the bikes; but it takes a long time. Now, the 3D printer will do most of the work. Last year, BMW also brought its 3D printer at the BMW WorldSBK, a professional racing event. It printed parts for its bikes on the side of the tracks. The parts were quick-release components that could be added on to the bikes easily. And if you think bikes are not cool enough, Relativity Space Inc announced that it has completed the first stage of testing its 3D printed space rocket. It had raised $1.2 billion for this. Apparently its customer wait list includes both Nasa and the US defence department.
Crooked minds
As if times were not hard enough, some people are monetizing our woes. A group was recently caught after its $400,000 hotel booking scam went bust. New York City has a 'Covid 19 Hotel Program' designed to help people quarantine safely inside a hotel during the pandemic. This free programme allows people to quarantine upto 14 days if they meet certain criteria, of which being healthcare workers is one.
But four conspirators hatched a scheme to divert some of these rooms into a side business and pocketed cash from customers who, of course, did not meet the criteria. NYC paid the hotels for the rooms, advertised for as low as $150 a week. The ring leader of this operation, Chanette Lewis, booked 28 nights for herself. Lewis's job was to book quarantine rooms for the city. So she had access to doctor IDs and private medical information and falsified information in the system. It wasn't until July that the City caught on and launched an investigation. Lewis was charged with wire fraud, conspiracy and identity theft.
Footnote A giant Super Mario corn maze in New Jersey has just opened up. It coincided with Mario's 35th anniversary and the corn mazes that come with Fall and Halloween. It is located at the Happy Day Farm, which conducted customer surveys to pick the Mario theme. It was recently voted as a top 10 corn maze in the country. Five years ago, a 10-acre Mario maze was designed in Chicago next to an apple orchard and pumpkin patch, featuring more Mario characters.