Where perks of getting the jab include free doughnuts and pot
AMERICAN DIARIES: The pandemic has led to shortage of ketchup, while new shoes manage to ruffle feathers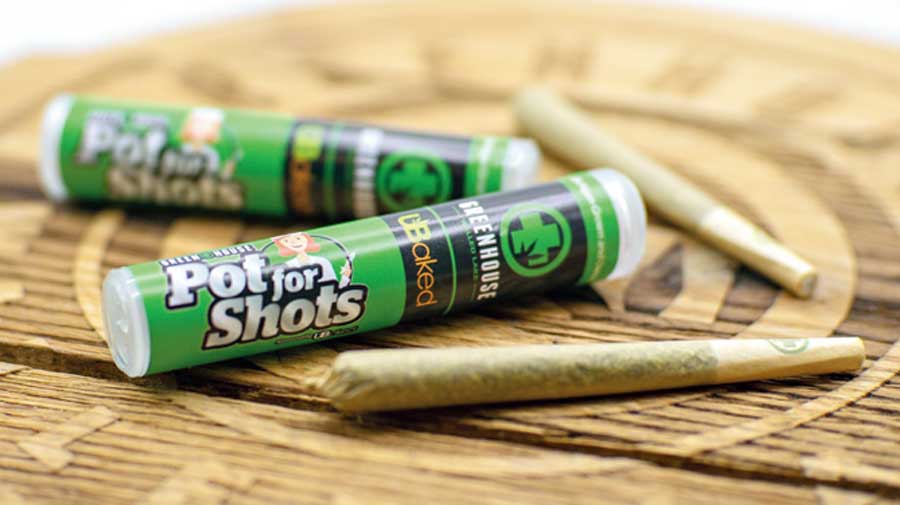 Representational image
Twitter
---
Published 24.04.21, 12:05 AM
|
---
Dose of safety
About 30 per cent of the population of the United States of America has received at least one dose of the Covid-19 vaccine. On April 19, everyone who is 16 years old and over became eligible to take the vaccine as well. Even so, distrust for the vaccine still exists owing to a variety of reasons including conspiracy theories, worries about side effects from the first dose and false information.
To encourage as many people to get vaccinated as possible, many businesses started offering fun perks. Krispy Kreme said it will give a person a free doughnut each day for the rest of the year if they show proof of vaccination. In Cleveland, Ohio, a cinema hall offered to give out free popcorn till the end of April to anyone who showed their vaccination card. The Market Garden Brewery is offering the first 2,021 people who show their full vaccine certification beer for just 10 cents.
A marijuana dispensary in Michigan is embarking on a programme called 'Pot for Shots' where it will give out a free, pre-rolled joint upon seeing proof of the first vaccine dose. In addition to these perks, many small or large companies are offering paid time off and extra pay for employees to go get the vaccine. Chobani, Amtrak, McDonalds and Krogers offered a one-time cash payment to employees to go and get vaccinated. The hope is with these encouragements, more people will trust the shot and also understand that their workplace will help them get it. More sauce please
Early 2020 witnessed a shortage of toilet paper. This year, the shortage is of ketchup packets. As restaurants stopped seated indoor dining, take-away started becoming more popular. As a result, what would have normally been a few bottles of Heinz inside a restaurant now have to reach consumers through the one-time-use small packets of ketchup.
The Kraft-Heinz company accounts for 70 per cent of the US ketchup market. It said that it would increase production capacity which would lead to 12 billion ketchup packets being manufactured per year. This would help with the 'ketchup crisis'. According to the Wall Street Journal, there has already been a 13 per cent rise in ketchup prices since last year.
Another equally unexpected pandemic-related shortage is of boba tea or bubble tea — a popular Taiwanese drink in the US consisting of small tapioca balls known as boba. Increased consumer spending has led to a supply chain issue and delays in deliveries. The Boba Guys said on its Instagram page, "This is an industry-wide shortage. Some boba shops are already out. Others will run out in the next few weeks. 99% of boba comes from overseas". Starbucks has also reported some shortages of cups, syrups and oat milk although it is not a national shortage just yet.
True blood
Who knew a pair of shoes could upset religious leaders and Conservatives? That is exactly what happened. The chart-topping rapper, Lil Nas X, launched sneakers that reportedly contain a drop of human blood. Lil Nas modelled the shoes on the Nike Air Max 97s (though Nike itself said it had no role to play in this) in collaboration with a New York-based art group, MSCHF. The limited edition sneakers — 666 pairs were manufactured — were priced at $1,018, a reference to the Bible passage, Luke 10:18, that reads: "I saw Satan fall like lightning from heaven".
The shoes sold out in under a minute. They also drew intense criticism from religious leaders and evangelical groups. The day after the launch, the rapper released a new music video for the song, "Montero (Call Me by Your Name)" — now topping international charts — where Lil Nas is seen provocatively dancing against a person playing the devil.
Subsequently, Nike filed a lawsuit saying people will incorrectly associate the shoes with Nike. The rapper tweeted, "[Y]'all keep streaming call me by your name so i can pay for this damn nike lawsuit [sic]."
Same story
A 20-year-old black man, Daunte Wright, was fatally shot in Minnesota by a police officer who reportedly meant to use a taser but fired her gun. The senseless shooting immediately sparked protests. Officers trying to control the protesters could be seen firing rubber bullets.
Car air fresheners were hung up on the chain security fence outside the Brooklyn Center Police Department. Wright's mother told reporters that he was pulled over and killed by the police because he had air fresheners hanging on his rear view mirror. Minnesota law says no driver may operate a motor vehicle "with any objects suspended between the driver and the windshield". The police chief said he was pulled over for expired tabs. The officer who shot Wright was arrested and charged with second-degree manslaughter.
In bitter irony, this incident took place during the trial of Derek Chauvin, the white Minneapolis policeman now convicted of murdering George Floyd. Last year witnessed conversations around police brutality against black Americans. The headlines of 2021 have a devastating similarity to those in 2020. Footnote
The US has been mourning the death of the rapper, Earl Simmons, famously known as DMX. He died of cardiac arrest on April 9 at the age of 50. As a tribute, Efren Andaluz, a local artist based in Queen's, painted a large mural right by La Estrella Tropical Restaurant in the Bronx. In the past, Andaluz has also painted life-sized mural art depicting Kobe Bryant and his daughter, Gianna, right across the Barclays Center. He has also painted Mac Miller, Anthony Bourdain and other celebrity portraits.