In celebration: America welcomes President Biden
American Diaries: Black History Month celebrated throughout February; vending machine that dispenses Covid-19 at home testing kits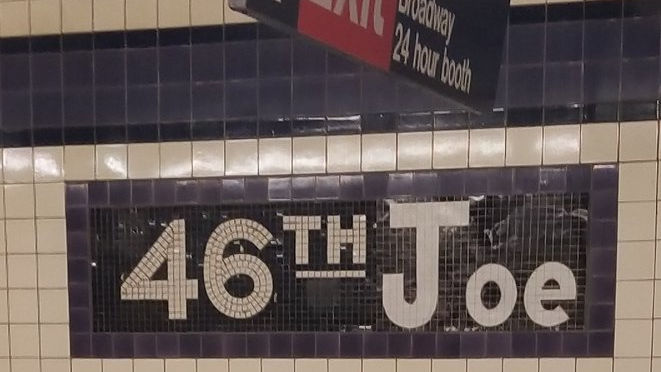 In New York City, the sign at the 46th Street Station on the M and R lines in Queens was altered on Inauguration Day from 46th Street to '46th Joe'.
Twitter/@Gothamist
---
Published 30.01.21, 12:02 AM
|
---
After Joe Biden was sworn in as the 46th president of the United States of America, most of the country is revelling in the stark contrasts between him and Donald Trump. Many people rejoiced through street art, murals and memes. In New York City, the sign at the 46th Street Station on the M and R lines in Queens was altered on Inauguration Day from 46th Street to '46th Joe'. The street artist, Adrian Wilson, did something similar at the time of the deaths of personalities like Prince, Aretha Franklin and Ruth Bader Ginsburg. The Prince and Franklin Street stations were changed for the singers, while the 50th Street station was modified into Ruth Street. In Soho, the sign for Thompson Street in the SoHo neighbourhood of Manhattan was changed to 'Trump Gone St', and a one-way sign above it was altered to read 'Gone Away'.
 Over in Florida, Biden will join Disneyworld's Hall of Presidents. New robotic figures are added to the attraction every time a new president takes office. Many recent presidents even recorded their own speeches. While it is not a thrilling theme park ride, it aims to provide information about American history through the talking animatronic figures.
 The evening of the inauguration started with a prime-time televised special, Celebrating America, hosted by Tom Hanks and featuring celebrities such as Eva Longoria, Bruce Springsteen, John Legend and Justin Timberlake. It aimed to "showcase the American people's resilience, heroism and unified commitment to coming together as a nation to heal and rebuild" according to the presidential inauguration committee.
Salute the heroes
Black History Month is celebrated throughout February. It is a time to celebrate black culture and the heroes, inventors, artists and creators from the black community who have contributed to American society and culture. The idea of a black history month originated in September 1915, half a century after the Thirteenth Amendment abolished slavery in the US, when the Association for the Study of Negro Life and History, dedicated to researching and promoting achievements by black Americans and other people of African descent, was founded. By the late 1960s, 'Negro History Week' had evolved into Black History Month on college campuses until President Gerald Ford officially recognized it as such in 1976.
As a celebration of Black History Month, Apple has created the 'Apple Watch Black Unity Collection', a limited-edition watch that features the words, 'Black Unity', on the back. Apple said that members of the black creative community worked with it to create the watch as a tribute to the fight for racial justice. The band has the phrase, "Truth. Power. Solidarity." etched onto the enclosure.The watch face uses the colours of the Pan-African flag: red, green and black.
Marvel will be releasing seven comic books with different covers featuring its most popular black superheroes, including Miles Morales, Blade, Black Panther, Iron Heart, War Machine, Storm, Falcon and the new Valkyrie. Barbie has also announced the release of a new Barbie doll as part of its 'Inspiring Women' doll series: Dr Maya Angelou. A spokesperson said that the doll highlights Barbie's "commitment to spotlight more Black role models who are female".
Easy tests
There is now a vending machine that dispenses Covid-19 at home testing kits. But the price tag is steep. From the health company, Wellness 4 Humanity, they will cost about $150 per kit and are slated to be launched in New York, Los Angeles, San Francisco, Boston and Dallas. Customers can choose between two types of tests. The Rapid Antigen At-Home Test Kit provides results in 15 minutes, with no shipping or laboratory work required, and is said to have '97.4 per cent accuracy and 100 per cent specificity, meaning false negatives are unlikely' according to a press release. The At-Home Saliva Test, meanwhile, is done through a saliva collection, instead of the more common nasal swabs. Customers receive their results within 48 hours, with 99 per cent accuracy, through a mobile app.
In the meantime, the San Diego campus of the University of California has also launched Covid-19 vending machines for their students. All students living on campus are required to take a test once a week.
Have a drink
Businesses are struggling as the Covid-19 pandemic rages on. Some have had to shut down completely while others struggle to get by with business loans. There are also those who have tried to get a little creative. The American Airlines group, unable to serve wine in-flight, is now offering to deliver it to your doorstep instead. The company is aiming for $40,000 in sales through its Flagship Cellars programme this quarter. Customers can choose from collections of mixed wines, build a custom box or purchase a monthly $99.99 subscription for three wines, including delivery, the airlines said in a statement. Many restaurants offer cocktails to go or liquor delivered to your doorstep. But only one has created a mobile bar cart. The Maybourne Beverly Hills in Los Angeles has set up a service where a masked bartender will be pushing around a bar cart. He will then set up the cart at a distance and walk you through a menu of cocktails from the Maybourne Bar. 
Each service lasts 45 minutes to an hour, and each customer will receive one round of cocktails and another bottled cocktail for later, in keeping with LA's to-go cocktail regulations. The delivery also includes food, such as cheese crisps, nuts and olives. According to several studies, alcohol consumption and sales have significantly gone up during the pandemic.
Footnote
Donald Trump has flown off to Mar-a-Lago resort in Florida. However, there are reports that the resort has been gloomy, with members walking out after Trump's election loss. On top of that, residents are not too keen to have Trump as a neighbour. They sent a letter to the Town of Palm Beach and the US Secret Service complaining that Trump has violated a 1993 agreement he made with the town that says Mar-a-Lago, his private social club, cannot be used as a full-time residence.