New attractions at Times Square
American Diaries: US has second highest number of vaccine skeptics, the World Naked Bike Ride movement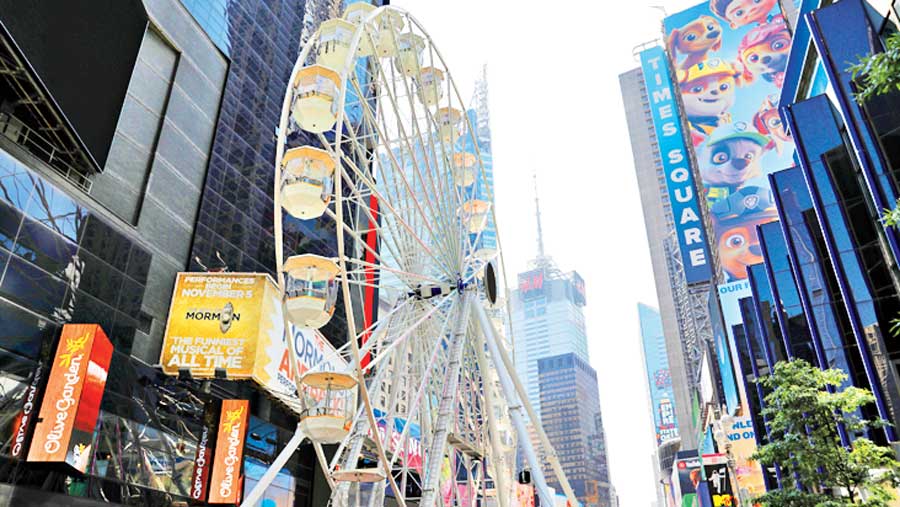 A view shows the Times Square Wheel, a Ferris wheel constructed in Times Square, ahead of its opening in Manhattan, New York City, U.S., August 25, 2021.
Getty Images
---
Published 28.08.21, 12:09 AM
|
---
When we picture Times Square, New York, we think of flashing billboards, gazing tourists, selfie sticks and yellow taxi cabs flying by. This 'destination' of lights and sounds that New York residents love to hate was eerily empty in the midst of the pandemic. But now, as the city is waking up and getting back in its old groove, new icons are emerging in this tourist site.
First comes a giant ferris wheel — 110 feet tall — in the middle of the Square, open to be ridden by the public. This is a temporary arrangement. It has opened for two weeks — August 23 and September 12 — with each ride being 12 minutes long and offering a unique vantage point of the city. The tickets are $20 per person, or $35 if you skip the line. The Time Square Wheel website calls it a 'sensory overload by a billion pixels', a nod to the 200+ digital billboards that are scattered in the area.
To add to the sensory stimuli of sight and sound, a giant artwork is also headed this way. "A Fountain for Survivors" by Pamela Council will be available for viewing at the Square starting October 7. It is an 18-foot-tall fountain covered in 400,000 acrylic nails. Although exact details have not been revealed, Artnet News says that the fountain is meant to be a place of reflection and will even have provisions for coin tossing as an offering, not unlike the Trevi fountain in Rome. Visitors can also smell the scent of Florida Water.
Stay alert With the Delta variant of Covid-19 affecting the country, the government of the United States of America must battle not just the virus itself but also virus misinformation. According to research by Morning Consult, after Russia, the US has the highest number of vaccine skeptics. Recently, the Centers for Disease Control and Prevention stopped short of mandating mask-wearing even by vaccinated individuals — it has highly recommended it. Yet, across cities, many businesses are starting to check vaccination proof at the door before letting anyone inside.
For now, people are taking pictures of their vaccine cards, carrying the physical card with them or uploading their information onto the several digital vaccine 'passport' apps that have emerged. In New York and San Francisco, these checks are required for entry to places like bars, restaurants, Broadway shows, bowling alleys, concerts, among others.
On the heels of vaccine checks is the emergence of fake vaccine cards. They bear the CDC logo and are reportedly shipped from China to the US for people who are unvaccinated but seek entry to public places needing proof.
The Washington Post found that US Customs recently seized 3,000 such fake cards. These cards often have incorrect Spanish translations or spellings. The Associated Press found fake cards selling online for $25 a piece, especially for students as many colleges have mandated that all enrolled students be vaccinated. But using fake vaccine cards with the CDC's logo can cost the offender one to five years in prison.
Nothing to hide
Once again, hundreds of cyclists around the world took to the streets on their bicycles with one thing in common — they were completely or partially nude. The World Naked Bike Ride movement, begun in 2004, typically takes place on the second Saturday of June. The concept is designed to draw attention to body positivity and freedom from pollution-causing transportation.
This year, many cities pushed the event to August on account of Covid restrictions. Depending on the city, riders were instructed to wear masks and helmets, but all were recommended to leave their clothes at home. The cyclists were also encouraged to come with body paint, costumes or any kind of personal artistic expression. In Chicago, for instance, where the bike ride took place on August 14, bikers who rode for about 14 miles were challenged to "bare-as-you-dare". The slogan of the movement is "Celebrating freedom from oil and the beauty of people!"
In Philadelphia, the ride will take place today — it will also require masks. The16-kilometres course includes iconic Philly sites such as the Independence Hall, the Liberty Bell and the steps of the Philadelphia Museum of Art.
Follow the rules
In light of the Covid outbreak, most universities had students take the academic term online. This time, schools are gearing up for a safe return to in-person classes. This Fall, more than 680 US colleges and universities will require students to show proof of vaccination to even enter the premises. Several have mandated the use of masks inside the classroom. While many are in full support of these rules, some Republican-led states are barring universities from asking for vaccination proof at public institutions, citing that it is an encroachment on personal freedom. So some colleges got creative. They have begun to offer monetary incentives and prizes to students who do show proof of inoculation.
Some colleges are providing exemptions only on medical or religious grounds. However, just last week, The Philadelphia Inquirer reported that Philly's Archdiocese has instructed priests to not provide vaccine exemption letters to Catholics requesting it. Philly is not the only one. So far, the Archdiocese in New York, San Diego, Honolulu and Los Angeles have been following similar policies. It is clear that the return to school this year will not be smooth for students as the country battles constantly changing rules and new information.
Footnote In Gainesville, Florida, a customer left a $10,000 tip for the waitstaff at the restaurant, Wahoo Seafood Grill. The owner of the restaurant told Newsweek that the customer asked to see the 10 waiters that were working during his visit; he said he appreciated everything they did and asked the tip to be split among them. The restaurant shared a picture of the diner's receipt on its Facebook page; it showed that the meal bill was for $144.66. The identity of this customer remains unknown.