Fitter ways: Workout solutions during Covid-19
American Diaries: The U.S. mask debate; Mulan non-theatrical release; virtual Indian I-Day celebrations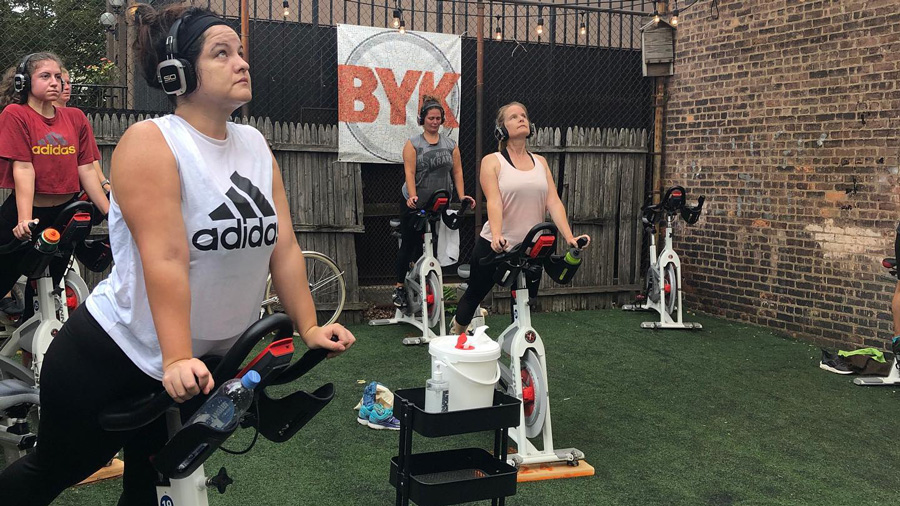 ---
---
With gymnasiums and fitness centres operating at limited capacity on account of social distancing guidelines, companies are trying to use creative methods to get people moving. According to the market research firm, OnePoll, 25 per cent of Americans plan to never go back to the gym. Moreover, the gym chains, Gold's Gym and 24 Hour Fitness, were unable to keep up with the closures and filed for bankruptcy. As a result, digital exercise and at-home workout videos have popped up everywhere. Dumb-bells and Peloton bikes (which cost two grand) are also selling out online.
This month, the spinning company, BYKlyn Cycle, is opening BYKlyn Yard, a pop-up outdoor studio complete with fake grass. Each class will be 45 minutes of high intensity cardio: battle hills, flats, sprints and intervals. The 18 bikes will be spread at least six feet apart at the pop-up, with masks available for all riders and staff.
In Chicago, the fitness company, Studio Three, is taking over and repurposing a vacant parking lot in River North. It is a socially distanced workout space that can hold up to 50 people and offers services from relaxing meditation to intense strength training. The NFL team players have also resorted to creative measures to get their workout in. For instance, Matthew Slater from the New England Patriots mentioned in an interview that he realized he had workout weights right at home — his three children! So far the NFL season is on track to kick off next month in Kansas City.
Cover up
While the federal government of the United States of America is faltering in dealing with the coronavirus, the beloved food chain brands of the country have stepped up to do their part to help stop the spread. While there is no national mandate to wear a mask, companies such as Starbucks, Panera Bread, Chipotle and McDonald's made it a requirement for customers entering their stores to wear a mask.
Wearing a mask has become a matter of national political debate in the US. Anti-maskers believe that masks inhibit their breathing and a mandate to wear masks encroaches upon their freedom. This brings to mind the seat belt mandate that got passed after many years of legislative debates. The views opposing seat belts and masks are eerily similar — both claiming they have more negative effects than positive. Seat belts were also viewed as an obstruction to personal freedom.
Since the lockdown and more than half of all states putting in place mandatory mask requirements, videos of mask-free supermarket customers flailing their arms have gone viral on the internet. One faction of anti-maskers commonly believe that while private companies can put in place mask regulations, the government should not. The digital media company, Vox, reported that members of a Facebook group circulated a list of stores with mask requirements, discussing boycotting those retailers or visiting to try to challenge the rules. People who oppose masks do so by citing the 14th Amendment of the US Constitution. "No states are allowed to make laws that take our freedoms and liberties away."

Great shock
Shockwaves spread among moviegoers as Disney officially announced that it would not be releasing the heavily-anticipated movie, Mulan, in theatres. Instead, it will be released on Disney's streaming platform, Disney+, which is available in the US. But it will not be available to all subscribers. One will have to pay $29.99 to watch the film at home by rental (on top of the $6.99 monthly subscription charge). Disney is conducting this experiment to see how much viewers are willing to dole out and forgo the movie-going experience. It also indicates how much Disney is relying on Disney+ for revenue at a time when its theme park and retail stores have suffered a blow on account of Covid-19. Disney spent $200 million in production and $100 million on marketing for Mulan.
In early March, Disney had the red carpet rolled out in Los Angeles to launch its big theatrical release. Three days after the premiere, the pandemic caused the release to be shelved. Industry experts are speculating whether this move will prove the 'video on demand' model viable and put an end to the brick-and-mortar theatre industry. When movies are released at the box office, the revenue is shared between the movie theatre and the production house. But with a digital release on its own platform, Disney keeps it all.

Momentous occasion
In August, we not only celebrate India's independence but also Indian culture and heritage in the US, although this time all the fun and festivities will be virtual. In Pennsylvania, the Lehigh Valley India Heritage Day was shifted online. The programme will open with a welcome note by the mayor of Allentown and remarks by US representative, Susan Wild. Both the Indian national anthem and the US national anthem will be performed. In New York City, to celebrate India's Independence Day, Times Square will hoist the Indian flag (for the first time ever) while the Empire State Building will be lit up with the colours of the flag the day before. This has been organized by the Federation of Indian Associations of the tri-state regions of New York, New Jersey and Connecticut. The guest of honour at the event will be the consul general of India in New York, Randhir Jaiswal.
The India Day Parade in Manhattan takes place every year with leading US politicians, Indian celebrities and members of the Indian-American community in attendance. However, owing to the pandemic, the parade has been cancelled this year and the virtual Independence Day celebration at Times Square will be live streamed.

FOOTNOTE
Mount Rushmore in South Dakota has the carved faces of four US presidents. Last week there was immense speculation that Donald Trump had asked for his face to be carved there too. While the president denies this, he did tweet saying he thinks it would be a good idea. The South Dakota governor, Kristi Noem, had reportedly greeted Trump on his recent visit to the state with a 1.2 metre replica of the monument that already included his face as a fifth part.