Raise voices: Voting in the US elections
American Diaries: Record voter turnout; a low-key Halloween; Soho mural of Trump's false statements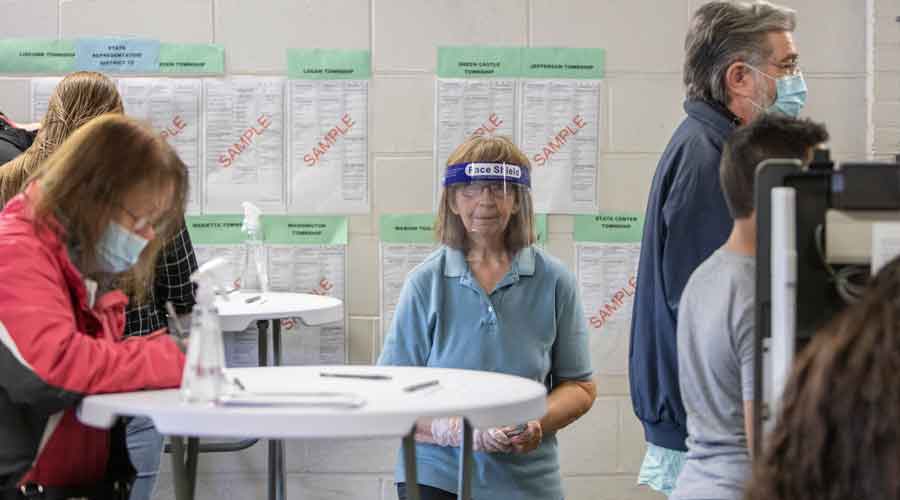 ---
---
No matter which side you voted for, approximately 70 per cent of Americans felt pre-election jitters and considered the presidential election a source of stress and anxiety. Many celebrities emerged with endorsements, educational material and motivation to help ease these feelings. The web series called Stars in the House hosted a 10-hour marathon of conversations, videos and live performances featuring dozens of Broadway and television luminaries on November 3. Many celebrities, including Selena Gomez, Nick Jonas and Beyonce posted ' I Voted' selfies on their social media accounts to encourage followers to do the same.
Tom Hanks, Dwayne Johnson, Oprah Winfrey and LeBron James have the most trusted opinions on political and social issues, according to a new survey of American voters. According to the research, 12 per cent of voters reported that an entertainer or athlete influenced their thinking regarding the election. Moreover, 75 per cent of voters said they wanted to see entertainers use their platforms to address social and political issues, specifically the Covid-19 pandemic, voting and racial justice in the United States of America.
Celebrities also used suggestive pictures of themselves to get people to click on and view their videos and images. The "Get Your Booty to the Poll" initiative features a montage of Atlanta strippers pole-dancing, followed by one of them asking, "Did we get your attention? Good." Then the women list all the reasons to vote. During the Democratic primaries, a handful of supporters of Bernie Sanders launched the #HotGirlsForBernie campaign on Twitter, an inclusive movement where women and nonbinary people posted photos of themselves explaining why they were voting for Sanders.
True icon
This year the voter turnout hit record numbers in comparison to the 2016 elections. Millions of people tried to vote safely and early. Many restaurants and companies handed out free 'Election Day' goodies to people who showed their 'I Voted' stickers; many landmark locations doubled as polling stations. In Long Beach, California, a local ice cream parlour launched a new flavour in honour of Ruth Bader Ginsburg, with 100 per cent of the proceeds benefiting the American Civil Liberties Union of Southern California. Long Beach Creamery's new 'Honor Ruth' ice cream is inspired by the deceased Supreme Court justice's favourite dessert — frozen lime soufflé — with scoops given away for free to those who show their 'I Voted' stickers.
In addition, a new limited 'In Ruth We Trust' kit was launched to give people everything they would need for the tense election night. It was a Ginsburg-themed special Election Night package, with 100 per cent of proceeds benefiting Planned Parenthood. The kit includes a bottle of gin, baked goods, calming candles, an activity book and 'Postcards for Progress' to send to Congress, the city council and other leaders regarding changes their communities need to see.
Fast food chains also geared up with election day deals. Boston Market offered a free slider after 9 pm knowing 'Election Day could stretch well into the evening and beyond'. Other chains offered great discounts to help with the stress.

Muted scares
Americans celebrated Halloween to the extent possible with the pandemic on. Many joked that 2020 was terrifying enough. In Cleveland, a couple put up Covid-19-themed décor that included masked skeletons fleeing the coronavirus while armed with hand sanitizer, disinfectant and toilet paper. A giant skeleton was flinging the virus decor at other skeletons. In Tulsa, Oklahoma, a man did a visual depiction of the number of Covid-19 cases on his front yard by planting wooden crosses representing Oklahomans who have died from the virus, according to state health department data.
Google just released its 2020 'most searched for Halloween costumes'. The top search was the witch costume, followed by dinosaur and Harley Quinn. In New York, a 400-person party in Brooklyn and later a 550-person party in the Bronx were broken up by the sheriffs. Those arrested included DJs, the organizers and security guards. Chicago also shut down multiple parties.

Tell the truth
Donald Trump finally got his wall, though not the way he was expecting. In Soho, a new art installation combined 20,000 of Trump's false statements in a 100-feet-long mural. In October, Radio Free Brooklyn also installed a primary version of it that was 50 feet by 10 feet. It was eventually vandalized with messages such as 'Vote Trump or Die'. The creators were not deterred. They launched a fundraiser to create the new mural, named 'Wall of Lies'.
The piece is a collaboration by the Bushwick artist, Phil Buehler, and the executive director of Radio Free Brooklyn, Tom Tenney. It was Tenney's idea to just do a reading broadcast of all of Trump's lies during the week before the election. But due to the pandemic, the event was paused and Buehler decided to turn the idea into a public display. The artwork touched on different subjects, the common ones being Russia, Ukraine, taxes, immigration and the coronavirus. In other cities, murals were painted all over public property encouraging people to vote. The American Civil Liberties Union of Michigan enlisted local artists for a public art campaign to paint murals in communities with disenfranchised voters.
Footnote
With restaurants trying to stay afloat, there is a new way to show support for chefs. The 'Take Away' book series is launching in Los Angeles; you can buy books written by chefs. Over $2,00,000 have been raised and 20 books — by chefs in fine dining restaurants, neighbourhood joints, a bakery, a farm and even a gelato cart — published. A book needs to sell a minimum of 100 preorders for it to go to print. If it doesn't, all of the preorder funds are sent to the restaurant.