Beat the heat: Ice cream and pool parties
American Diaries: Giant travelling bottle of soap, Sistine Chapel replica in New York City, vaccine awareness campaign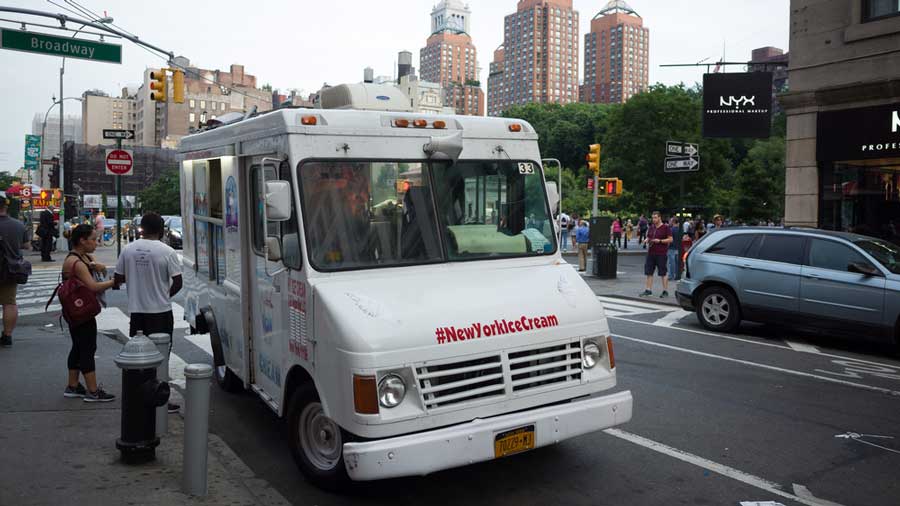 In Union Square, New York, guests could stay overnight inside an ice cream truck on National Ice Cream Day on July 18 for the price of $7.18. (Representational image)
Shutterstock
---
Published 31.07.21, 12:52 AM
|
---
Even though there has been a recent spike in Covid cases and hospitalization, people are still trying to make the most of summer this year. As much as people enjoy the summer heat, they also look for ways to cool off after, and the options this year did not disappoint. In Union Square, New York, guests could stay overnight inside an ice cream truck on National Ice Cream Day on July 18 for the price of $7.18. The stay was organized through Booking.com, a popular national one-stop shop for those looking to book accommodations. The truck was converted into a mini apartment but also included a fridge stocked with milkshakes and all-you-can-eat toppings. The guests would also get an ice cream shop walking tour in downtown Manhattan as well as tickets to the Museum of Ice Cream.
Summer also means folks wanting to jump into a pool or lay on the beach. However, not many are blessed with a pool at home. Now there is a solution to that — Swimply. This is like an Airbnb for pools existing all over the country where you can rent someone's private pool and pay by the hour. So far 13,000 pool owners have signed up and the costs range from $35 to $65 per hour. The site also indicates the upcoming launch of a new section of amenities allowing you to rent basketball courts, home gyms and home studios. Who would have thought that your backyard can bring in so much revenue? A giant bottle of soap is presently travelling around the United States of America to raise awareness about the importance of hygiene. The world's biggest bottle of soap, created by the beauty company, Soapbox, is doing a city tour to raise awareness and money for global hand hygiene. They aim to donate 147,900 personal care kits over the course of the tour, which will be in 16 different cities.  
This metal and fibre glass soap bottle is 21 feet tall, 8.5 feet in diameter and weighs 2,500 pounds. The tour kicked off in Times Square, New York on July 15, which is also National Clean Beauty Day and National Give Something Away Day. This giant soap bottle has since travelled to Boston, Manchester, Buffalo, Chicago, Bentonville, Dallas and Austin. It will end in Pittsburgh on August 4. Shoppers and passers-by are expected to stop to take pictures and help in assembling the kits to be donated to their local community.
The company itself has a charitable business model. For every product sold it donates a bar of soap. During this tour, its goal was to earn a world record for most hygiene products donated in a week. So far Soapbox, which was founded in 2010, has donated 22 million bars of soaps worldwide. Its products are sold in leading retail chains like Walgreens and Rite Aid as well as on Amazon. Within a week of launching the tour, it was indeed awarded the Guinness World Record for donating the most hygiene products in one week.
The master visits
For those who made plans to visit Italy to check out some art, but had plans fall through owing to the pandemic, they may be in luck. Michelangelo's famous Sistine Chapel, inside the Vatican, will be replicated and brought to New York City later this fall and is already in many other US cities. The Sistine Chapel is one of the most famous and highly regarded artworks in the world and brings in about five million people per year to view it. "Michelangelo's Sistine Chapel: The Exhibition" will be about an hour to an hour-and-a-half walk-through with ticket prices at $19.20 per adult visitor. The exact location has not yet been disclosed.
The original artwork has been replicated using a special printing technology that brings an extremely close likeness to the look and feel of the original frescoes. However, visitors will get a chance to see the paintings up close, and observe every brushstroke in detail — something that is impossible to do in the actual Sistine Chapel, since the art is on the ceiling and hundreds of tourists are hovering next to the walls.
The exhibition is coming to Boston, Detroit, Los Angeles, Miami and other major US cities. Tickets are currently available in Chicago, Charleston, Charlotte, San Antonio and San Francisco. This is not, however, New York City's first brush with the Sistine Chapel. Back in 2017 there was an exhibition at the Oculus, World Trade Center, called "Up Close: Michelangelo's Sistine Chapel" which displayed 34 replicas of the frescos spread out across the space.
Get the jab
So far, just under half the US's adult population is fully vaccinated. Yet, on account of the spread of the new 'Delta' variant of the coronavirus, every US state has reported an increase in Covid cases. While talk of a third vaccine booster is in the air, vaccine incentives, including cash, lotteries, free beer and even guns, are being pushed to get those vaccination numbers up.
Joe Biden is stepping up the vaccine awareness campaign, and what better way to do that than to bring in a number one chart-topping pop icon? Eighteen-year-old singer, Olivia Rodrigo, was invited to the White House to meet with President Biden, Vice President Kamala Harris and Anthony Fauci and give a pro-vaccination message through a video.
Rodrigo also gave a statement in the press room full of reporters about the importance of vaccinations, even for those who are young and not at risk. Her involvement is part of the White House's larger campaign targeting young Americans to go get the vaccine. Fauci is also helping and has paired up with social media influencers and celebrities, including Jennifer Garner, to connect with the younger population. Even Harris has hosted virtual gatherings with celebrities such as Camila Cabello, Kim Kardashian, Joe Jonas and others.
According to NPR, only 42 per cent of people in the age group of 18-24 are fully vaccinated. The government is using celebrities, influencers and TikTok to get its message across and stop the spread of disinformation.
Footnote The Willis Tower in Chicago is launching a museum exhibition all about colour called the Color Factory. Located in the second tallest building in North America, it will feature installations and interactive elements inspired by the colour wheel. It debuted in San Francisco in 2017 and stopped by in Houston where a neon sign would illuminate when people held hands. More details are to be announced, but the San Francisco exhibition had a scratch-and-sniff wall, a confetti room and shimmering disco balls.