Time for celebrations: Fourth of July
American Diaries: Plant-based food trend son Grubhub, New York City's American LGBTQ+ Museum; Airbnb outreach programmes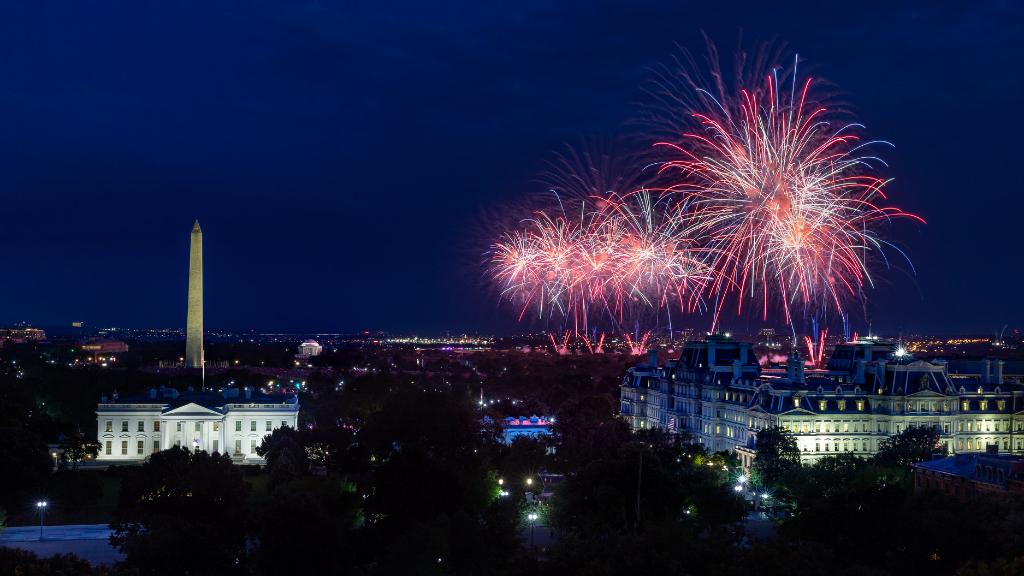 Fourth of July fireworks at Washington DC.
@POTUS
---
Published 17.07.21, 01:00 AM
|
---
The United States of America celebrated its 246th Independence Day this July 4. It was one of the first major holidays and nationwide celebrations since the easing of Covid restrictions. More than half the country's adults are fully vaccinated and were busy planning and attending firework-viewing parties and cookouts — something that was sorely missed last year.
The White House celebrated Fourth of July, and also marked the country's progress on the fight against the virus. It was one of the largest events hosted since the pandemic. "Today, all across this nation, we can say with confidence: America is coming back together," the president, Joe Biden, remarked outside the White House. "Two hundred and forty-five years ago, we declared our independence from a distant king. Today, we're closer than ever to declaring our independence from a deadly virus." Around 1,000 people attended the event hosted on the South Lawn, including military families and families of essential workers.
Boston, Philadelphia and New York City are the top attractions for visitors during the celebrations. NYC's Macy's fireworks show is the largest in the country, often viewed from the Brooklyn Bridge. The famous July 4 Nathan's Hot Dog Eating Contest also took place with the winner, the 37-year-old Joey Chestnut, eating 76 hot dogs in 10 minutes. He beat his previous year's record by one hot dog. The stadium was packed with around 5,000 people all eagerly watching him wolf down the dogs.
A tasty affair
Grubhub, the popular food delivery app, just released its third annual report of trending foods after analysing and studying customer orders from the past six months. It reports an overall increase in plant-based food requests with plant-based sausage wrap trending at the top. Its popularity has increased 549 per cent. Bubble milk tea, an Asian drink with tapioca pearls, came second with over 500 per cent increase. On its heels were Birria tacos — a Mexican adobo flavoured goat or beef stew, not unlike the Bengali mangshor jhol.
The report also dives into favourite food by city. For example, app requests and trends show that NYC craves a toasted Monte Cristo panini, on the top of the list in Washington, DC is jumbo lump crab cake, Los Angeles enjoys its beef barbacoa taco while Chicago, the home of the deep dish pizza, saw nearly 700 per cent increase in demand for thin crust pizza. The forecast expects this summer to see a rise in the popularity of loaded chicken nachos, barbecue pork quesadilla and watermelon slushies. The reports are based on studying millions of online food orders.
Another food trending now, although less research-based, is pasta chips, which made its way to the top on TikTok. It became famous through a food blogger, whose post garnered two million views and, ever since, videos under #PastaChips have over 361 million views. You boil farfalle pasta, add grated Parmesan, olive oil, garlic and onion powder to the bowl, then air-fry until the contents crisp up into chips.
Proud moment
New York City is opening up a museum to be dedicated to the LGBTQIA+ community and its history. The museum, named The American LGBTQ+ Museum, is formed as an expansion of the New-York Historical Society museum and library and is scheduled to start programmes and hire an executive director sometime soon. The idea was conceptualized in 2017 and approved in 2018 by the New York City Council. The website describes a study conducted with 3,200 people from the LGBTQ+ community, including historians, students, academics, and the general public across different demographics. It also says that the mission of the museum is "to advance LGBTQ+ equality through the lens of social justice movements, including, but not limited to, race, gender, class, immigration, and disability" through its exhibits and events. The museum focuses on highlighting the community's experiences through the intersection of different identities.
The museum will have a "core" section while everything else will be dynamic to avoid an exclusionary view of history. This section will highlight the history of NYC and some key moments in LGBTQ+ history. This is the first museum of its kind in the city. The Leslie-Lohman Museum of Art in SoHo also highlights LGBTQ+ voices, but it focuses only on art.

Stay out
Airbnb, the popular "home away from home" vacation rental app, has expanded in its unique and creative offerings during Covid and continued to do so even as travel restrictions were lifted. Just recently, it partnered with New York Mets' Citi Field stadium where you can stay overnight at the VIP suite created at the stadium itself and watch two back-to-back games on July 28. Guests who are lucky enough to get a booking also get unlimited classic stadium park food such as hot dogs, sodas and Cracker Jack popcorn. To top it all, guests will get a signed baseball from the team players.
Just last week the Airbnb co-founder and CEO, Brian Chesky, was appointed to the United States Travel and Tourism Board. According to Airbnb's site, from July to September last year, there was a 128 per cent increase in guest reviews mentioning "relocation", "relocate", "remote work" and "trying a new neighborhood" compared to the same time the previous year. People have been looking for more rural, larger spaces, and trying to move out of cities, with provisions to work remotely. Airbnb reports that Park City (Utah), Steamboat Springs (Colorado) and Durham (North Carolina) are among the top trending destinations for remote work. In terms of vacations, stays like cabins and cottages crack the top five space types for 2021 trips, replacing villas and townhouses from 2020.
Footnote
Considering that dating is hard, the popular dating app, Bumble, is opening a restaurant in NYC's Nolita neighbourhood called Bumble Brew. It will start with breakfast service and soon move to dinner and lunch. The decor reflects the app's yellow and black theme and includes music by female artists. Now it does not seem far-fetched to think that once a pair agrees on a date the app would suggest its own date spot.