Always ready for battle: Health workers
The pandemic has taught us not to take life for granted; it has also induced awareness about the truly indispensable: our nurses and healthcare workers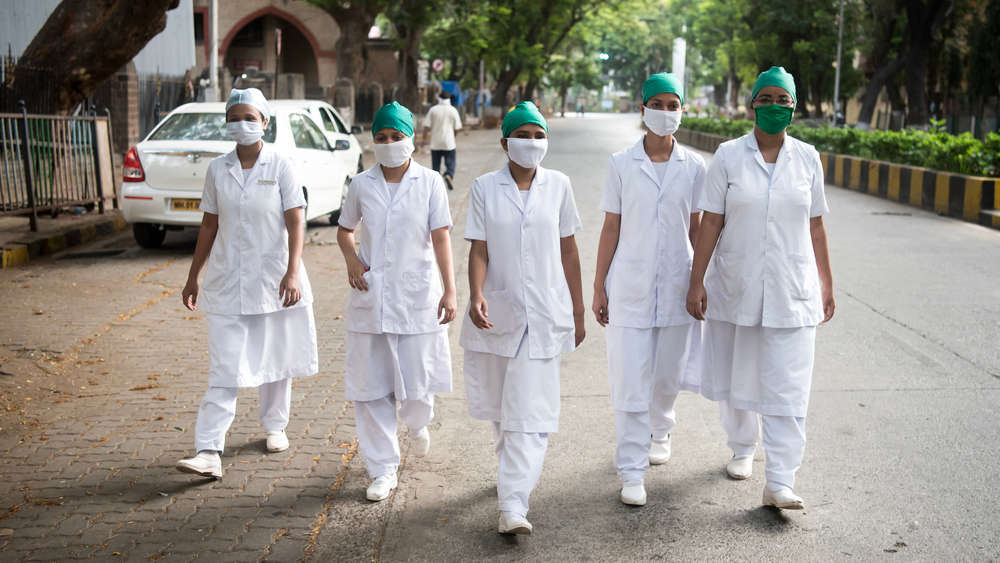 Representational image.
Shutterstock
---
Published 17.05.21, 02:52 AM
|
---
Save one life and you're a hero; save a hundred lives and you're a nurse, goes the saying. And it has taken a pandemic for the world to realize its worth.
International Nurses Day last week saw an unprecedented outpouring of gratitude from not only recovered Covid-19 patients but also bereaved relatives of the victims. Those of us who have been hospitalized or have had family or friends admitted realize how helpless we feel and how dependent we are on the care and efficiency of the nursing staff. The birth anniversary of Florence Nightingale, the founder of modern nursing, on May 12 is dedicated to nurses every year. Actually, every single day ought to be earmarked for them.
The reasons are stark. A friend admitted in a private hospital in Calcutta recounts how caringly a nurse tended to her and cajoled her to eat at a time when her body had capitulated to the coronavirus. When she got to know the young girl a little better, she learnt that the nurses practically avoid drinking water the whole day to avoid having to use the restroom or manoeuvre out of their PPE suits.
The nurses, a vast majority of them women (although I did come across dedicated 'brothers' or male nurses at the Tata Medical Center), are battling odds to survive and serve. A senior nurse from Manipur said her family was impatiently waiting for her to return home, terrified that she would catch the virus here. "But how can I leave these patients who need us so much?" she asked. "I barely get to sleep. Most days we have to stay beyond our shift hours. When I return home, I am too tired to eat. When I wake up, it is time to return to the hospital," she added.
Visits to hospitals confirm that nurses like her from the northeastern states form the bulwark of hospital services in Calcutta, comprising nearly 40 per cent of the nurses at major private hospitals. The trend accentuated following the exodus of nearly 100 nurses from the city's private hospitals since 2016. The trigger for the high attrition rate was the Bengal government's drive to recruit over 6,000 nurses for hospitals in the districts with better pay and pension, apart from the incentive of being posted near their families.
With only 1,400 seats across 24 nursing schools in the state, there is a perennial shortage of caregivers. Compare this with Tamil Nadu, which produces nearly 20,000 nurses each year through 421 nursing schools. Hundreds of nurses from Kerala work in hospitals abroad.
With hospitals overflowing during the pandemic, our nurses and caregivers are playing a critical role round the clock. According to the World Health Organization, nine million more nurses are required by 2030 so that all countries can attain their sustainable development goal on health and well-being.
When a former colleague tried to organize home-care for her ailing father last week, the biggest hurdle was finding a trained nurse. While the theme for this year's Nurses Day was 'Nurses: A Voice to Lead — A vision for future healthcare', seeking to show how nursing will look in the future and how the profession will transform the next stage of healthcare, the need of the hour is to set up more training facilities for front-line health workers.
Covid-19 has taken a major toll on the nurses. Some have succumbed to the virus in the line of duty; others are coping with mental health issues after battling the trauma of losing relatives and patients consistently over the past year. Yet this is a war they have not deflected from. Ask any of these bravehearts and they are battle-ready, 24x7.
The pandemic has taught us not to take life for granted; it has also induced awareness about the truly indispensable: our nurses and healthcare workers.