All talk: Editorial on Modi govt's failure to tackle China's advance
It is estimated that the neighbouring country has pocketed as much as 1,000 square kilometres of territory that India calls its own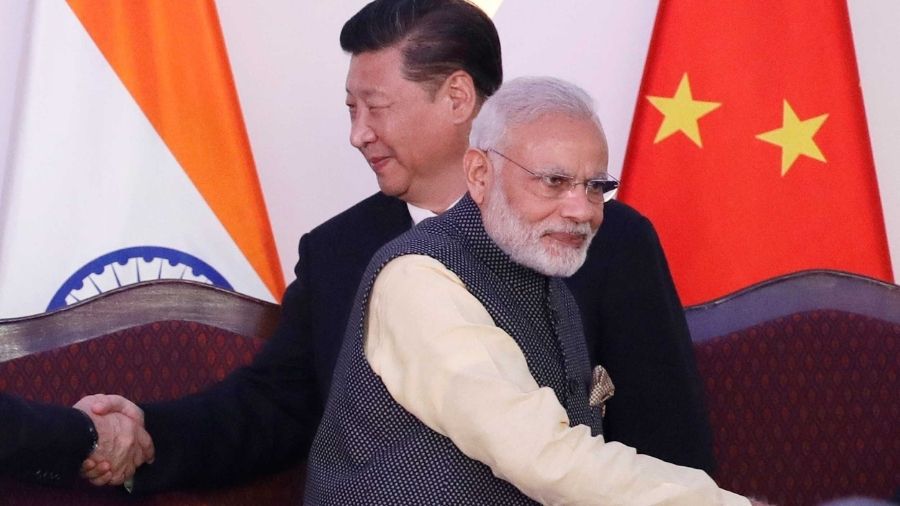 Prime Minister Narendra Modi and Chinese President Xi Jinping.
File photo
---
Published 21.07.22, 03:46 AM
|
---
It appears to be the mother of all puzzles. Four days after the clash at the Galwan Valley that claimed the lives of 20 of India's brave soldiers, the prime minister had assured the nation that India had not ceded its territory to China. Yet, as many as 16 rounds of border talks have been held — over two years, 208 hours and 30 minutes — between the representatives of both sides in a bid to resolve what — unknown to Prime Minister Narendra Modi? — seems to be the most serious security challenge since 1962. Worse, the long-drawn deliberations are proving to be rather fruitless from the Indian perspective. There are whispers in the corridors of the security establishment that Beijing is aiming to consolidate the reversal of status-quo in the region. China has reasons to push ahead. It is estimated that it has pocketed as much as 1,000 square kilometres of territory that India calls its own. The standoffs between the two armies continue at Hot Springs and Depsang Plains. Even the claims of 'partial disengagements' at the Galwan Valley, Pangong Lake and Gogra need to be put in perspective. The creation of demilitarised buffer zones merely means that even though the Chinese troops have stepped back a few kilometres — India has reciprocated too — the intruders still remain within India-claimed lines. There is evidence of the Peoples Liberation Army consolidating its grip by building infrastructure. These add to the stress on India's security that now, at least theoretically, faces challenges on two fronts.
What has been astonishing is Mr Modi's unperturbedness over the obvious contradictions in the assessment of the situation between the army and his government. The army, without challenging the prime minister's rhetoric, is engaged in negotiations. The government, as is the case with authoritarian regimes, remains evasive. The Opposition, especially the Congress, has, on a number of occasions, demanded answers from the regime. But cornering an unresponsive government will not be enough. The Opposition must build an imaginative political narrative on Mr Modi's failure to secure India's borders. This is because national security, something that the Bharatiya Janata Party has claimed is non-negotiable, has been compromised and is likely to cost India its strategic advantages. This is by no means a military or an administrative issue: it is a public concern. The Opposition has the responsibility of communicating this to citizens. A pushback from the people would make Mr Modi utter the 'C' word.