Adam Levine can go shirtless, but Janet Jackson cannot
Double standards at play as Adam Levine performs at the Super Bowl LIII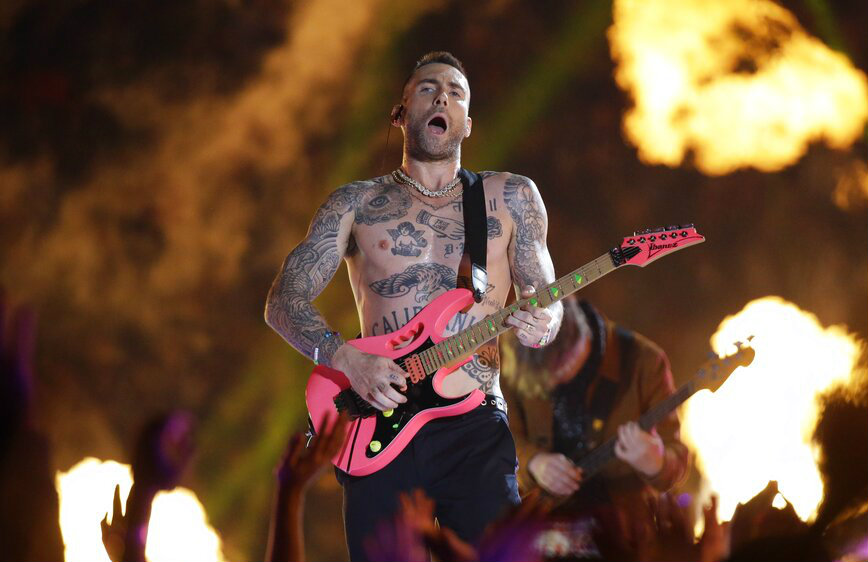 Adam Levine of Maroon 5 performs during halftime of the NFL Super Bowl 53 football game between the Los Angeles Rams and the New England Patriots on Sunday.
AP
---
Published 16.02.19, 07:43 AM
|
---
The Super Bowl LIII kicked off on February 3 between the Los Angeles Rams and the New England Patriots, with the Patriots winning 13-3. It is one of the most viewed and attended events in the country. According to data from StubHub, ticket sales averaged $4,380 per ticket. The 'get-in' price for upper corner seats was approximately $2,900.
Massachusetts leads all states in Super Bowl ticket purchases, according to the StubHub Press Box, while the Rams' home state of California checks in second. This year, Maroon 5 performed at half-time, and received a less-than-tepid response from the crowd and viewers. Over the past two years, the National Football League has had to deal with Colin Kaepernick's kneeling protest against police brutality and his lawsuit against NFL owners for allegedly conspiring to keep him from playing. While many fellow players have supported the former quarterback, his influence has extended beyond the field. This year, the likes of Cardi B, Rihanna and Pink declined to perform at the half-time show because of how the league treated Kaepernick.
However, the most notable part of the evening was when Adam Levine went from wearing a coat to being completely shirtless within the 15-minute performance. This led to an uproar and a lot of online criticism. It brought to mind Janet Jackson's performance with Justin Timberlake at the 2004 Super Bowl half-time show, where Jackson had a 'wardrobe malfunction'. Many felt that her career was negatively affected by the backlash she received from that moment, which was dubbed the 'Nipplegate controversy'. However, nobody protested against Levine's shirtless stunt, highlighting the gendered double standards in the entertainment industry.
Unusual celebrations
Valentine's Day — a holiday that some love to hate — just went by. It is also a big day for spending. According to the National Retail Federation's annual holiday survey, the total spending was forecast at a record $20.7 billion — a 6 per cent increase over last year. The survey showed that only 34 per cent of consumers in the United States of America planned to celebrate with an evening out, and would spend an estimated $3.5 billion.
Many companies also offered special deals. Here were some fun ones: The wings chain, Hooters, hosted 'Shred Your Ex' again — shred a picture of your ex-partner to earn 10 free boneless wings with the purchase of 10 wings; Potbelly Sandwich Shop gave away a free cookie to anyone who stopped by a participating shop without a significant other, with the purchase of a sandwich or salad; Heinz came out with the Ketchup Caviar just for Valentine's Day. It was ketchup shaped like and resembling caviar.
Pauli's, a catering company in Boston, took pre-orders for its special Valentine's Day burger: a $3,000 burger that came with a 7/8 carat diamond engagement ring for a significant other. The Bronx Zoo, however, took the cake. For $15, the zoo let you name a Madagascar hissing cockroach after your ex. You could also get a pair of roach-themed socks, roach-shaped chocolates, a roach pin and a printed certificate with the name of your roach for $75.
Break new ground
On June 1, Disneyland Paris will be the first Disney park to hold an official LGBTQ pride event. Called 'Magical Pride', it first started in 2014 as an unofficial event at the park. This year, The Walt Disney Company will take over the proceedings, according to NBC News. "Diversity and equality are strong values at Disneyland Paris, and each year, we host millions of visitors regardless of their origins, gender or sexual orientation," said a spokesperson for the company. The event will feature character meet-and-greets, musical performances and a pride-themed diversity parade.
Disneyland Paris's website promises an illuminated parade, special after-hours park access and a "stunning dance party featuring some artists dropping some banging beats." The park is located 20 miles from Paris, and tickets start around $90. In 2007, the Walt Disney Company opened up its Fairy Tale Wedding programme — wedding packages at $8,000 or more for locations like the Cinderella Castle in Disneyworld and Disneyland, along with a cruise line — to queer couples, although the US Supreme Court did not legalize gay marriage until eight years later.
Causing a stir
An art exhibit at the Flashpoint Gallery in Washington displays a lookalike of Ivanka Trump vacuuming piles of crumbs that had been thrown at her by guests. Photos of the exhibit went viral last week. Jennifer Rubell, the artist behind the installation titled Ivanka Vacuuming, told news outlets that the display was meant to explore "our relationship with Ivanka". The press release said it is "simultaneously a visual celebration of a contemporary feminine icon; a portrait of our own relationship to that figure; and a questioning of our complicity in her role-playing."
Ivanka, who is the First Daughter and also a senior advisor to the White House, responded by tweeting a link to an article about the exhibit with the message, "Women can choose to knock each other down or build each other up. I choose the latter". She also said it is "a very sexist representation of a woman". Her brother, Eric Trump, criticized the exhibit, saying it mimics a powerful woman who has done more for women than anyone in Washington.
Footnote

Not all subway stations are made equal. The latest station to create a stir is the Lexington Avenue Line's 28th Street stop. Its new mural, Roaming Underfoot, by Nancy Blum has turned the platform into a destination that has people hoping for train delays. In Washington Heights, a newly-installed artwork at the 163rd Street MTA station vividly depicts flora from the Northeast and the Caribbean by the artist, Firelei Báez.