A battle for India
Recovering the Republic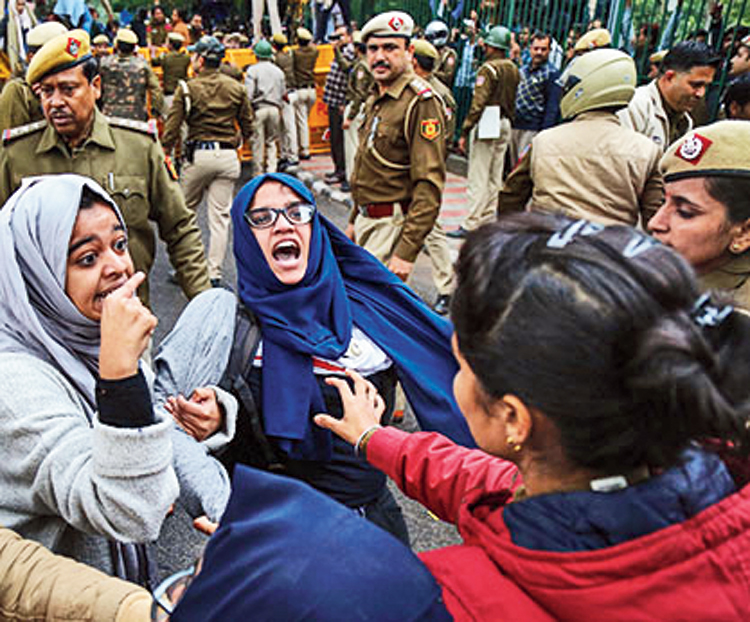 ---
Published 03.01.20, 06:39 PM
---
Although there is a major road named after him in west Delhi, I suppose few people in the capital today know who Hakim Ajmal Khan was. He was a greatly beloved doctor, a practitioner of indigenous medicine, or hakim, whose patients were Hindu and Muslim (or neither), as well as rich, poor, and middle class. Beyond his medical practice, Ajmal Khan was also a patriot, a lifelong member and sometime president of the Indian National Congress. And it was in this dual capacity as a scholar and a patriot that he played a vital role in setting up a nationalist university that has recently been much in the news.
When Jamia Millia Islamia was founded in 1920, Hakim Ajmal Khan was appointed its first chancellor. He had pledged to find the funds to place the university on a firm footing. He nurtured Jamia through its difficult first years, but then suddenly passed away, in December 1927, at the relatively early age of fifty-nine. Among those devastated by his death was his close friend, Mahatma Gandhi. Speaking to reporters in Bombay (where he then was), Gandhi called it "a great and grievous loss at this juncture. Hakim Ajmal Khan was one of the truest servants of India and for the cause of Hindu-Muslim unity he was one of the most invaluable men."
Gandhi knew that the death of the Hakim would be felt most keenly at the Jamia Millia Islamia, still a fledgling institution. So he immediately sent a message, to be read out at a meeting of staff and students. Here Gandhi said: "Let the deceased's spirit ever abide with us. Let us keep his memory for ever green by making the Jamia a living temple of [Hindu-Muslim] unity. You must not lose hope. The Jamia cannot perish so long as the professors and the boys are true to it. For my part you have my promise that, God willing, I shall use all the powers that He may give me, for putting the institution on a sound financial basis."
Gandhi kept his promise. The funds to sustain Jamia were procured, and under the leadership of vice chancellors such as Zakir Husain and Mohammad Mujeeb, the university flourished, establishing itself as one of the best in the country. Then, in December 2019 — ninety-two years after Hakim Ajmal Khan's death — the university faced a fresh crisis when a students' protest against the Citizenship (Amendment) Act provoked the Delhi Police to enter the campus and go on a rampage, dragging girl students out of hostels and vandalizing the university library. Videos of the damage — physical and institutional — caused by the police went viral across India and the world. So did the moving testimonies of students — women as well as men, Hindus as well as Muslims — who were at the receiving end of State brutality.
The Jamia campus was attacked (one might say invaded) by the Delhi Police on December 15. The following morning, I got a message of enquiry from a fellow historian. Students had taken part in political protests before; most notably in the Quit India movement and against Indira Gandhi's regime in the 1970s. This historian now asked whether any university library was vandalized by the State during the 1942 movement or during the Emergency. I answered in the negative. Indira Gandhi and the viceroys were authoritarians, I said, but they read books.
That a great university library was attacked by the most anti-intellectual government this country has seen was no surprise. What was surprising, however, was how much popular outrage the vandalism led to. Unlike in the wake of Hakim Ajmal Khan's death, this time there was no Mahatma Gandhi to assist Jamia in its moment of crisis. So ordinary citizens of all ages stepped up to the plate. Across the country, many Indians had reservations about the CAA, which they saw as both illogical and discriminatory, aimed at stigmatizing Muslims in particular. Yet these reservations may have remained private, and confined within their homes, had these people not seen on their screens or smartphones what the Delhi Police had done in Jamia. Or heard the testimonies of the students themselves.
Support for Jamia came from institutions that are traditionally apolitical — such as the Indian Institutes of Technology, the Indian Institutes of Management, and the National Law Schools. Sympathy for the victims of police brutality in Delhi soon translated into a wider opposition to the CAA. There were protest marches, signature campaigns and candlelight marches aplenty. Meanwhile, older, middle-class citizens were also inspired to set aside their traditional timidity and come out in solidarity.
By setting the police loose on Jamia Millia, and then setting them loose on Aligarh Muslim University as well, the ruling regime might have hoped to send a message that this repression was not, and would never be, targeted at Hindus. The sectarian strategy failed. The protests that took place in the week after December 15 saw people of all faiths participate. Most gatherings were mixed; their capacious pluralism manifested in the posters they upheld (of Gandhi, Ambedkar and Bhagat Singh, among others) and in the ubiquitous presence of the national flag itself.
The first wave of protests across India generated an enormous sense of hope and expectation. That so many Indian Muslims had come out to peacefully protest against an act that nakedly discriminated against them was heartening — for it showed that five-and-a-half years of Hindutva hegemony had not succeeded in cowing them down completely. That so many non-Muslims had joined in these processions was perhaps more heartening still. Clearly, despite the BJP's political and electoral dominance, there were lots and lots of Hindus (and Christians and Sikhs and atheists) who refused to accept that Muslims should, either de jure or de facto, merely live on the grace or mercy of the majority community.
I myself attended three protest gatherings in Bangalore. All were absolutely peaceful; all were wonderfully diverse. There were men and women of all ages, all faiths, all professions. The one group that was over-represented was students; including many from Assam and the Northeast. The one group that was under-represented was the Congress Party. In these meetings, and in the detention centre where I spent several hours, I did not see or meet a single Congressman or Congresswoman.
The sense of a shared and common citizenship embodied in these protests was exhilarating. But then our mood darkened, as reports came in from India's most populous state, Uttar Pradesh, of the savage State repression underway there. While protests in most places had been peaceful, and permitted by local administrations, in UP the State had come down hard. The chief minister had himself talked of taking 'revenge' on protesters; the police took this as a licence to go on rampage. In the event, 19 people, all Muslims, were killed in the violence. Even when not firing bullets the State adopted the harshest, most punitive, measures — thus respected social workers who preached harmony and non-violence were arrested in many cities in UP, while thousands of FIRs were filed against Muslim students. A senior police officer was captured on camera telling Indian Muslims to "go to Pakistan". Minors were arrested, and tortured in police custody.
The barbarism of the UP police has been documented in a series of reports by brave Indian journalists. A long and carefully documented essay in Scroll.in observes that in recent weeks "Uttar Pradesh has seen one of the worst episodes of large-scale state violence against a community anywhere in India." The report continues: "India's most populous state, home to 200 million people, is hostage to the recklessness of a Muslim-hating chief minister. His regime is treating Muslims as the enemy, not as citizens." (https://scroll.in/article/948194/we-knew-adityanath-was-hostile-to-muslims-but-did-we-expect-his-regime-to-be-so-savage).
As we enter the New Year, Uttar Pradesh shows one pathway for the Republic — a more emphatic assertion of majoritarian bigotry, so as to make Muslims in particular and dissenters in general cower in the face of Hindutva rule. Places like Jamia and Bangalore and Mumbai show another pathway — the healing of wounds, the removal of hate and prejudice, the recovery and rehabilitation of the pluralist principles on which the Republic was founded. Let me end as I began, by quoting Mahatma Gandhi. In his tribute to the first chancellor of Jamia, Ajmal Khan, Gandhi remarked: "For me the death of Hakimji is a deep personal loss. I entirely associate myself with the appeal issued by Dr. [M.A.] Ansari and other leaders that the National Muslim University at Delhi which Hakimji nursed with very delicate care should be placed beyond any risk by patriotic Indians subscribing to the Fund that Hakimji was raising for putting its finances on a firm footing. But, of course, the best monument to be raised to the memory of the great patriot would be to bring about unbreakable unity between Hindus, Mussalmans and other communities residing in India."