A battle between divinities: Ram and Parashuram
Hindutva politics birthed the Ram Janmabhoomi movement while Kanshi Ram resurrected dalit icons from caste memories and folk sources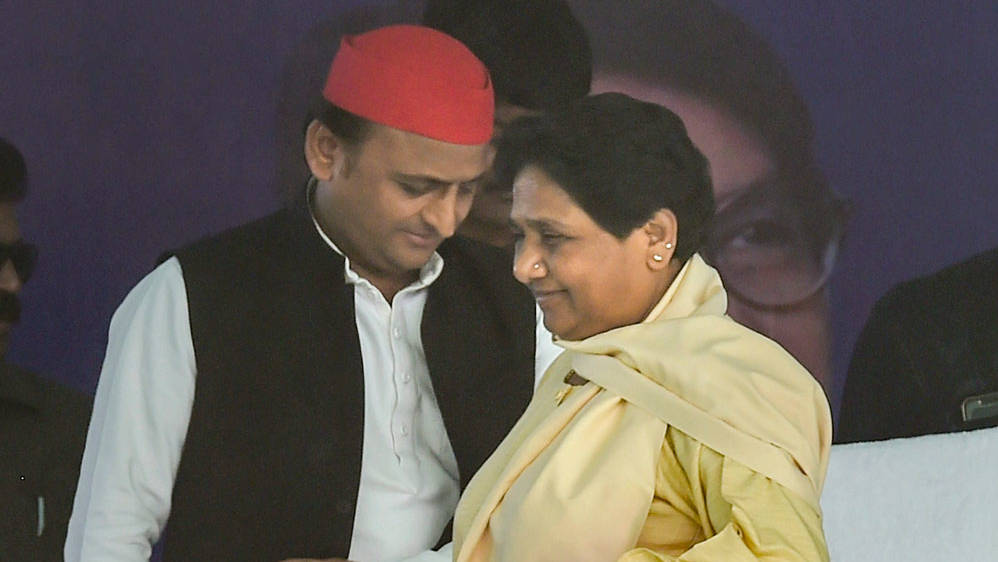 ---
---
Politics in Indian democracy has been transformed into the politics of memory. Political mobilization of the public in a democracy like ours can be perceived as  a sustained effort of mobilizing the collective memories of social groups by creating linkages with symbols, icons and social metaphors. This reinvention of memory facilitates the mobilization of communities bound by such memorial ties. In this war of memory, historical memories, caste heroes and religious icons become the bones of contention among political groups. Collective memories, generated by mytho-histories or epics or both, forge bonds with communities. The myths also function as a reservoir of collective memory as they are told, retold, invented and reinvented across generations.
The history of Indian politics would reveal that the 1990s ignited a bitter war of popular memories around religious symbols, caste heroes and community icons, especially in North India. Hindutva politics birthed the Ram Janmabhoomi movement that was based on mobilizing the memory of a mythical hero. This collective memory of Rama has been produced, over the years, through various productions based on the Ramayana and its myriad versions.
Around the same time, in order to counter Hindutva's reproduction of memory through religious symbols and myths, Kanshi Ram, who was then building the Bahujan Samaj Party — a Dalit-Bahujan political nexus — explored caste memories associated with Dalit heroes from folk sources. He not only identified with these caste icons but also reinvented them for mobilizing Dalit-Bahujan communities in favour of his politics. Most members in the Dalit iconography — Jhalkaribai, Uda Devi, Mahaviri Bhangin, Bijli Pasi — were reinvented by the Kanshi Ram-led Dalit Bahujan politics. He also reshaped minor characters — Shambuka and Eklavya in the Ramayana and the Mahabharata — to confront Hindutva meta-narratives. Kanshi Ram adopted oral, aural, visual and ritual strategies to disseminate memories attached to these icons, thereby producing narratives against caste dominance and religious inequalities apart from developing rituals of worship of Dalit heroes. These strategies contributed to making Dalit-Bahujan politics a formidable force in the 1990s. However, gradually, many of these symbols were appropriated by the forces of Hindutva by locating them within the frame of Hindutva. In so doing, they adopted similar strategies of appropriation of the memories associated with these icons. The BSP under Mayawati could not do much to reclaim their icons from this predatory appropriation by Hindutva.
The politics in North India, especially in Uttar Pradesh, continues to proceed along similar lines. The only difference being now there is no visionary leader like Kanshi Ram who had a deep understanding of culture and collective memory as well as the ability to transform these into political resources. When the bhoomi pujan took place in Ayodhya, Rama was projected as an inclusive symbol and an icon of social justice. No political party is in a position to effectively counter the Hindutva narrative. But that does not mean that they want to leave the field barren and concede defeat. So Parashuram has been resurrected to contest the hegemonic influence of Rama. Parashuram is remembered as an epical Hindu character who preceded Rama. He is venerated among Brahmins as well as Dalits — Pasis in Uttar Pradesh are an example — as a warrior-rishi.
But Parashuram is overwhelmingly revered by the Brahmins these days. To win their support, both Akhilesh Yadav of the Samajwadi Party and Mayawati have announced that they would instal a huge statue to consecrate the memory of Parashuram if they are returned to power. In the epic, Parashuram and Rama represent a continuum; they are not in conflict. But in UP's politics, Parashuram would have to take on Rama to win the support of Brahmins who constitute around 13 per cent of the population and are said to be annoyed with the Yogi Adityanath government.
It is difficult to predict whether Parashuram can brighten the electoral prospects of Opposition parties in UP. But a new war pitting a caste icon — Parashuram — against a religious icon — Rama — could well break out in the near future.