New rail link takes Belonia down memory lane
The Belonia-Agartala service has now fuelled hope about the revival of the old rail routes with Bangladesh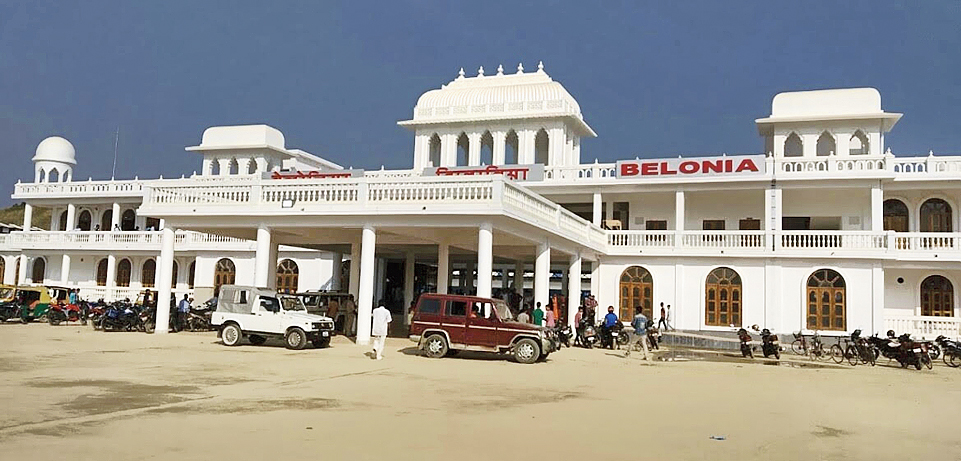 Belonia railway station
The Telegraph picture
---
Agartala
|
Published 06.12.18, 06:58 PM
|
---
After the Northeast Frontier Railway (NFR) finished the final lap of safety inspection till Belonia in South Tripura on Sunday, people in the small border town have turned nostalgic with memories of rail journeys through erstwhile East Pakistan (now Bangladesh) which came to a grinding halt as war broke out in 1965.

Belonia, which will now be connected with Agartala in January, everything remaining equal, was connected with Dhaka by train before the war.
The fresh Belonia-Agartala service has now fuelled hope about the revival of the old rail routes — and start of an international rail route with Bangladesh through Muhurighat Indo-Bangla checkpost in the area.
Belonia railway station, which is barely 80 feet from the checkpost, got its final passenger safety approval after a commission of railway safety (CRS) trial run on Sunday. A stretch of 9.8km rail track from a nearby town, Shantir Bazaar, which underwent the inspection, will be commissioned in January.
The trial run brought back fond memories for the people of Belonia town who recalled how they travelled through erstwhile East Pakistan 53 years back and disembarked at a small railway station at Parshuram village on the other side of the border to reach Feni, now a major district headquarters in Bangladesh. After the trial run was completed, commissioner of railway safety Sailesh Kumar Pathak said, "The people of Belonia will again enjoy train journeys. Inspection on the 9.8km Santir Bazar-Belonia route was successful and work was excellent except a few issues which will be resolved soon."
Bijan Chakraborty, a retired police officer from Belonia, said, "I was mesmerised when I heard the sound of the train near my house. Fifty-three years ago, I used to hear this sound everyday as the train station in East Pakistan was only 2km from my town."
He said there is a village called Parshuram on other side of the border near Belonia, which can still be used if railway tracks from Belonia railway station are connected with the old tracks on Bangla soil.
Birendra Kumar Shil, 73, a retired librarian of Ishwar Chandra Vidyasagar Government Degree College at Belonia in South Tripura, who was an infant during Partition but witnessed the 1965 Indo-Pak War, Liberation War in East Pakistan and emergence of Bangladesh, said the people of Belonia were able to enjoy the train journeys through East Pakistan even after Partition.
"We used to go from Belonia till Feni, from where it was easy to travel to Chittagong or Dhaka. But it stopped in 1965. Now, if there is a rail corridor with Bangladesh through Belonia, we can all enjoy those journeys again," Shil said.